I haven't blogged much recently as our spare time has been taken up with the usual December madness of Christmas shopping, school and social events. Yet somehow we found ourselves with an almost free weekend just days before the big event. Definitely a good time to get out and enjoy some winter air.
On Saturday we enjoyed a pub lunch and walk, albeit not quite the walk I'd planned. This was due to a minor issue with the map reading. OK, we got lost (or as lost as it's possible to get in deepest Berkshire).
On Sunday we headed to Shotover Woods, on the outskirts of Oxford, to take part in an orienteering event. For those who don't know, orienteering requires good navigation skills to help you  find controls in a specific order in the shortest possible time. This was our chance to redeem ourselves after our map reading misadventure the previous day.
We split into two pairs for the event, I went with my son. There were plenty of children of a similar age running alone but ours don't have much experience of orienteering so we thought it best to stick with them.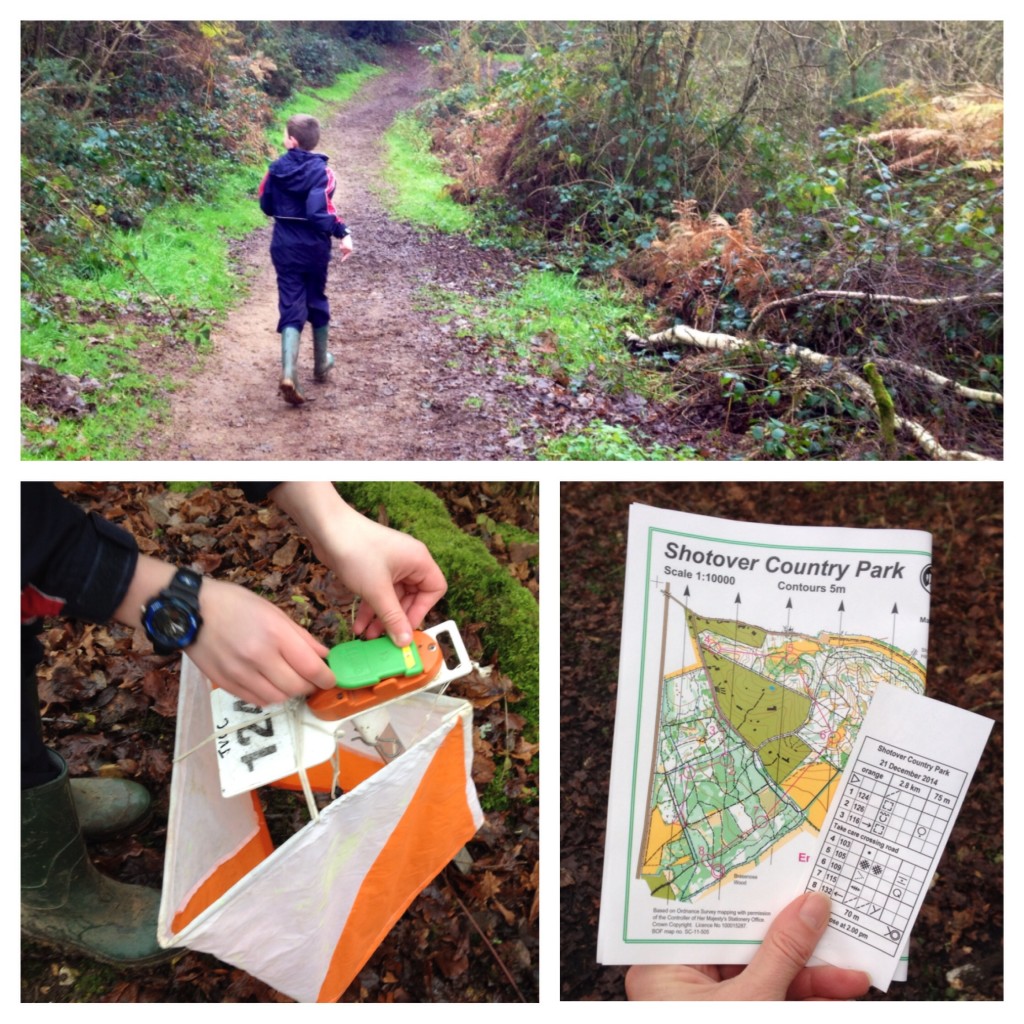 We'd chosen an orange course which was 2.8 km (assuming you took the most direct route) and consisted of 8 controls. Once you get used to using the special orienteering map, which is much more detailed and a different scale from standard OS maps, it was quite straightforward to find the route.
Parts of the course were pretty muddy but that's to be expected at this time of year. It was just a liberating feeling to get outside in the woods for a run after being stuck indoors so much recently.
My son took great delight in registering his emit reader at each of the controls. This small device shows that you have visited the control and the information in it is downloaded at the end of the course to give you immediate results. A far cry from my early orienteering days when everything was calculated manually and you'd see your results pegged up on a string line!
As we neared the end of the course I rather wished that we'd done one of the more difficult options. We don't go orienteering very often as it usually clashes with other activities but every time we do go it's always fun.
It was great to finish, and even better that we came in ahead of my partner and daughter. They'd somehow managed to get lost finding one of the controls so I think I know whose map reading was dodgy the previous day!
More info
You can read more about orienteering in one of my previous posts.
To find an event near to you check out the British Orienteering website.