We recently spent a long weekend in East Devon. Despite living in the county a few years ago we'd never visited this area before so we had a lovely time exploring new places. Our first day was spent in and around Sidmouth.
Salcombe Hill walk
The morning started with a short walk on Salcombe Hill. We cheated and parked in the car park at the top of the hill, rather than walking up from Sidmouth, but if you're feeling energetic and like steep hills I believe it's a lovely walk from the town.
Our walk was a 1 mile loop out to the coastal path and then back inland through the woods. It's easy walking and once you reach the coastal path you are treated to fabulous views along the Jurassic coastline.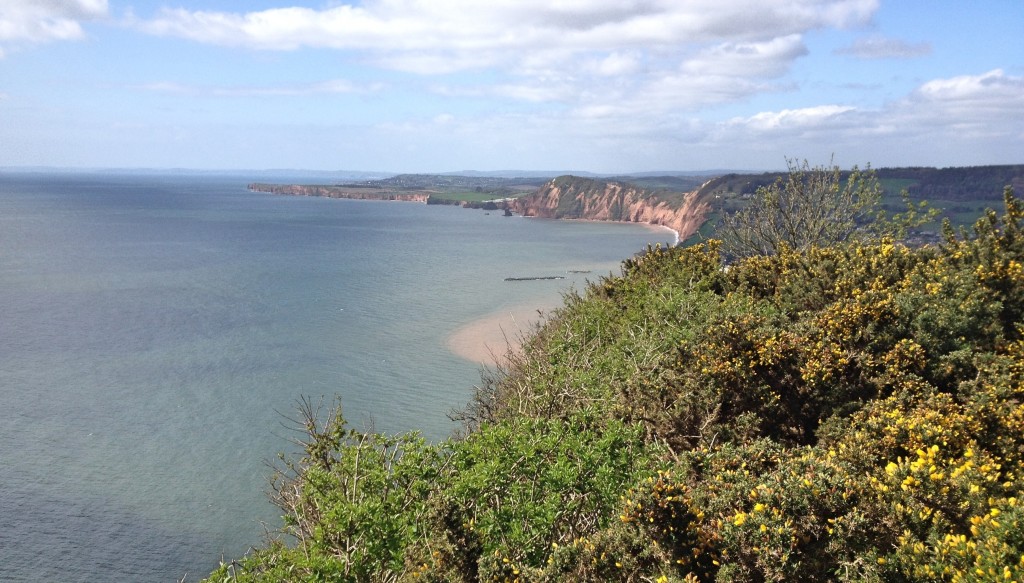 We hadn't brought a map with us and I was slightly concerned that our basic directions said to turn inland again when we reached the 'frog stone'. However we need not have worried as it was immediately obvious when we reached it; whilst it's recognisable as a frog shape more noticeably it's the only large rock in the area. We stopped for a while to admire the view, wow!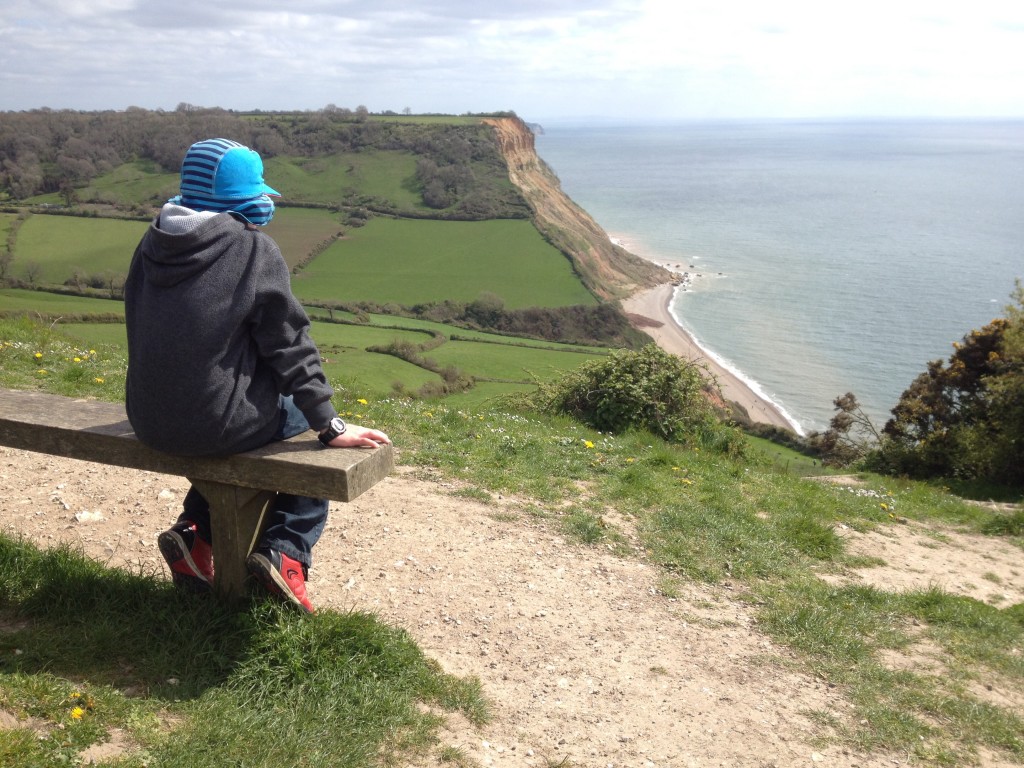 As we walked back inland and through the woods to the car park we had the first indications of just how severe the winter storms had been. There were so many recently uprooted trees that I gave up trying to count them. It was hard to imagine how scary the storms must have been, given the calm sunny day of our visit.
Sidmouth donkey sanctuary
After our walk we hopped back in the car and drove the short distance to Sidmouth Donkey Sanctuary. The sanctuary is home to around 500 rescue donkeys and is a popular tourist attraction. You can easily spend a few hours wandering around the fields and looking into the barns.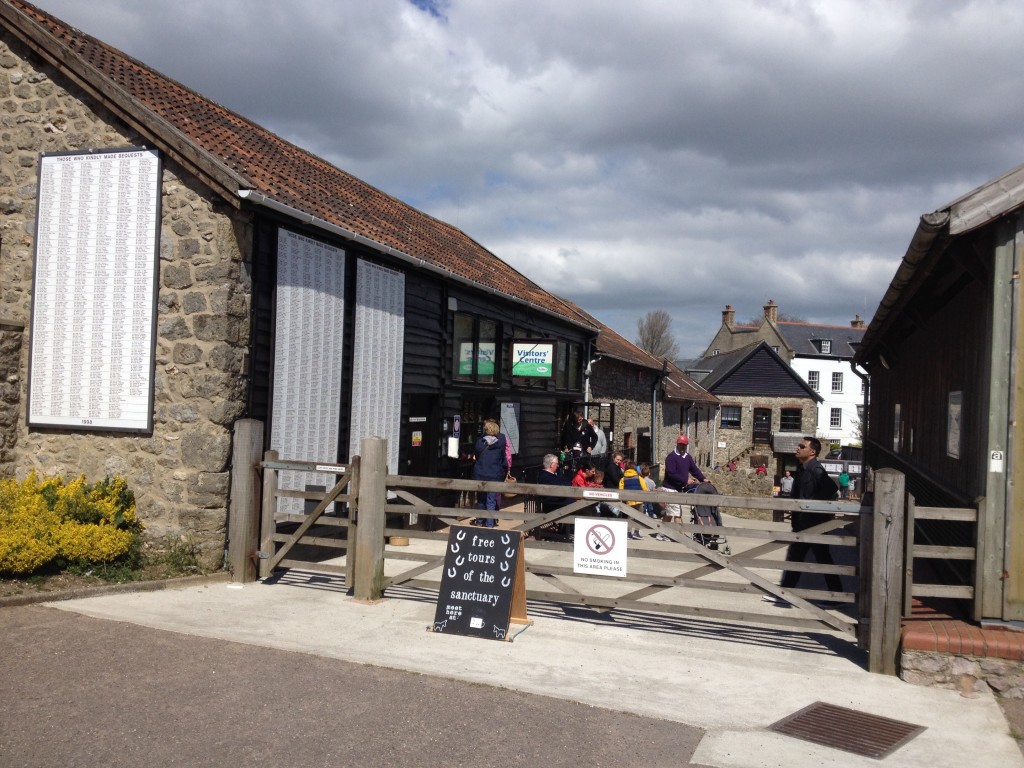 Everything at the sanctuary looks spick and span, with neatly tended grounds. Most of the donkeys are out in the surrounding fields and you're free to wander as you wish. Each field has a board which shows you donkey details, along with some of their history.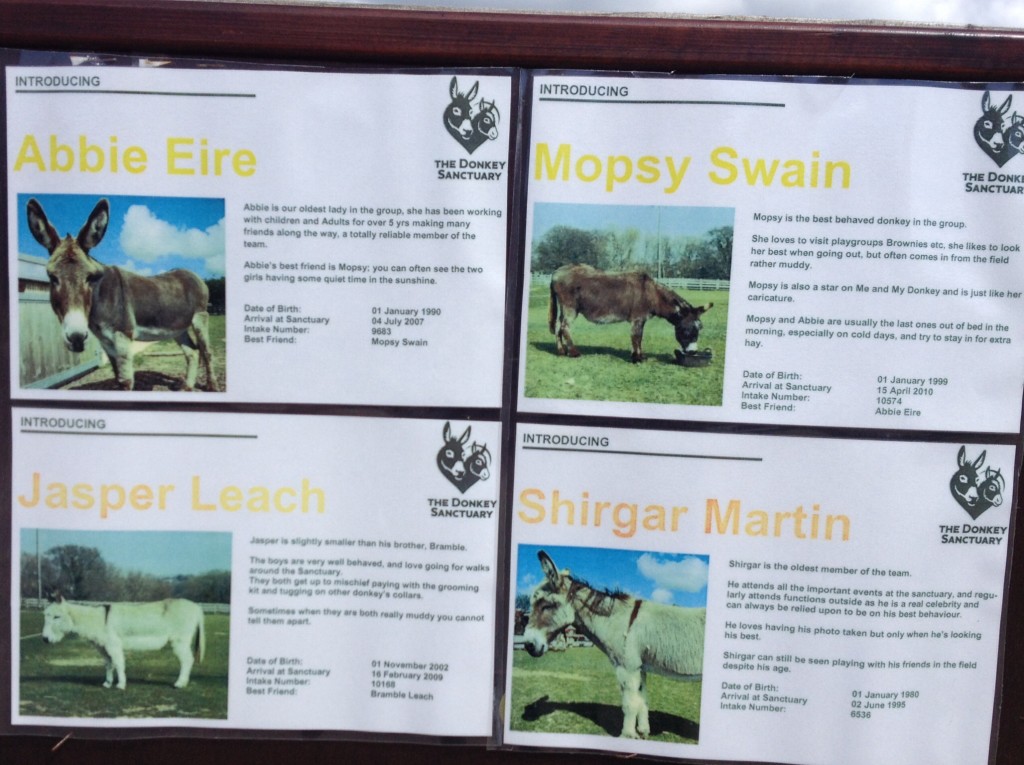 My mum had recently sponsored a blind donkey, Teddy, as a present for the children so we set out on a mission to find him. We found him in a group of other blind donkeys and their companions. We also found quite a few people with the same sponsor donkey, he's obviously a popular choice!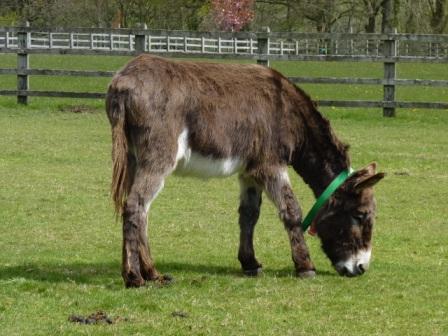 We ate lunch in the Hayloft cafe, which was reasonably priced and good quality; the kids particularly enjoyed their 'donkey bags'. There are plenty of picnic spots too, but as the sanctuary is free to enter it felt right to spend money in the cafe and shop.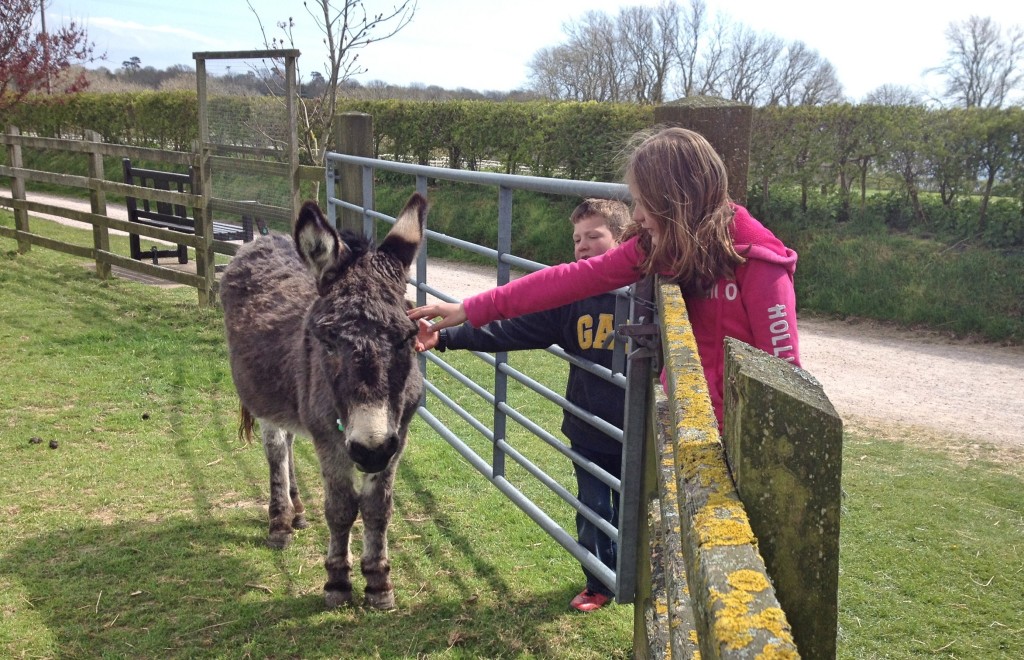 There are plenty of donkeys to stroke out in the fields; you can also take part in a grooming session for a small extra charge so it's a great place to visit if you have donkey-loving kids.
The only thing I found a little strange was the large number of memorials to people and dogs that had passed away and had donations made in their name. It almost felt like we were walking through a garden of remembrance rather than a donkey sanctuary.
It's possible to walk to the beach from the donkey sanctuary, but for our last stop of the day we headed a few miles east to Branscombe instead.
Branscombe beach
Branscombe village is in a picturesque location at the meeting point of two valleys (combes). It's a long strung out village, some parts of which are NT owned.
We parked at the village hall then walked along a flat track (fine for buggies) a mile or so down to the beach at Branscombe Mouth. It's also possible to park at the beach but we rather enjoyed our stroll down.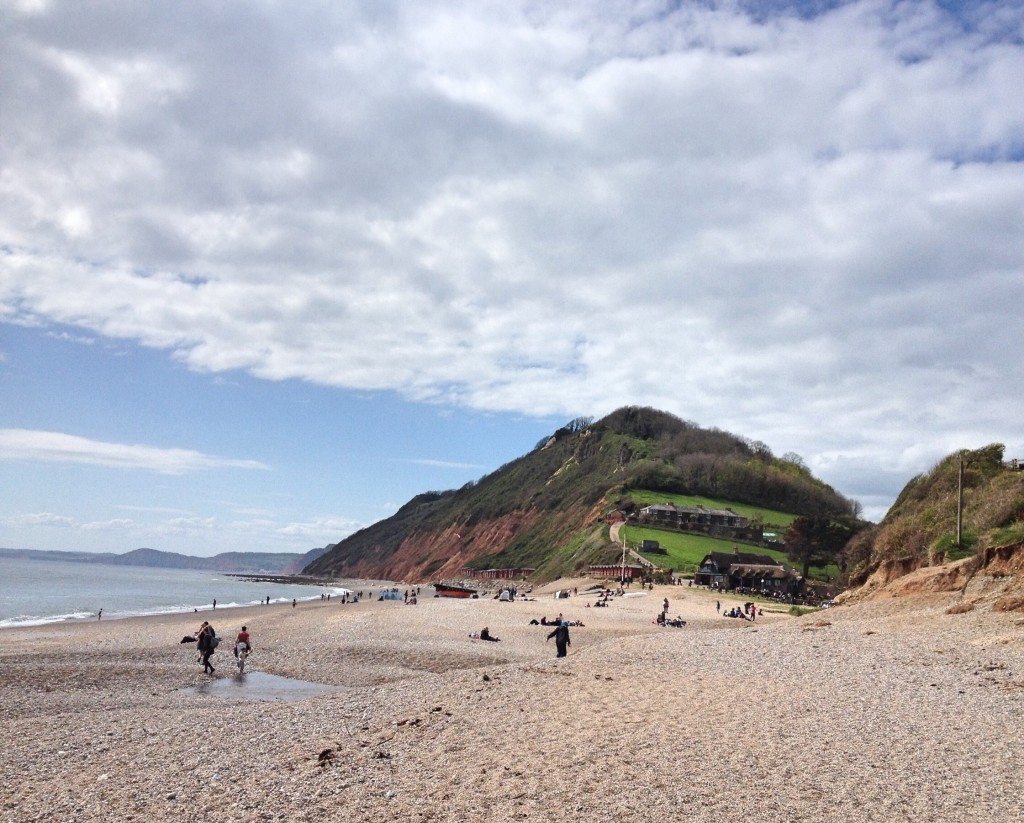 There is a small shop selling beach paraphernalia and ice creams, although we found it quite expensive. Instead we wandered along the pebble beach, enjoying the views and practising skimming stones into the sea. A couple of children were braving the water but there's no way I'd have gone in!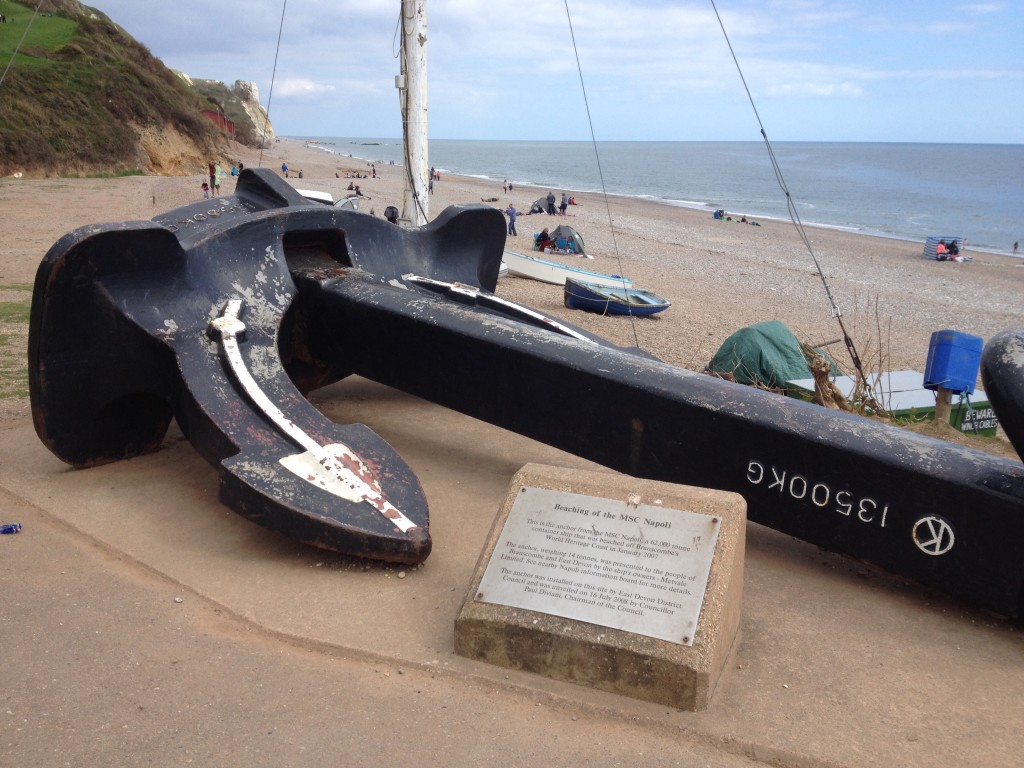 Branscombe hit the national headlines when the MSC Napoli was beached nearby in January 2007. It became infamous for the looting that took place, including that of several BMW motorcycles.The ship was finally broken up and removed, all that remains now is the anchor which was presented to the people of East Devon.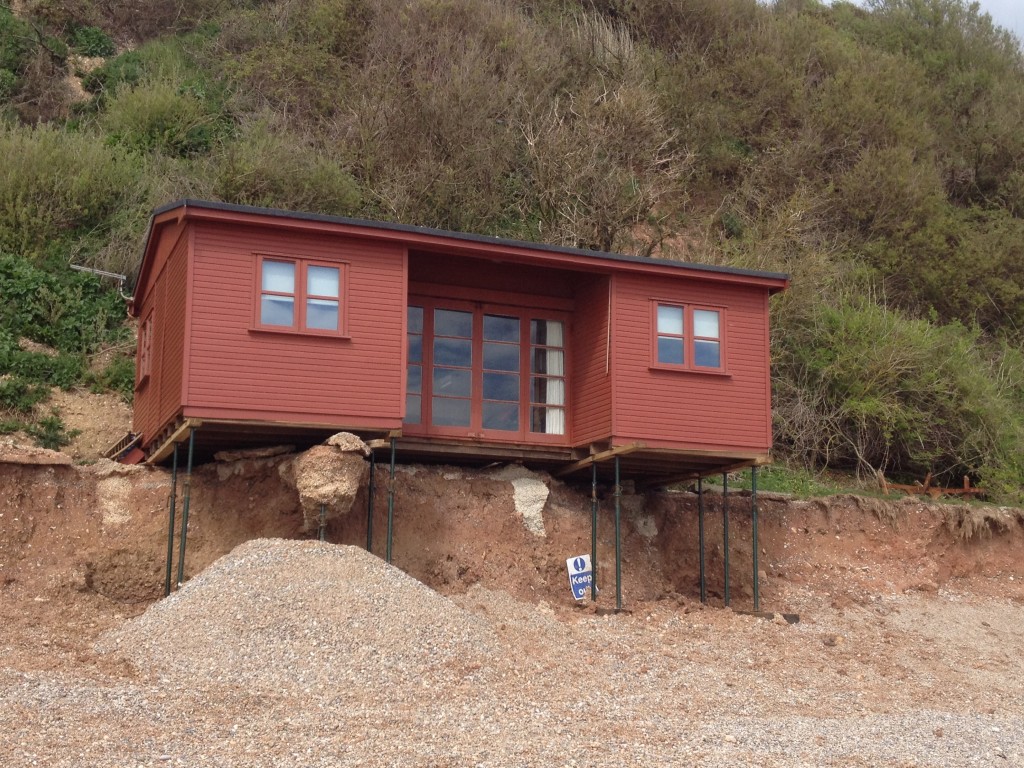 Along the beach were further reminders of the winter storms. I felt sorry for the owner of this chalet as the foundations beneath it were completely gone. It looked like quite a lot of repair work had happened to the other chalets so hopefully it'll be restored before long.
Heading back I almost regretted not parking at the beach but it wasn't long before we were back in the village and on our way home.
The following day was very wet! After being flooded out of yurt we spent the day in and around Seaton.
More info:
We parked at the NT Salcombe Hill car park and followed this walk. The walk is mostly flat and takes about 45 mins, assuming you stop to admire the views and take photos.
Sidmouth Donkey Sanctuary is open every day of the year from 9am until dusk. There is no entry charge but please do leave a donation.