Following on from our Sidmouth post, day two of our trip to East Devon dawned grey and dismal. We'd known in advance it was going to be a wet one so I'd already decided on a couple of all-weather attractions, Seaton Tramway and Beer Quarry caves.
Seaton tramway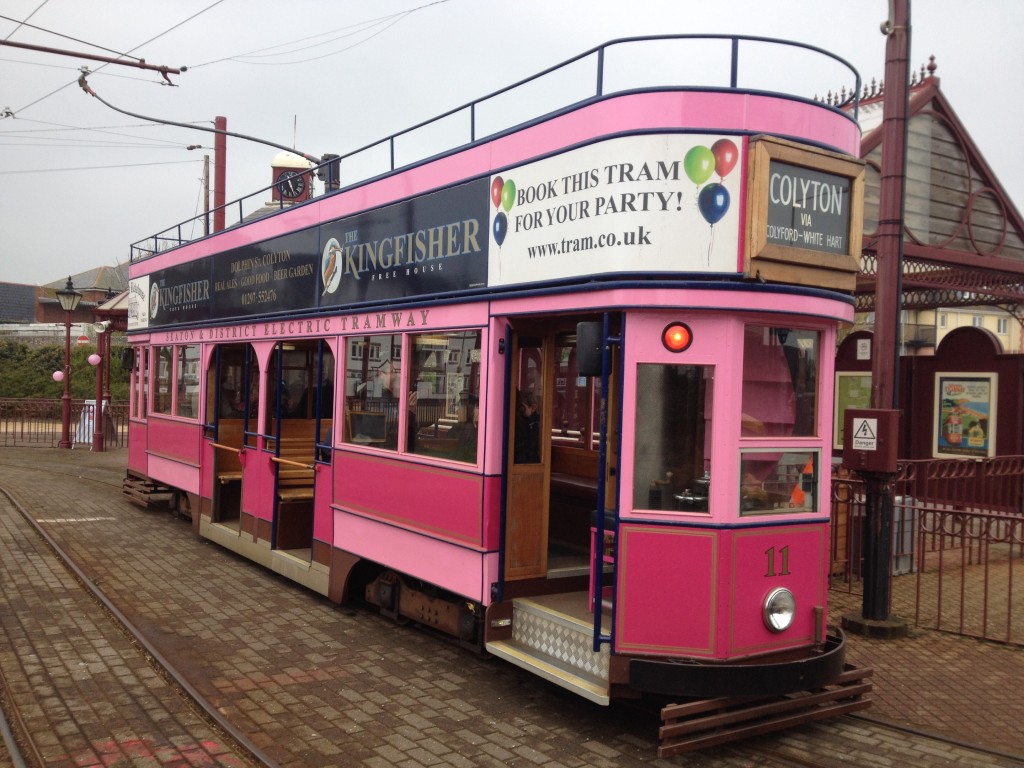 The Seaton tramway is a narrow gauge tram that runs for 3 miles between Seaton and Colyton. We boarded our bright pink tram in Seaton and were glad that we'd managed to get seats in one of the closed compartments. I felt sorry for a couple who decided to sit in the open part, they looked rather wet and wind blown by the end of the trip. However on a sunny day it must be great to sit up top.
The start of the journey, past the back of Tesco, isn't particularly scenic but once it gets away from town the views improve. The tram runs along the River Axe estuary and past two reserves, Seaton Marshes and Colyford Common. The reserves have bird hides and look like they'd be a great place to explore further on a dry day. We saw a couple of little egrets whilst passing plus lots of wildfowl.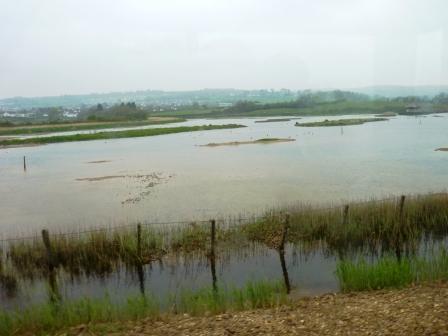 The journey to Colyton takes about 30 minutes. From the tram terminus it's a 10 minute walk into the town centre but the rain deterred us. Instead we ate lunch in the Tram Stop cafe and had a look round the gift shop. The trams run every 20 minutes during high season so once we'd finished lunch we only had a short wait for our return trip.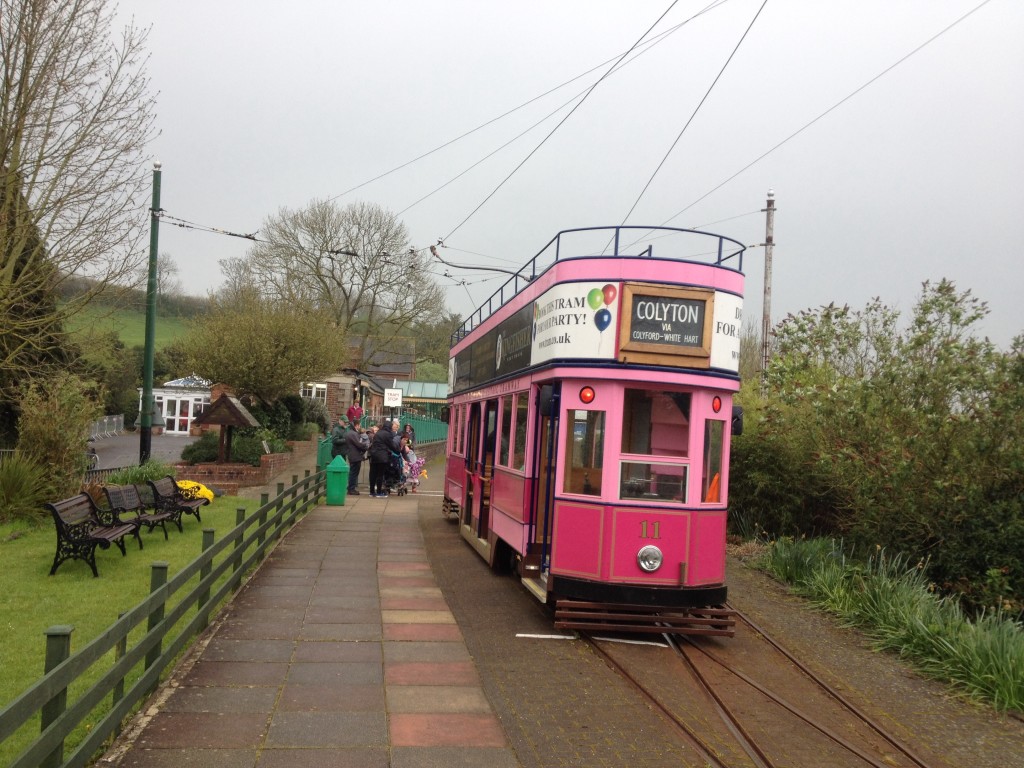 The attraction is expensive for a family so despite being advertised as a wet weather option I'd suggest a visit is best saved for a dry day. The explorer ticket allows you to travel all day on the trams if you wish, and you could make a full day of it by spending time in Colyton or stopping for a drink in the pub at Colyford.
The rain came down even heavier once we'd got off the tramway. I'm sure Seaton is a lovely town on a sunny day but on a wet weekend it was pretty grim so we moved swiftly on to Beer Quarry caves.
Beer quarry caves
We escaped the rain by heading underground into Beer quarry caves. After donning our yellow helmets we joined a guided 1 hour tour which took us through the history of the caves from Roman times up until modern day. The caves are man-made as a result of quarrying Beer stone which is used in cathedrals and churches across the country. The tour focuses on the quarrymen who worked in the caves in dark, noisy and dangerous conditions.
Upon entering there is a small museum area which also showpieces a stone window made from Beer stone. After an introduction the guide took us through the caves and pointed out how the Roman part of the cave is distinguished by its arches. Saxon quarrying resulted in squarer arches, whilst the Norman area had been excavated the most as the stone was used for cathedral building.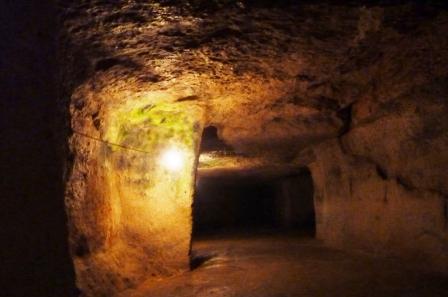 Our guide demonstrated how noisy the caves would have been by banging on the walls with a hard hat to simulate the use of pick axes. The noise reverberated around the cave and when you realise they were doing incredibly manual jobs by candlelight I'm so glad we were born in another era.
In addition to quarrying, the caves have also been used as a place of worship, a smugglers refuge and (my favourite) for growing rhubarb and mushrooms. It's also home to some bats which were pointed out to us. No flash photography is allowed because of the bats but I just about managed to get one successful photo of them.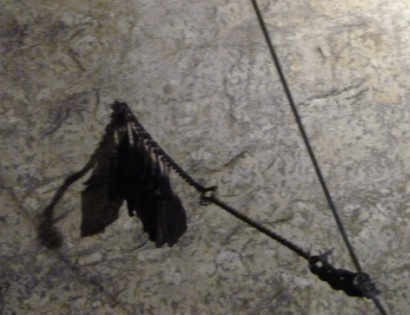 The guide had lots of interesting stories to tell. There have been a couple of disasters in the cave so this included some ghost tales. The kids weren't sure whether to believe him, and even I found myself wondering if they were true!
We really enjoyed our tour around the caves, and they're well worth visiting if your children are of school age. I think younger children wouldn't get so much out of it and the ground is quite uneven so it's not suitable for pushchairs.
More info:
Seaton tramway is open from April to October, and on some additional dates during the winter. An adult explorer ticket costs £10, tickets for children age 3-15 are £5. Reductions are available if you're only travelling to Colyford. We'd also received a discount voucher from the Donkey Sanctuary, but I forgot to use it, worth looking out for though.
Beer Quarry Caves are open from April to September. A family ticket costs £23.50, alternatively an adult ticket costs £7.50, children aged 5-16 cost £5.50. Children under 5 are free but ensure they'll be happy to spend an hour on a guided tour. Entrance is by guided tour only, these run every half hour from 10.30am. There are no toilets in the caves, use the ones in the car park before you join the tour. The caves are not wheelchair accessible.