Snowdrop weekends have become 'a thing' over the last few years. The lure of cake (there's almost always a tearoom) and the illusion that spring might be on the way certainly works for me. I've therefore rounded up my suggestions for the best places to see snowdrops in Oxfordshire and Berkshire. Actually, they're primarily in Oxfordshire, but I couldn't leave Welford Park out!
Snowdrop weekends are generally held in mid February but this is weather dependent and they sometimes change with minimal notice. Make sure you check the individual websites for opening dates and times before you make a special journey.
Swyncombe church, near Henley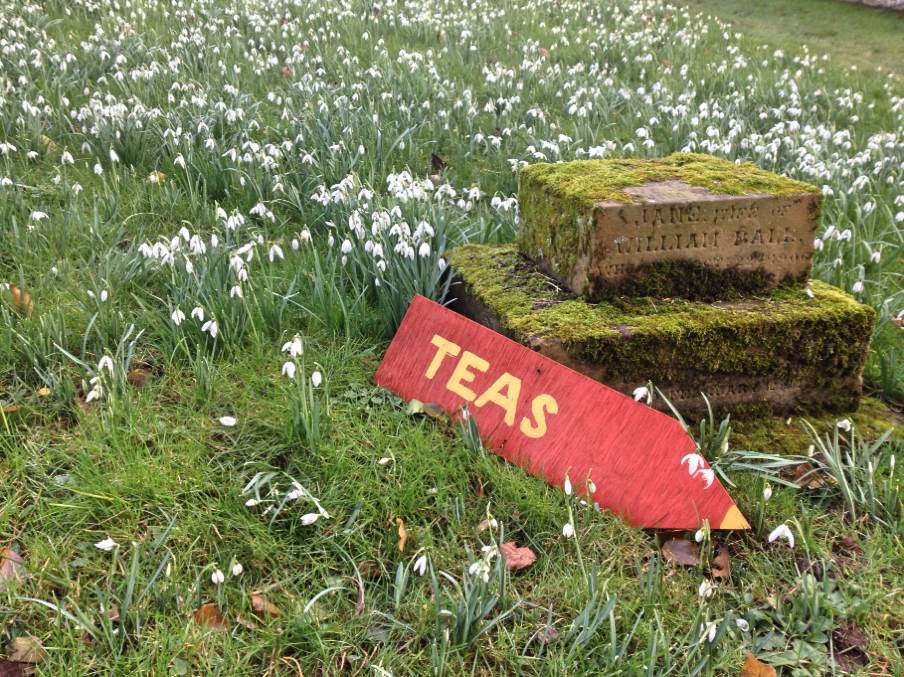 Pop along and walk around the snowdrops in the churchyard, enjoy cake and coffee and browse other stalls inside the church. The long distance Ridgeway footpath runs past the church so you can always justify the cake by going for a walk beforehand! Read about our previous visit here.
The churchyard is always open; snowdrop weekends are usually held over three February weekends; visit the church website for further details. Free entrance.
Kingston Bagpuize house, near Abingdon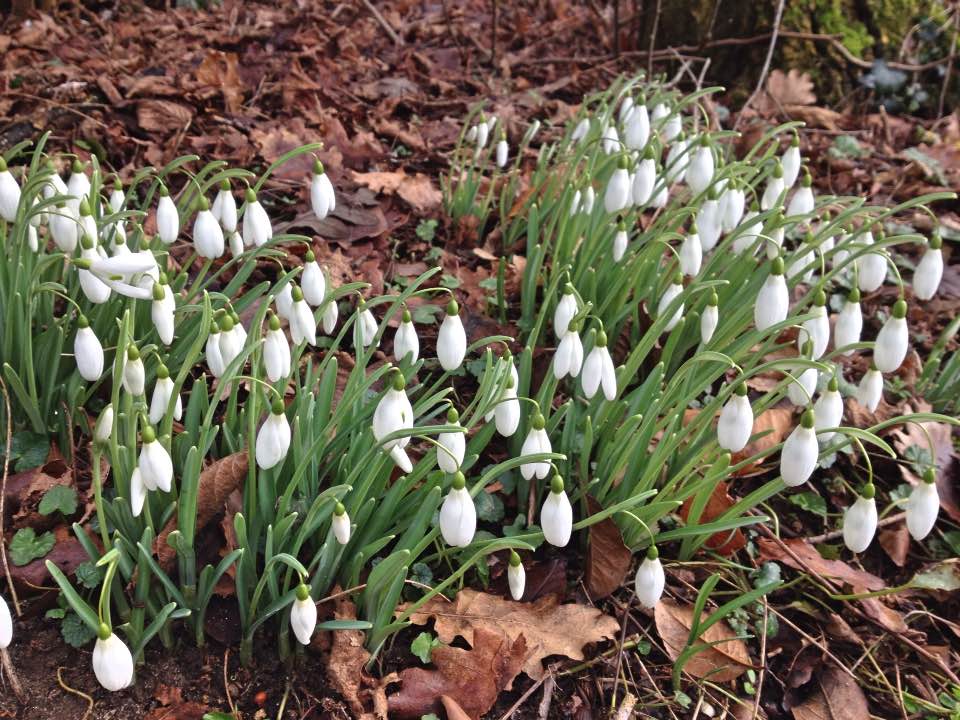 A privately owned home which opens its gardens  for visitors on Sundays in February. There's more to the garden than just snowdrops; enjoy a wander around the parkland before heading to the tearoom for cake. They even have a dedicated snowdrop plant fair!
Read about our previous visit to the garden here.  Entrance charge applies; further details on the Kingston Bagpuize house website.
Braziers Park, near Wallingford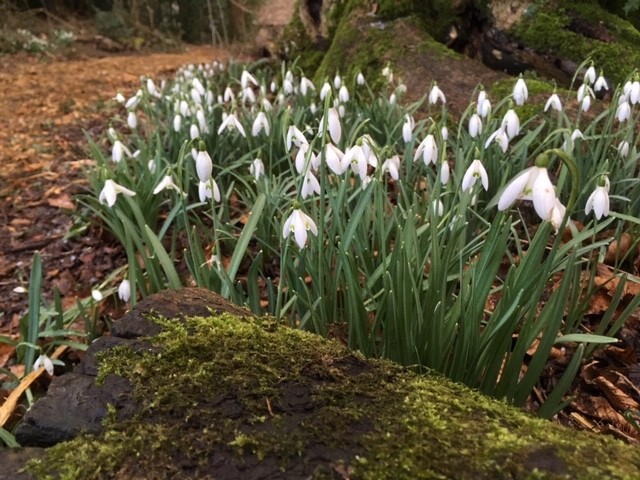 Open for snowdrop visits over just one weekend in February, the estate and house at Braziers Park are run by a community of residential volunteers. As well as snowdrop walks there's house and estate tours, a pop up tearoom and plants for sale.
Entrance fee and parking charge applies; further details on the Braziers Park website.
Waterperry Gardens
Waterperry Gardens are open year round but run a couple of dedicated snowdrop weekends in February. There are more than 60 varieties of snowdrops in the garden; you can join a guided tour to find out more.
There's a gift barn, tea shop and garden centre. Entrance charge applies, details on the Waterperry Gardens website.
Badbury Hill, near Faringdon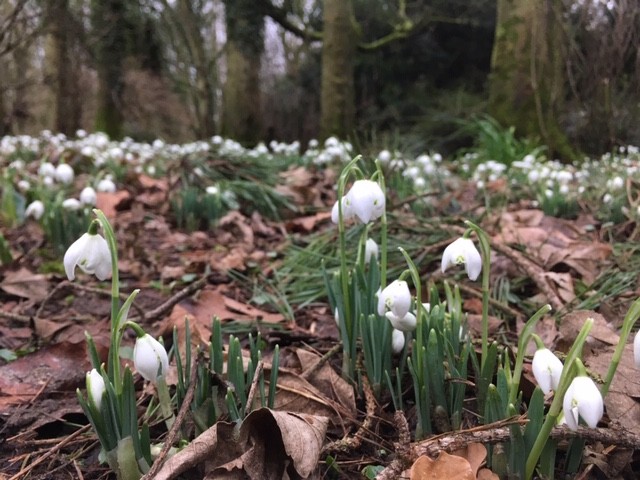 Badbury Hill is better known for its bluebells. However there are snowdrops too, albeit nowhere near as many as other sites here. Perhaps incorporate the visit as part of a longer walk rather than make a specific journey.
The wood can be visited at any time. No facilities but Faringdon is close by. Free entrance.
Welford Gardens, near Newbury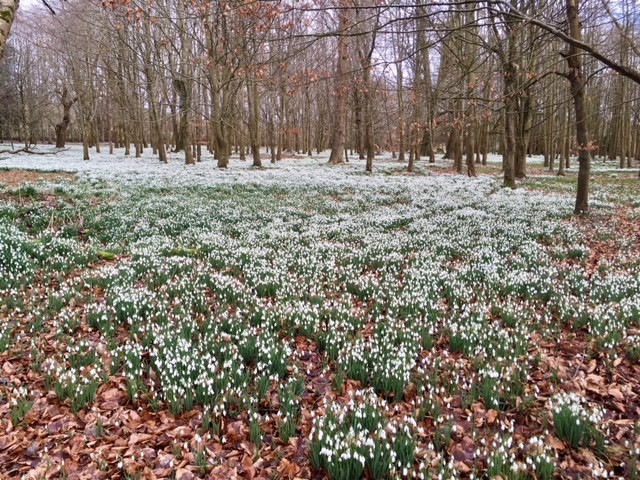 This is the granddaddy of local snowdrop displays. I think there are more snowdrops at Welford than all of the places above put together. More visitors too!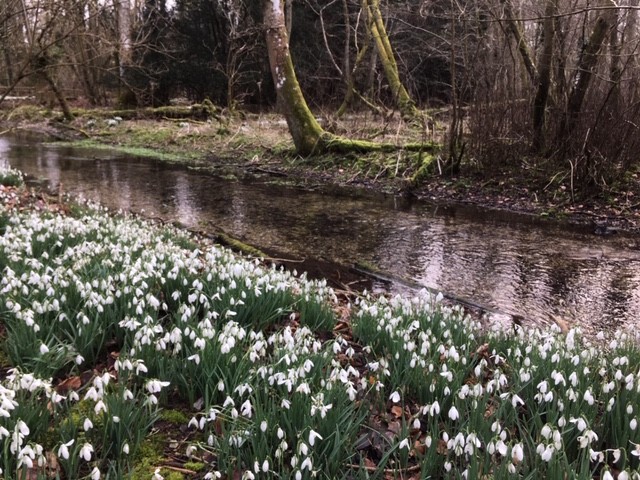 The snowdrops in the beech wood are spectacular. They are partially fenced off which is a good thing otherwise they'd be trampled by the hordes. More snowdrops, and aconites, can be found along the river bank. Look closely and you might even spot the telltale marks where the Great British Bake Off tent is erected each spring!
You can read about one of our previous visits here.
Open throughout February (except Mondays and Tuesdays). There are tearooms, a small gift shop and special snowdrop events throughout the month. Entrance charge applies; monies raised are split between local charities. Full details on the Welford Park website.
Have you visited any of the above? Or do have alternative suggestions?