Over the last few years we've started a family tradition of an August day trip to the seaside town of Weston-super-Mare. I usually prefer quiet beaches and exploring rock pools, but I make an exception for Weston, and each year we have a fun day out.
We take the train as it's a convenient and straightforward journey for us (trains run every half hour from Bristol). Walking from the railway station, the first impressions of the town are not particularly positive. It suffers from the blight of empty shops, grimy looking bars and down at heel takeaways that are found in town centres all over the country.
However, it's only a 15 minute walk to the beach from the railway station. Before long you're on the beach front, and you can understand why families flock here.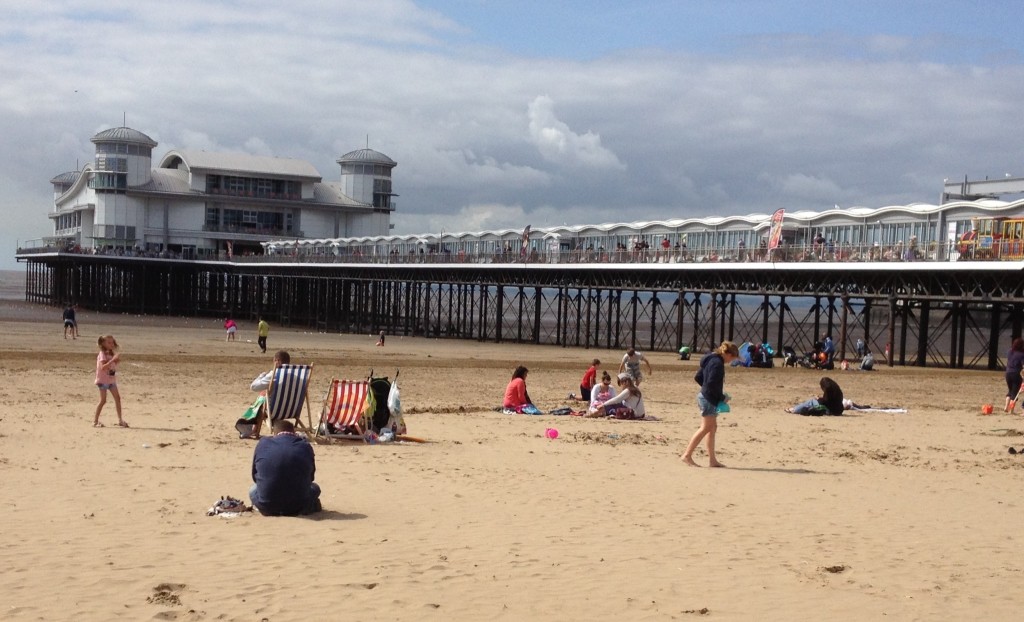 Grand Pier
The pier is the first place the kids want to visit when we arrive.  It was destroyed by fire in 2008, but rebuilt and opened again in 2010. I'd imagine some adults visiting without children would find this  place hell on earth but for most kids it's the very opposite. It's primarily a busy entertainment arcade with loud music, a variety of rides, food outlets and game machines.
Inside the arcade we enjoyed the crystal maze (a room full of mirrors to negotiate) and another maze where they had to climb through laser lights.  The 300m go-kart track looked great fun, but with a minimum age of 12 years the kids were too young to go on it. Instead we spent a happy half hour feeding 2p pieces into the pushing machines, and then a few unsuccessful attempts on the various grab and go machines.
For younger pre-school children, there aren't that many rides that would be suitable but there is a soft play area, and also a small train that runs up and down the pier for 50p a ride.
Once the pier cravings were satisfied I managed to tempt them away with the promise of a donkey ride.
Donkey rides
Donkey rides on Weston beach are a popular and enduring tradition. The family running Weston donkeys have been operating on the beach since 1886. The donkeys are well looked after, and only work for around 7 months each year, with their holiday spent at local farms.
I was slightly worried my eldest would be too grown up for the donkeys, but she hopped on one of the taller donkeys without a second thought. Luckily they can take children up to the age of 14 years, so we could still get in a few more rides in future years.
The ride isn't long at all, perhaps a couple of hundred metres, but the kids both enjoyed it and made a fuss of the donkeys afterwards.
2013 sand sculpture festival
This year, for a change, we decided to visit the sand sculpture festival, which features Hollywood stars. The sculptures are made from just sand and water, and then sprayed with a solution to help repel rain.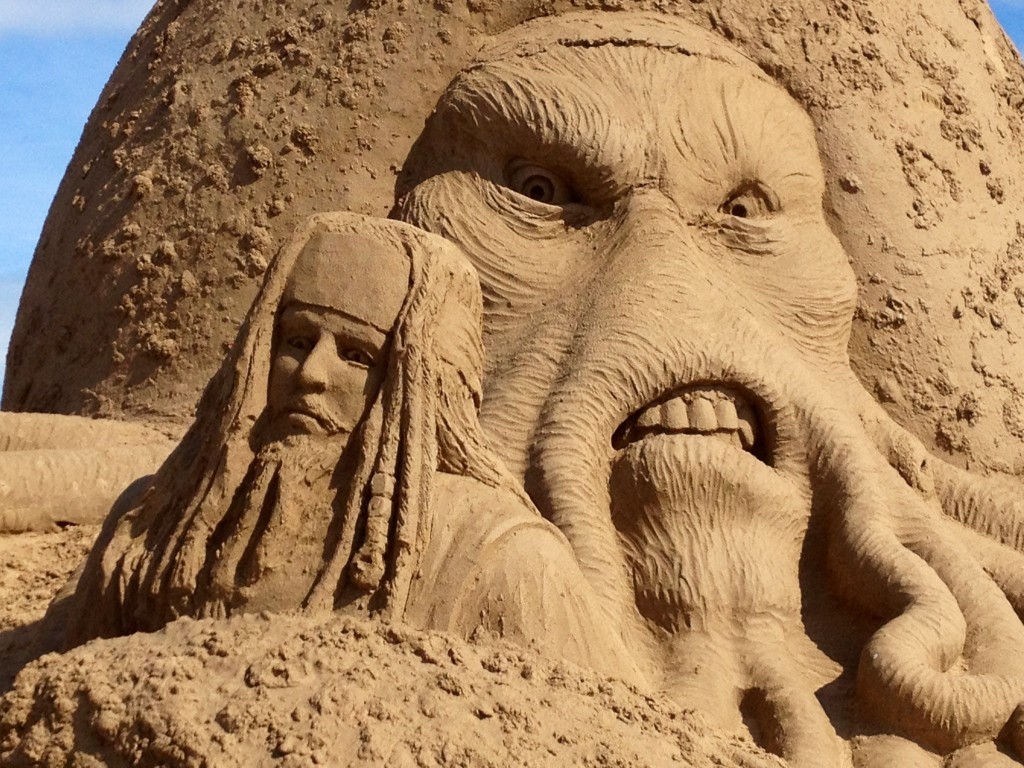 There was a good mix of films and actors portrayed. Children's characters included ones from Pirates of the Caribbean, Despicable Me and Madagascar.
My generation had Jaws, Titanic and James Bond sculptures whilst some of the older stars were Charlie Chaplin, Alfred Hitchcock and Marilyn Monroe.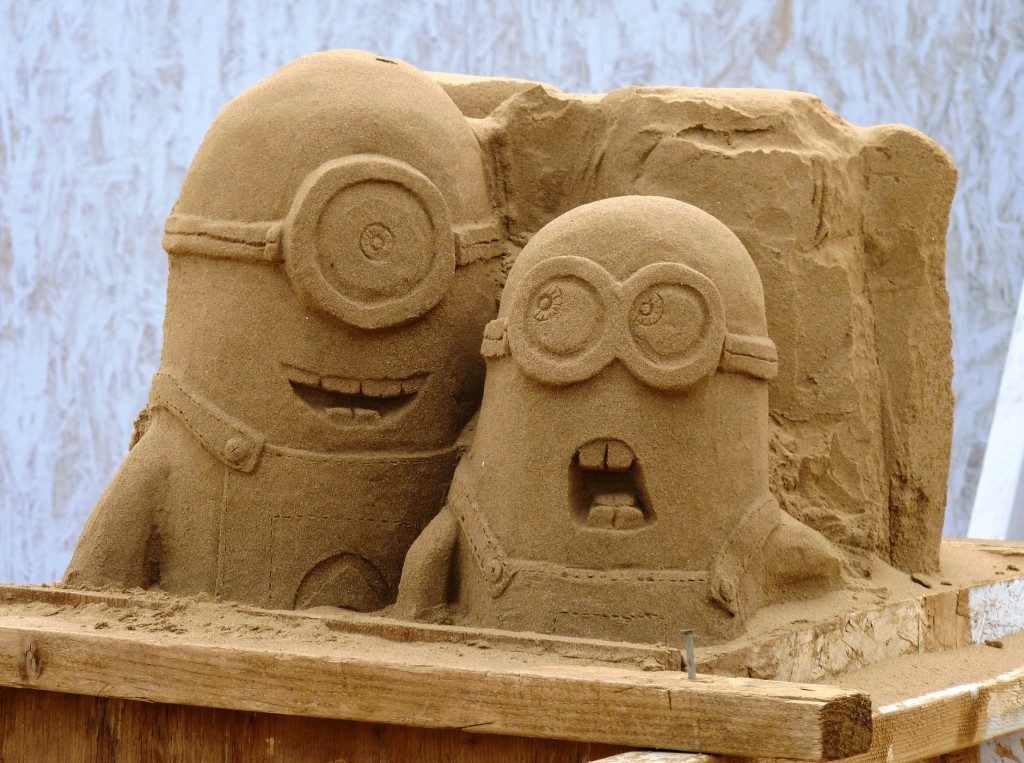 The sculptures were very impressive. After we looked round there is an area where you can create your own sand sculpture. There are step by step instructions to follow but its not as easy as it looks!
Finally, no visit to the seaside is complete without an ice cream. We opted for Tutto Gelataria on the sea front, this sells locally made ice cream with some interesting flavours (candy floss ice cream anyone?).
Before heading home we also picked up some sticks of sugary rock as souvenirs.  I don't know why I do this as I always find them sweet and sickly, but I guess a seaside trip demands certain traditions!
Everything else
In the past we've played crazy-golf, but there wasn't time this year. There's also a water adventure play park, the museum, the Weston wheel (not quite the London Eye), a land train along the promenade and the aquarium. So, plenty to do on a day trip!
More info
The Grand Pier is open daily from 10am (except Christmas Day).  The closing time varies, but is usually early evening.
The sand sculpture festival is an annual event, with different themes each year.
Both the Grand Pier and Sand Sculpture festival are wheelchair and buggy accessible. However, inside the pier arcade area it was incredibly busy, and there's not much space to manoeuvre around.