Adventure: an unusual and exciting experience. As defined by the English Oxford Dictionary.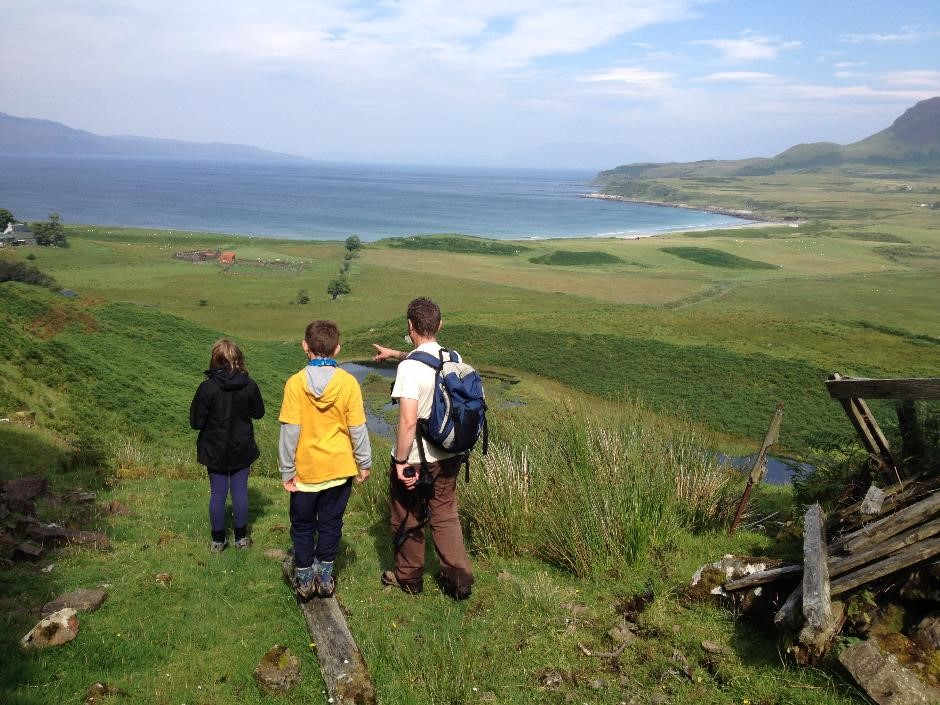 When I read about the Trips100 Family Adventure Company competition to win a trip to Cambodia I immediately knew I would enter. Yet concerned too. The brief, to write about our favourite family travel adventure, suggested tales set in far away exotic locations.
Although we travelled extensively before children our recent holidays have been close to home. What would I write about? But then I realised. Our trips are still full of adventure. Last year we explored the west coast of Scotland and this was one of our most memorable family holidays. What made it so great?
Getting there was half the fun
We could have driven. After all it's only eight hours on the motorway. But an overnight train journey, complete with sleeping cabin, is an adventure for most adults, let alone kids.
Forget packed commuter services. The Caledonian Sleeper transported us in style from rainy London to Fort William. We loved the thrill of going to bed on a train and waking up to the hills of Scotland. Even breakfast was a novelty; porridge in the onboard restaurant, staring out across boggy Rannoch Moor.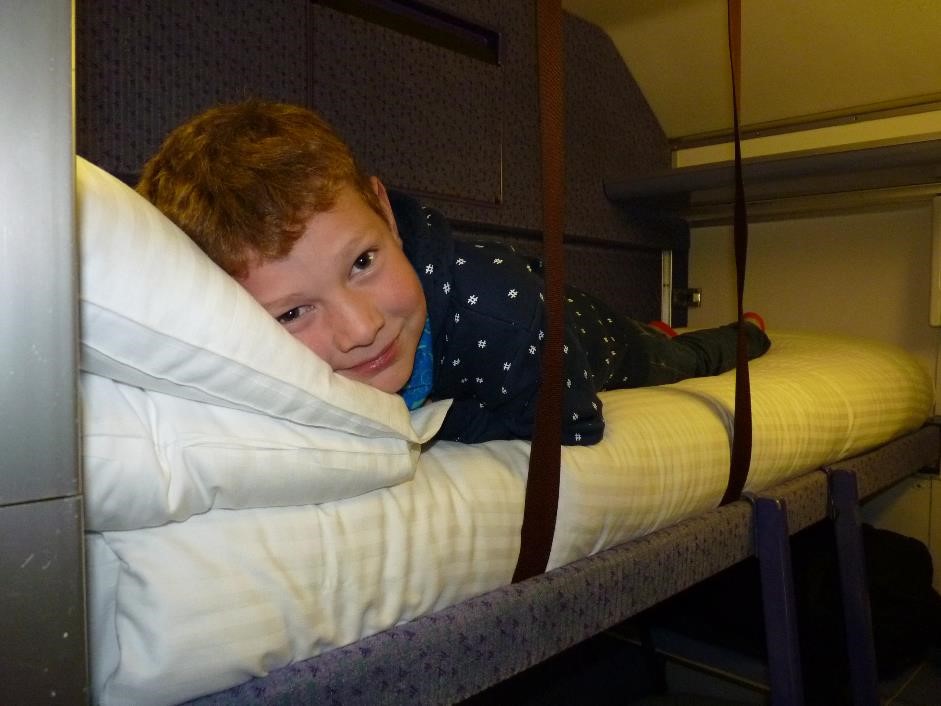 Yet the transport adventure didn't end with the train. After a few days exploring the local area it was time to find our sea legs. Excitement grew as we boarded the CalMac ferry for our eventual destination, the island of Eigg, one of the aptly named Small Isles.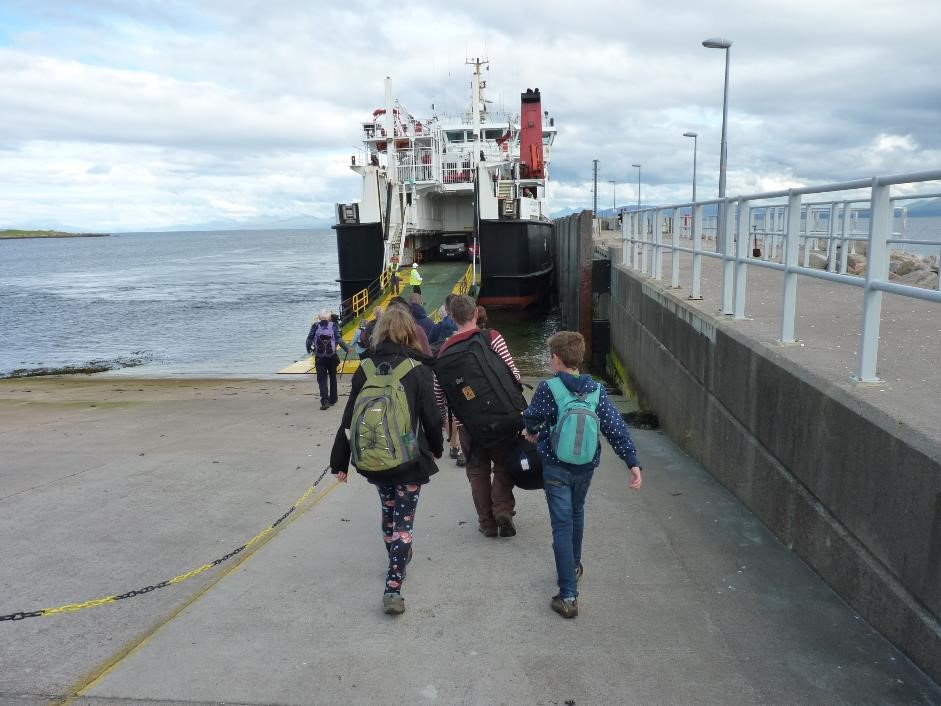 Leaving behind the jagged mountain skyline of Lochaber, we swapped one set of superlative scenery for another. Our approach to Eigg waymarked by the dramatic Sgurr of Eigg, a huge lump of rock that gives the island its distinctive shape. What adventures would it reveal?
Staying in memorable accommodation
I doubt there are many places where you can watch golden eagles whilst washing your breakfast dishes. The Glebe Hostel on Eigg is one of them.
The hostel owner met us on the dock, pointed out an imposing house on the skyline and suggested a couple of walking routes to reach it. Did I mention visitors are not allowed cars on the island?
I'd booked a self-contained flat to provide us with immunity from hostel snorers. I needn't have worried. We were near enough the only guests. In peak season.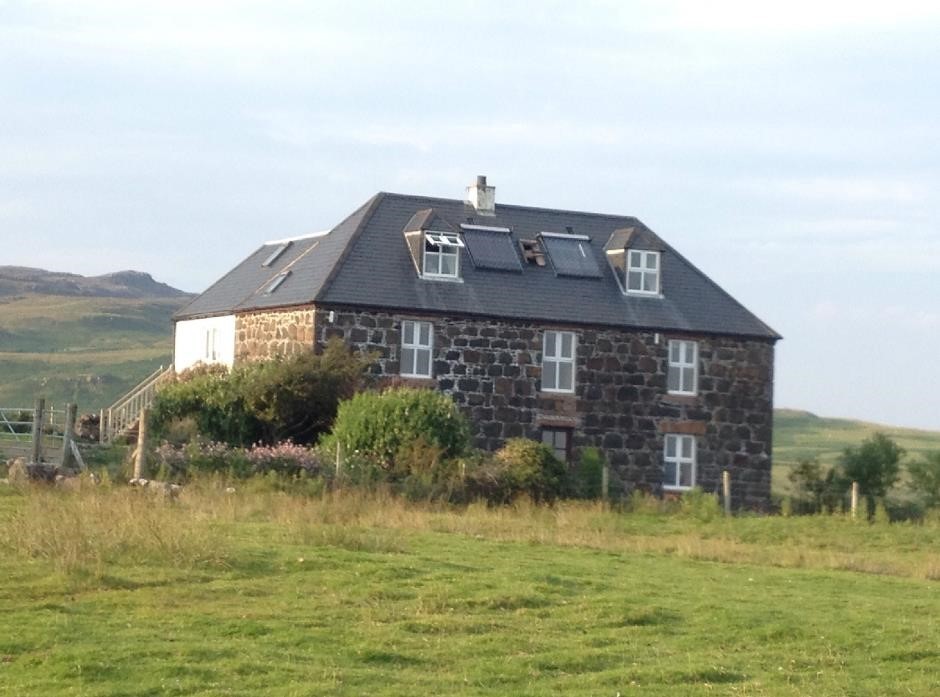 Eating the local delicacies
Food is a huge part of any travel experience. Unusual flavours and ingredients have the ability to transport you to a different place. It is amazing how, years after a holiday, it is often the food I remember.
From three weeks of eating noodles and ketchup in Mongolia to the juicy oranges served after meals in Morocco. To a deep fried haggis meal from the Mallaig chippie.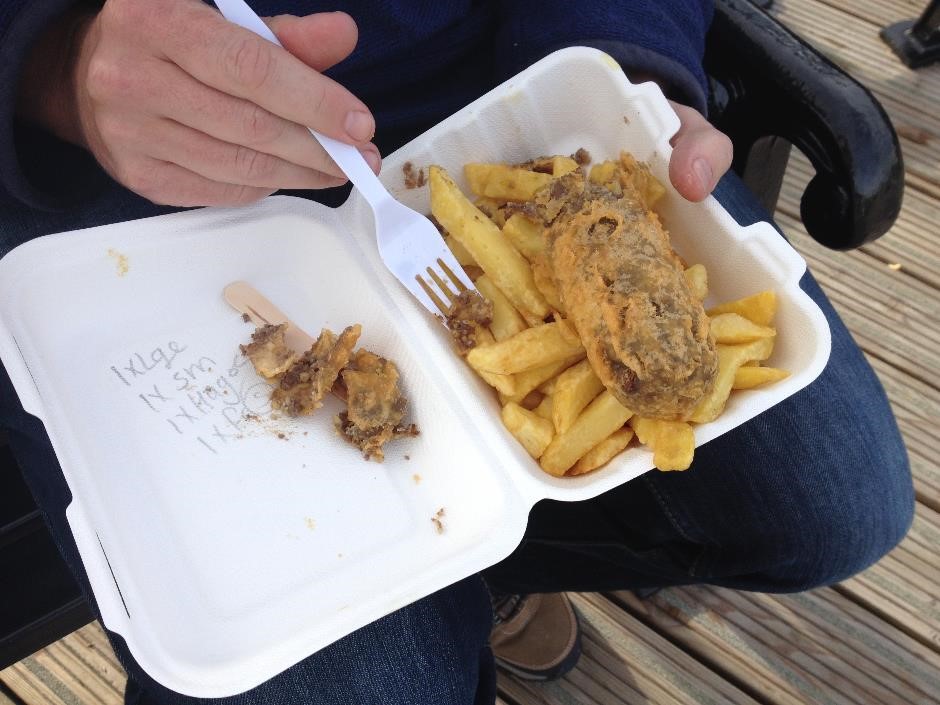 OK, hands up. I didn't eat it. But my partner did and even the kids tried some. As a vegetarian of many years standing I'm claiming exemption!
Exploring on foot
I love walking. It forces you to slow down and appreciate your surroundings. All our holidays involve walks. Sometimes the kids aren't happy at going on another walk. Snapchat, Instagram and YouTube demand their attention. But five minutes in and they'll be happily wandering along beside us. Or throwing acorns at each other.
There are many benefits to not having a car. We walked the length and breadth of Eigg. We discovered caves with a tragic history. Looked in on the tiny primary school and imagined living on the island. Amused ourselves reading the collection time on one of the island postboxes (1 hour before ferry).
On the mainland we were reunited with our hire car. But we still walked. Had a close encounter with a big black bull. Found jellyfish on a deserted beach. And took an after dinner stroll along the Ben Nevis mountain path.
These foot adventures will remain with us forever.
Watching wildlife
A naturalist in another life, I loved having the time to sit and watch the seals on Eigg. Enjoying their antics. But wondering why on earth they all launched themselves into the sea everytime a seagull flew over.
They may not be the most exotic of species but we don't see seals at home in central England. Let alone pine marten, minke whales and dolphins. Not even the pesky midge. All spotted on our Scottish trip.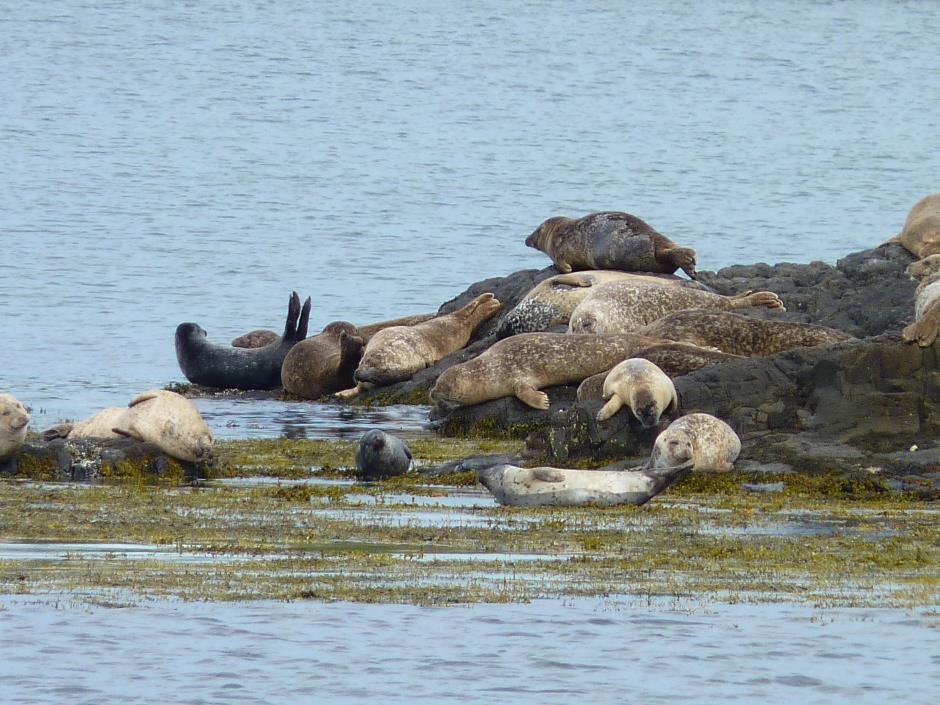 Getting the adrenaline flowing
An adventure holiday wouldn't be complete without a few jangling nerves. Back on the mainland we walked the popular route to Steall Waterfall. Death of danger notices marked the start.
The waterfall was impressive. But this is what the kids wanted to do: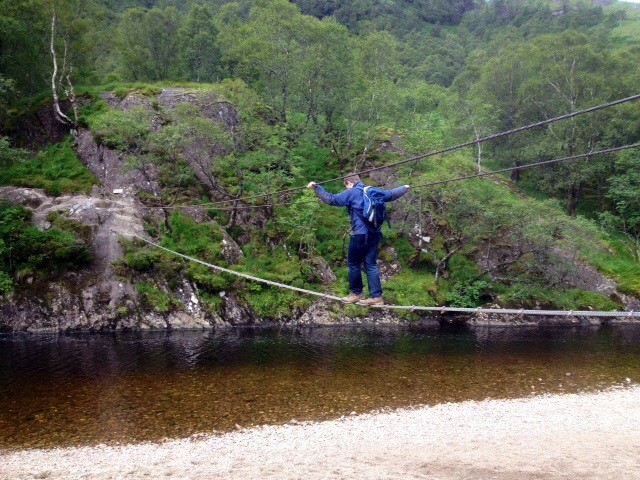 As demonstrated by my other half. My son wasn't tall enough to reach both wires so shuffled along holding just one of them. I had visions of a mid-river soaking. Even the other half said it was harder than it looked. We compromised. Far enough over for a photograph, but not so far that we'd need a change of clothes.
Finding the perfect beach for some downtime
You may have guessed we're not the kind of family to lay on beaches and sunbathe. We much prefer poking around in rock pools, hunting for seashells and collecting driftwood. But even beach explorers need to sit and admire the scenery sometimes. Particularly when there's a perfectly positioned tree trunk.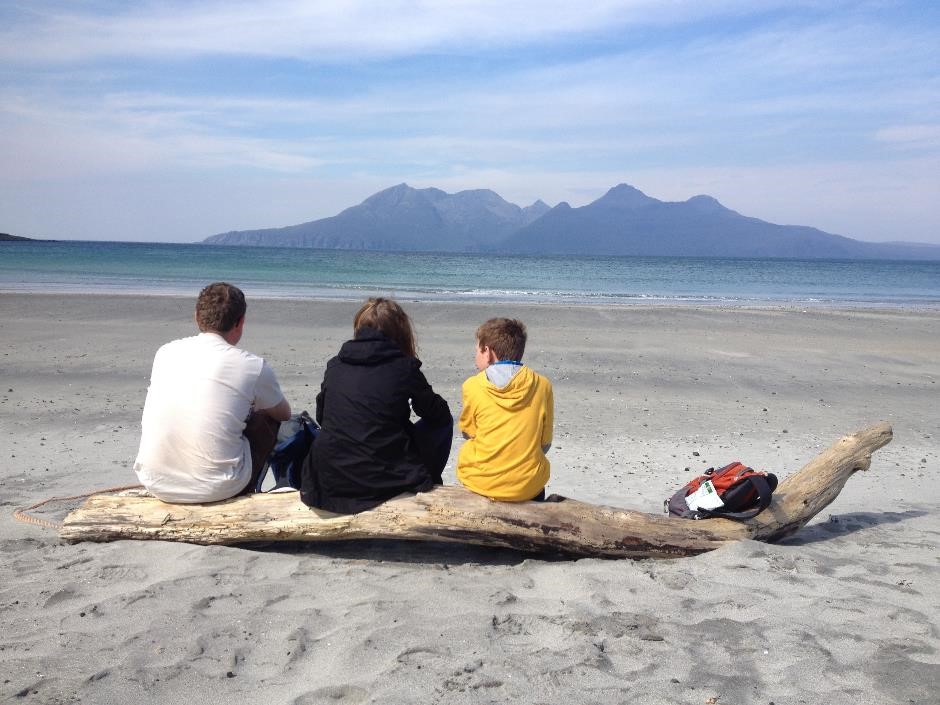 Our trip to Scotland provided so many happy memories. Proving adventure can be had anywhere, you just need to look for it!
*This blog post is my entry into the Trips100 Family Adventure blogger challenge*