We spent a week in Northumberland many years ago, when eldest teen was a toddler. My enduring memory of that trip is of beaches and castles.
I had no plans to revisit old haunts but we'd only walked past Dunstanburgh Castle on our previous trip. This time we went inside the castle walls.
Dunstanburgh Castle
Dunstanburgh Castle was built in the 14th century by Thomas, Earl of Lancaster, probably to act as a secure refuge. Unfortunately he only managed to visit once before he was executed. Nowadays the castle is managed by English Heritage. In the intervening years it has changed hands many times, becoming ever more ruinous as the centuries have passed.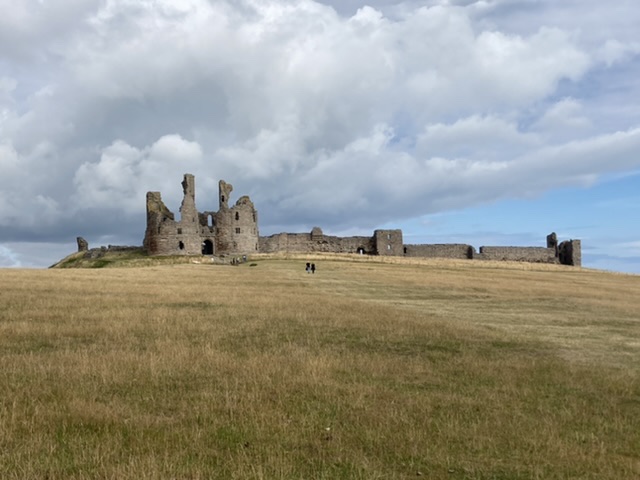 Dunstanburgh Castle
For me, the primary appeal of Dunstanburgh Castle is its dramatic location. Built on the Whin Sill we first encountered at Hadrian's Wall it's on a remote headland overlooking the sea. Dunstanburgh is only accessible by foot; the nearest car park is at Craster, a spectacular one mile walk along the coastline.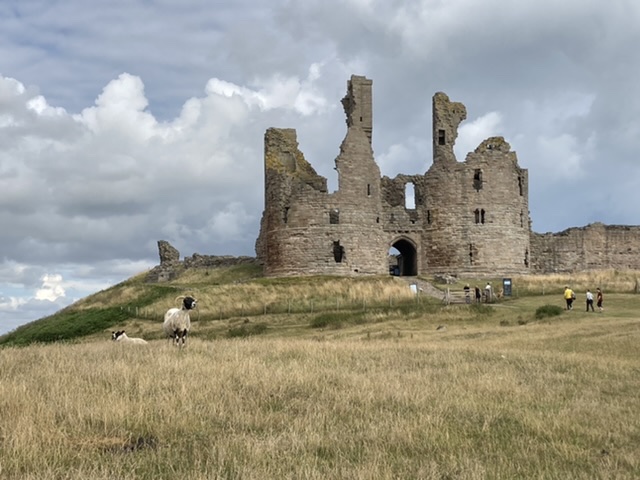 We were met at the entrance by an  English Heritage guide who checked our booking and told us a little about the castle history. The key takeaway point being the castle was built to be seen, rather than as a home.
Once inside there's not that much to see. The primary attraction is the large gatehouse which fulfilled both a defensive and residential purpose. We climbed the steps up as far as allowed and managed to spot Bamburgh Castle on the horizon. Afterwards we walked around the perimeter walls, trying to imagine what life might have been like.
An unexpected highlight were the seabird cliffs, visible from the far side of the castle grounds. We had no idea of their existence until we heard the sound of hundreds of kittiwakes calling. Turns out to be the largest colony in Northumberland. We probably spent longer here than we did walking around the castle!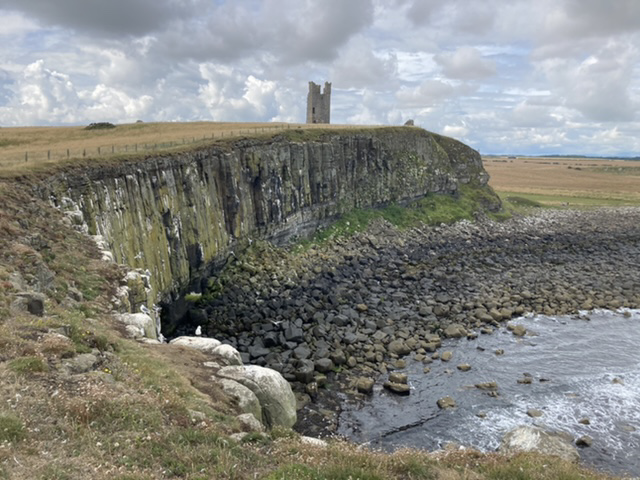 Once again I was glad we'd made an early start (not that the teens would agree). Our return walk was much busier than the outward one. Not as spectacular either, although I did keep turning back for one last photo of the castle.
Lunch
After a quick look around Craster, and the obligatory purchase of kippers for breakfast, we drove to the Rocking Horse Cafe near Alnwick for lunch. Youngest teen couldn't make up his mind so ended up ordering a salad, something he would rarely eat willingly at home.
Despite his random choice both the salad, and my omelette, were excellent.
Amble
I'm sure Amble is lovely in the sun. However, as you can see from the photo below our visit coincided with a shower.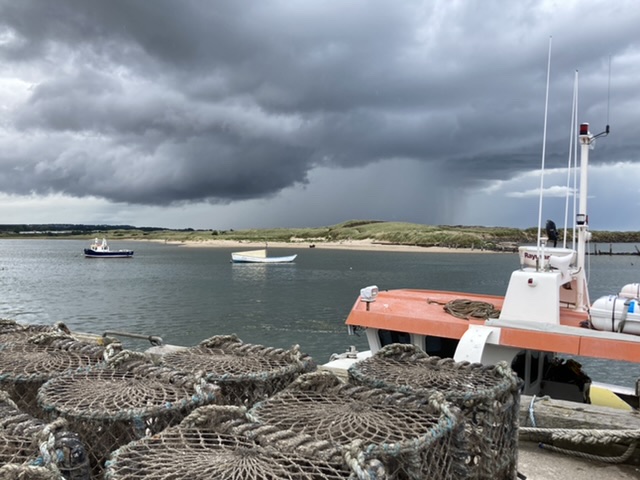 We could see the rain approaching so didn't attempt the walk I'd previously planned. Instead we mooched around the harbour area looking at the knick knack market stalls and sheltering from the downpour. The weather didn't improve so we hopped back in the car.
Hauxley Nature Reserve
We unknowingly saved the best to last. Hauxley Nature Reserve was originally part of an opencast mine until it was purchased by Northumberland Wildlife Trust in 1983.
We arrived late afternoon so only had time for a short walk before the reserve closed at 5pm. My partner and son headed off on a round reserve walk, oblivious to the rain. I decided to take shelter in one of the hides which looked out over a variety of bird feeders. In amongst the usual finches and tits I was surprised to see a couple of bullfinches. Whilst I've seen bullfinches before I've never had the opportunity to watch them close up. I would say it was the highlight of my day until…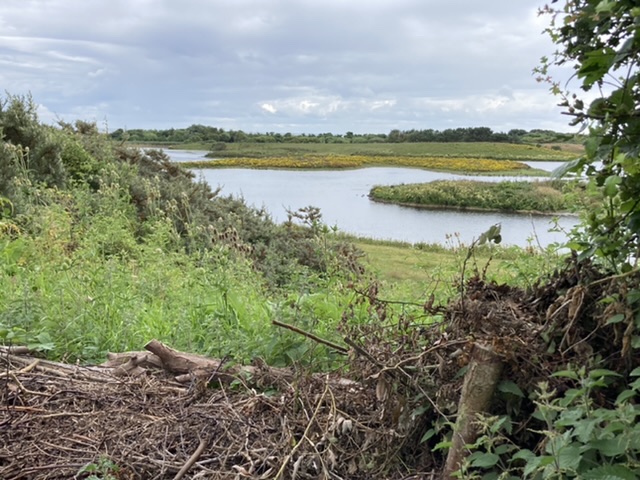 It was time to leave the reserve. As I approached the car my daughter signalled wildly, pointing at a feeding station in the nearby trees. A red squirrel. The absolute highlight of my day!
Overnight stop
We returned home to our Airbnb in Ellington on a 'red squirrel high'. No evening walk as weather remained showery.