I was in two minds whether to write a review of Denfurlong Farm campsite or not. Partly because it's a simple set up so there's not really much to say about it. And partly because it's our new favourite campsite which I'm not sure I want anyone else to discover!
Location
Denfurlong Farm campsite is on the outskirts of Chedworth village in Gloucestershire. It's the perfect location for discovering the local Cotswold villages and countryside. Cirencester is a 15 minute drive south of the campsite whilst the tourist destinations of Northleach and Bibury can be reached in the same time.
We stayed over a gorgeous sunny weekend in June. There were only about 10 other people on the site, I couldn't believe how quiet it was given the location.
Facilities
This is not the place to visit if you expect extensive facilities. There's a field, one portable toilet and basic shower, a water tap and waste disposal. There are a small number of electric hook ups for caravans but it's not your typical caravan site.
New toilet and shower facilities are underway; we had a peek and it looks like they'll be a big improvement when they're finished. Although I'm a little worried the campsite will become too popular when the facilities open!
*Update August 2015* – the new toilet block is now open!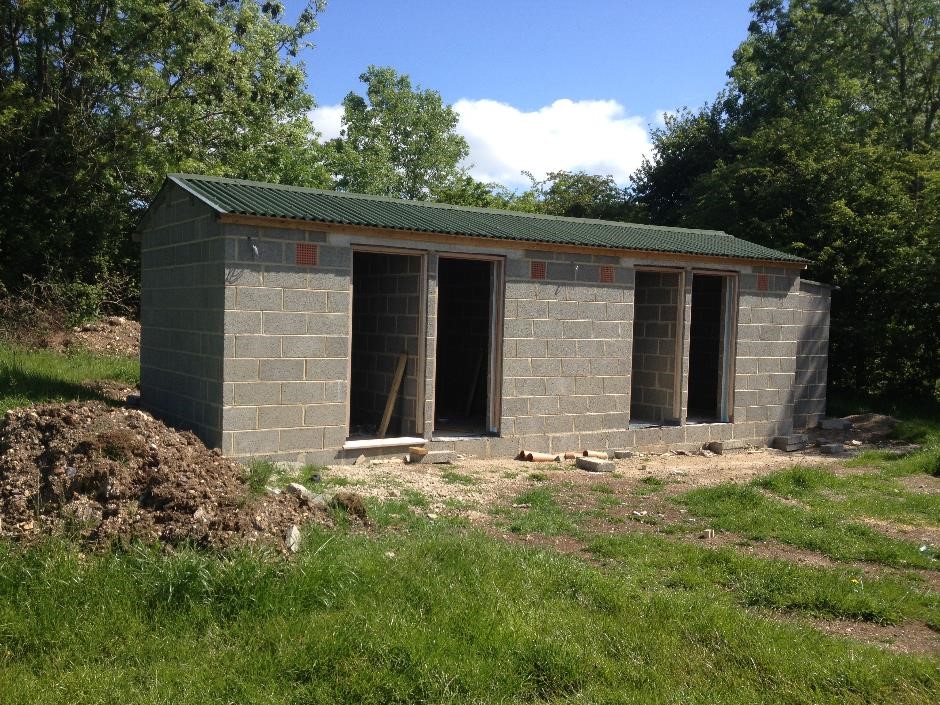 The campsite has loads of space for children and dogs to play. Our kids enjoyed playing on the rope swing and exploring the area up behind the tents. There's a communal campfire pit in the middle of the field which we didn't get a chance to use but would be perfect for toasting marshmallows. If you do plan to cook you can hire cool boxes and barbecues from the farm shop.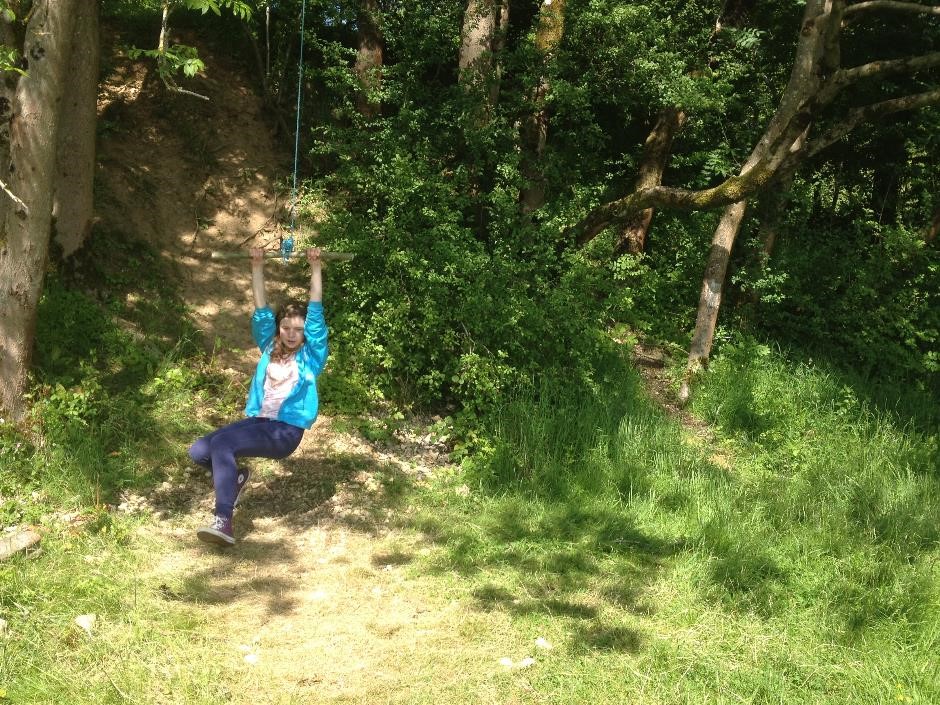 There are a couple of bell tents to hire too. They look quite roomy inside and can be hired with or without equipment. I always enjoy staying in my own tent but these would be handy if you don't want the hassle of putting up a tent.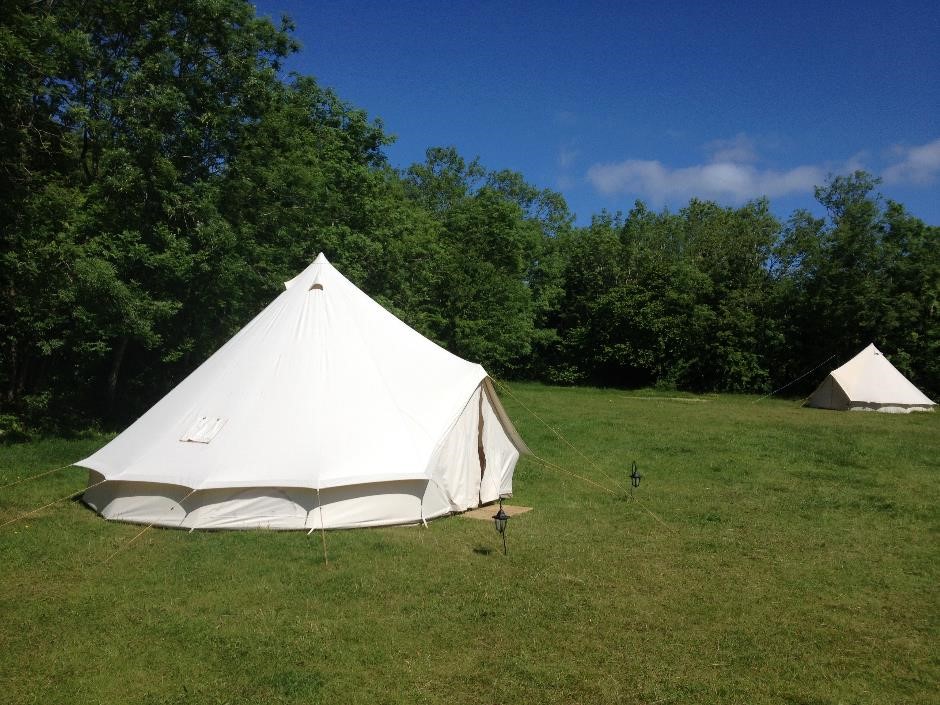 Chedworth Farm shop
Aside from the location, the main reason I chose this site was because of the farm shop cafe which is only a couple of minutes walk away.
The cafe is open on weekend mornings for bottomless fried breakfasts (£7), unlimited coffee (£2) and plenty of other breakfast choices. The kids had a smaller fried breakfast for £4.50 each but it was still pretty big!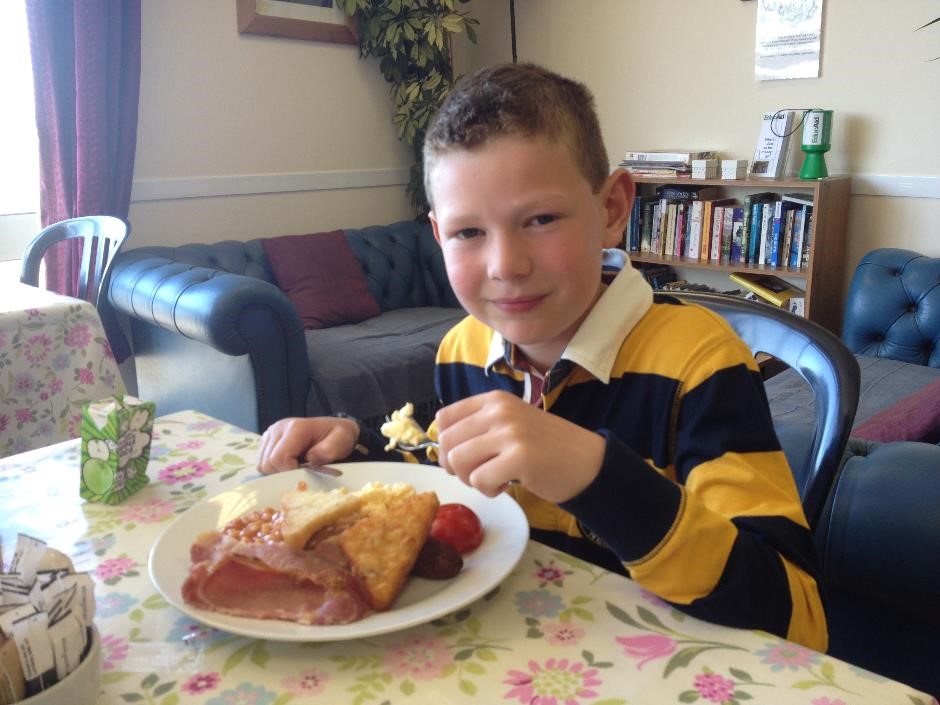 The farm makes its own ice cream so we felt obliged to test this too. The lemon meringue flavour was the favourite from our choices although all were good. I didn't get around to eating any cakes but they also looked tempting.
The only downside was that the cafe had a 'fried smell' about it. It wasn't really obvious once you were sitting inside but was a little off-putting when you first walk into the farm shop area.
Things to do nearby
Corinium Museum in nearby Cirencester is a great place to learn about the Roman history of the area. The museum contains locally found mosaics and wall paintings, along with plenty of Roman artefacts and information.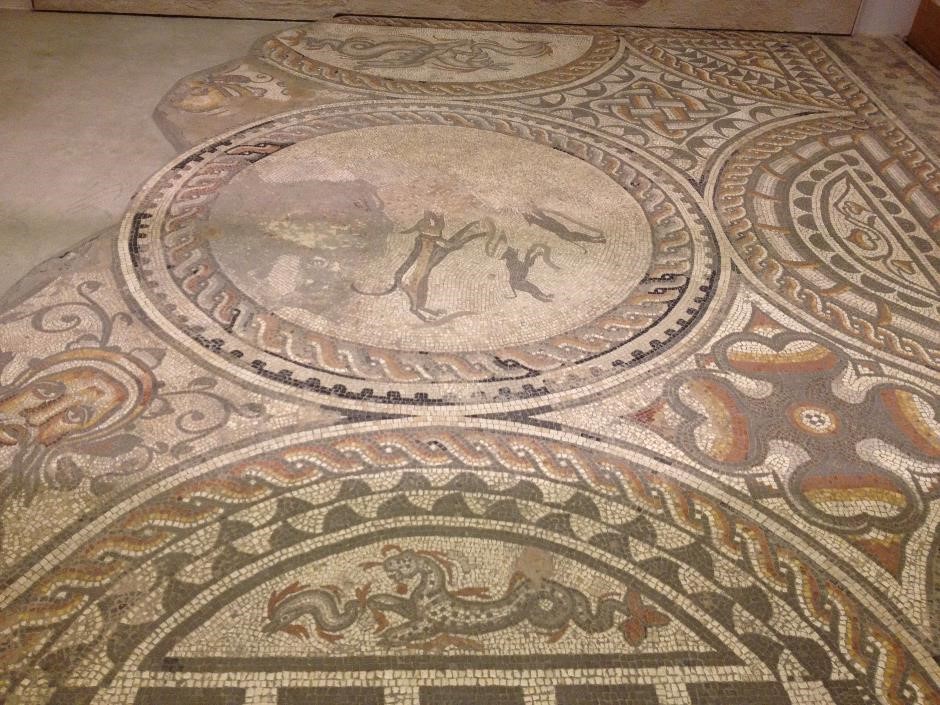 The ruins of Chedworth Roman Villa are around 3 miles away from the campsite. It's one of the largest Romano-British villas in the country and well worth a visit. Keep an eye out for large snails around the site; their ancestors were brought over by the Romans to be fattened on milk and eaten as a delicacy.
We've been to the villa before so didn't visit this time. Instead we went for a walk in Chedworth Woods and Nature Reserve and then made use of the National Trust cafe and toilets at the villa.
Summary
We loved this Cotswold campsite and are already planning our return. We are back to basics campers so don't mind the lack of facilities but it won't suit everyone. For us though it is the perfect place to spend a night or two in the Cotswolds.
More info:
We paid £10 for our grass pitch, this included 2 adults and 2 children. Prices increase slightly during July and August but are still a bargain for the area. Further details and booking information can be found on the Denfurlong Farm campsite website.
Corinium Museum in Cirencester is open from 10am-5pm Monday to Saturday and 2pm-5pm on Sundays in the summer months. Different opening times apply out of season. An adult ticket costs £4.95, children age 5-16 cost £2.45.
Chedworth Roman Villa is open 10am-5pm during the summer months. Entry is free to National Trust members, alternatively a family ticket costs £22.50. Check the website before visiting out of season.