Twenty odd years ago I spent a week volunteering as an assistant warden on Skomer, a small island off the coast of south west Wales. It was a formative experience of my 20s; the beauty of the island, the conservation work and the volunteers are all ingrained in my memory.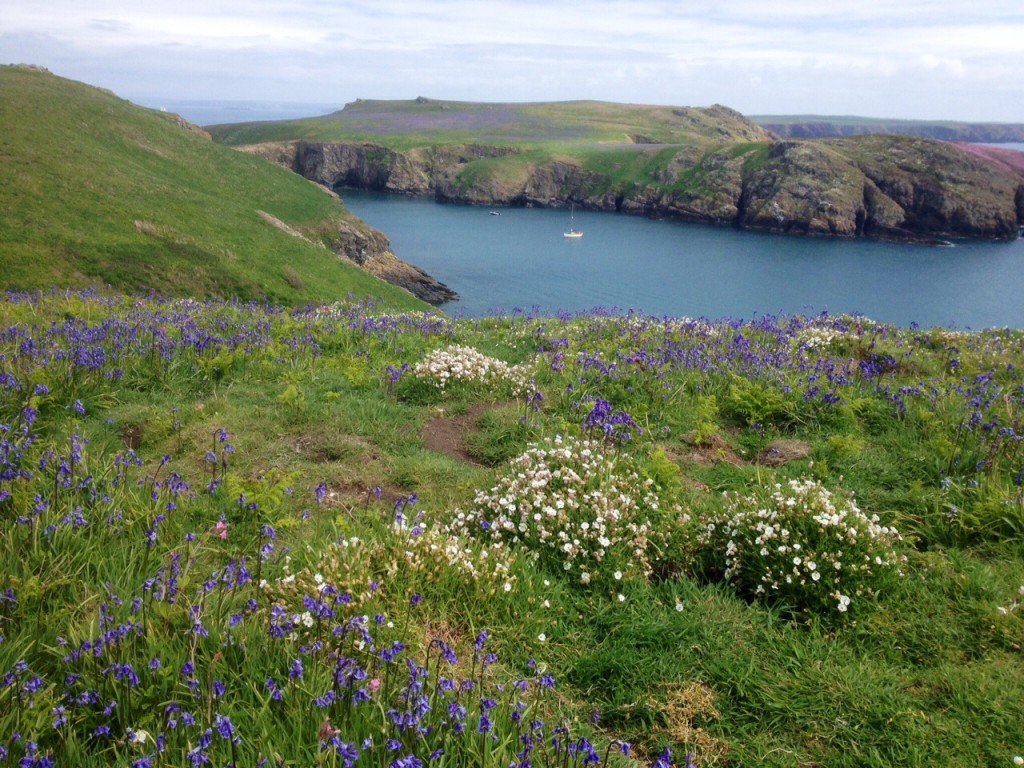 It's always tricky to revisit a place that holds such strong memories but I wanted to return with the kids when they were old enough to enjoy it. Our recent holiday to Pembrokeshire gave me the ideal opportunity; I knew the visit would be completely different but would I regret returning?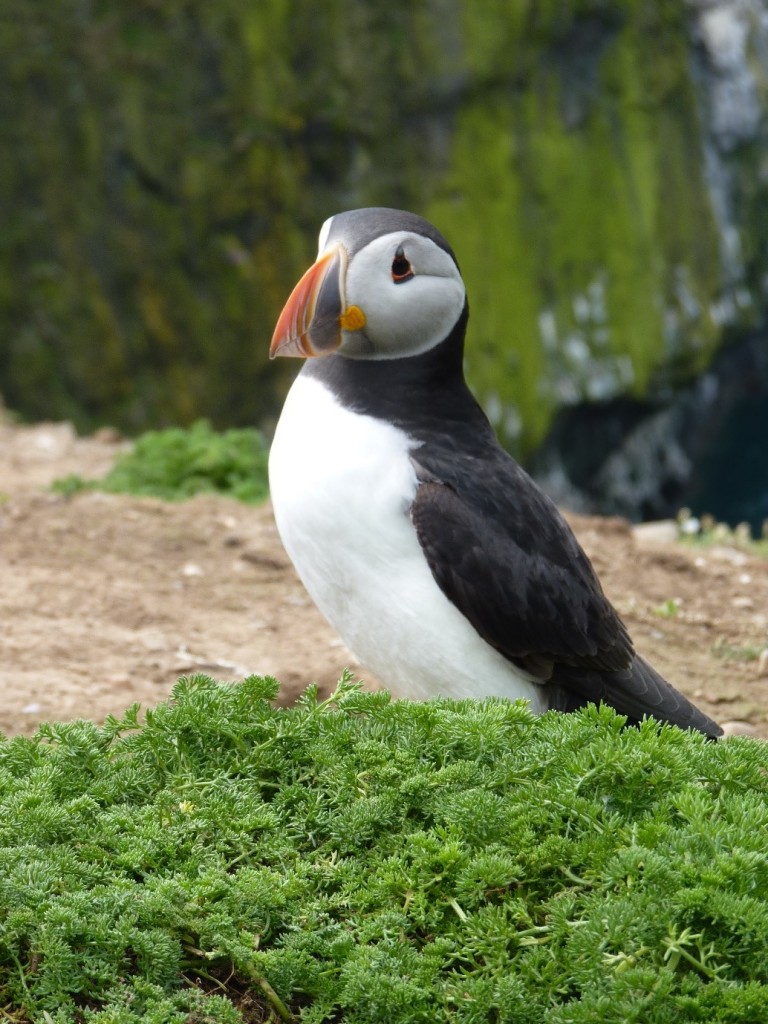 The boat to Skomer
The boat to Skomer leaves from the small bay of Martin's Haven. As the island has a limit of 250 day visitors you need to arrive early if you're travelling during peak season. We were visiting on the late May Bank Holiday so didn't take any chances and were in the queue for tickets by 8am.
Our early start paid off and we were allocated seats on the first day visitor sailing. Our boat, the Dale Princess, makes the 10 minute journey several times a day which is reassuring given the notorious reputation of Jack Sound, the stretch of water that separates Skomer from the mainland. I was glad it was only a short journey as the swell was considerable despite it being a calm day.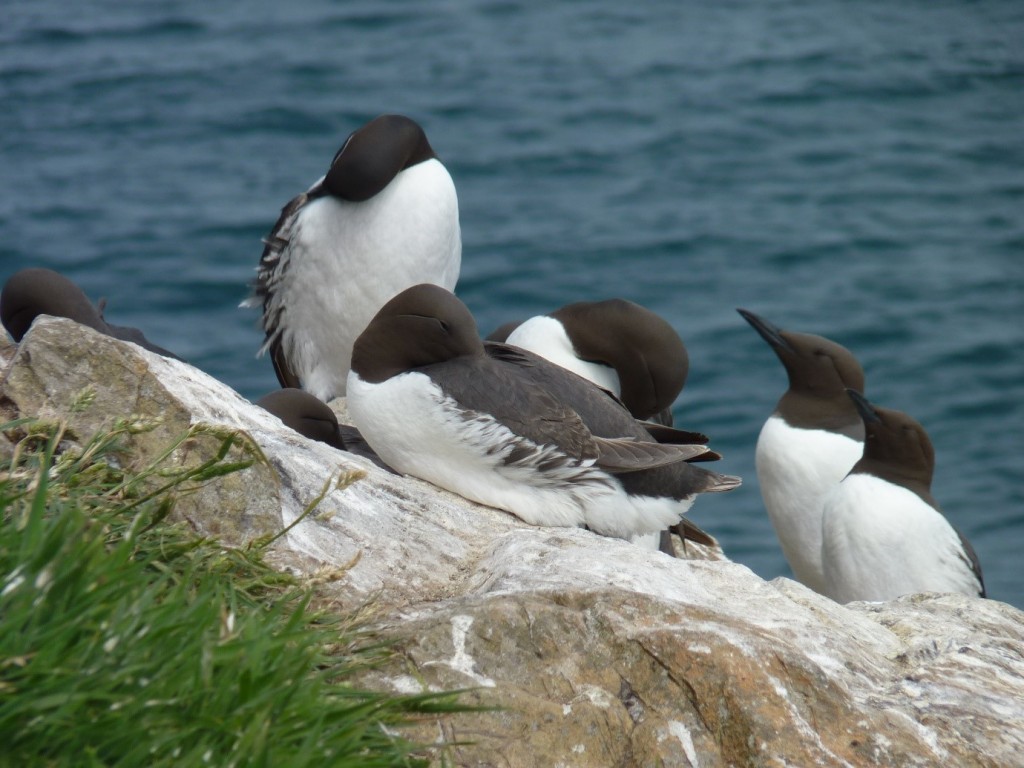 As we neared the landing stage we were surrounded by seabirds, mostly puffins, bobbing in the sea around us. After disembarking we were directed up a flight of steps, past ledges full of guillemots, for an introductory talk by the warden. 
The warden described the island as a piece of Swiss cheese. This is a perfect analogy. Three of its main inhabitants live in the burrows which cover the island; puffins, rabbits and Manx shearwaters. Whilst you're likely to see both puffins (in season) and rabbits the Manx shearwaters arrive and leave in darkness. Only overnight visitors will witness the vocal cacophony of the shearwaters that return to the island each evening.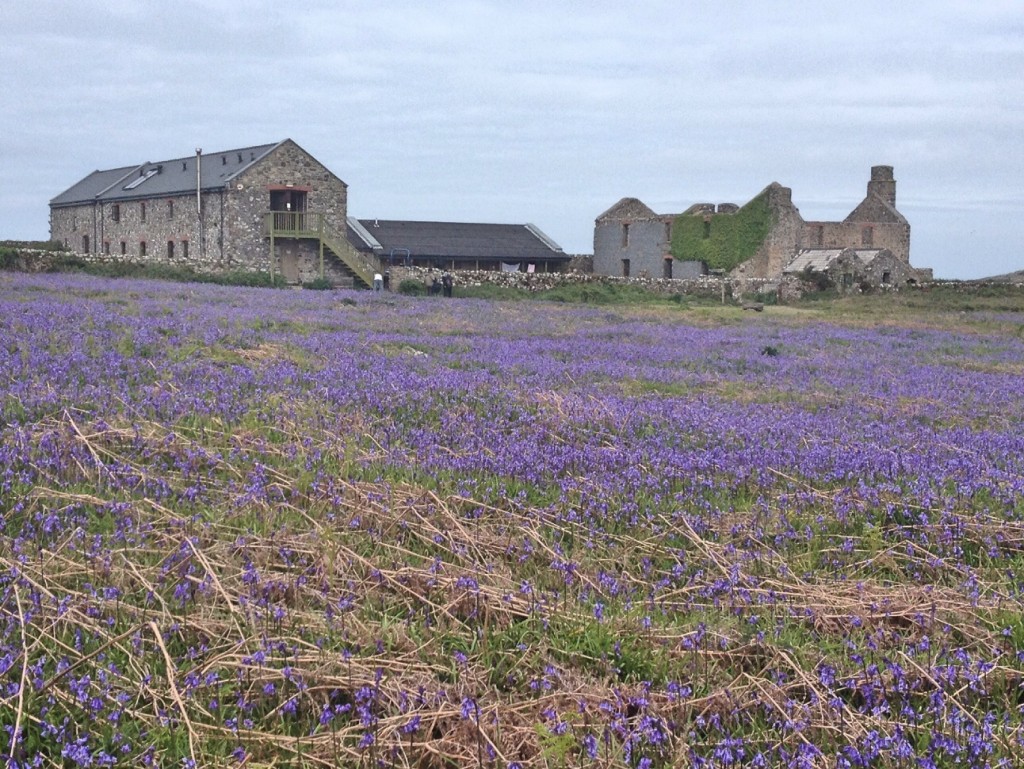 We had around 5 hours which is more than enough time to walk a circuit of the island. Our first stop was a trip to the Old Farm, which houses a small visitor exhibition and, most importantly, the only public toilets on the island. It's also the location of the volunteer accommodation, which I was keen to show the family, even though the kids weren't particularly impressed by my reminiscing.
The volunteer accommodation had certainly had a makeover since my earlier visit, as you can see from the then and now photo. Our converted cowshed (top photo) had no running water and very rudimentary facilities. I'm not sure what I smelt like after a week with no shower but I doubt it was fragrant!
We continued walking on towards Skomer Head. As with much of the Pembrokeshire coast the island is carpeted with flowers during late spring. At home (Oxfordshire) the bluebells have finished for the year but they were still flowering in abundance on Skomer, along with pink campion and sea thrift. 
We saw plenty of rabbits as we walked. Rather disconcertingly the first one was black and white which made the kids wonder if a pet rabbit had escaped. The rabbits were introduced to the island in the 13th Century and were raised by locals for their fur and meat. Hence many are from domesticated stock and aren't the traditional brown colour.
We didn't actually miss out on seeing Manx shearwaters either. Although sadly they were dead ones! Skomer is home to the largest population of Manx shearwater in the world and they're easy picking for greater black backed gulls. As we walked around the island we saw plenty of Manx shearwater carcasses in various states of decomposition. My son delighted in taking photographs of these, I'm not quite sure what that says about his psyche.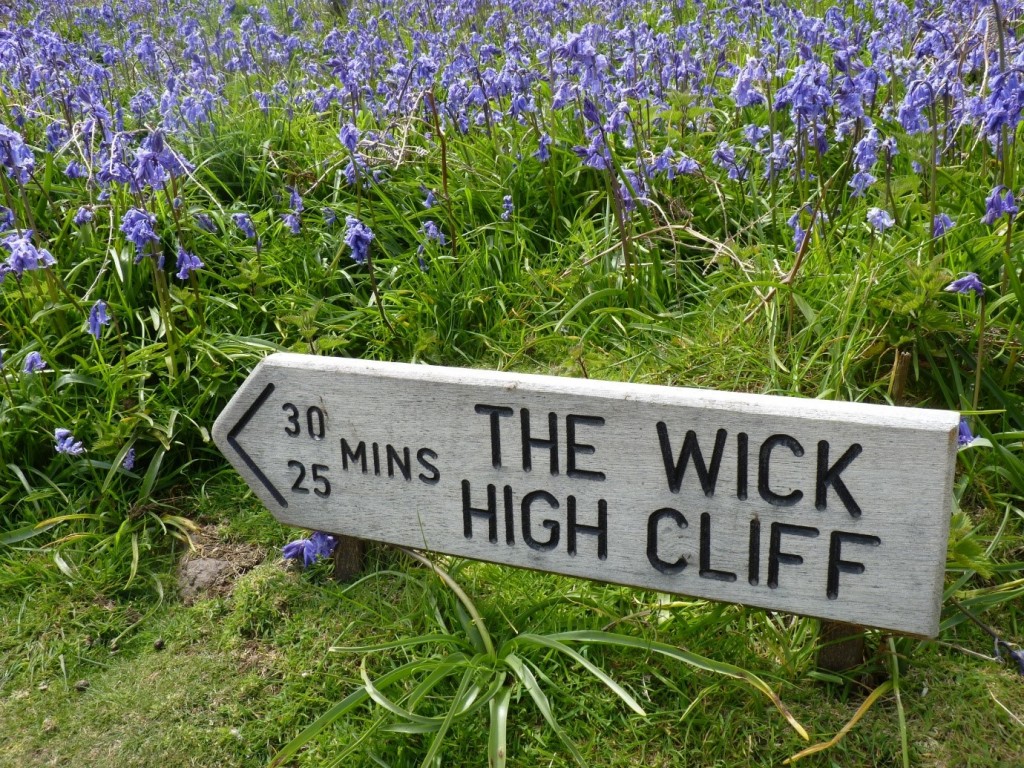 We stopped for an early picnic lunch near Skomer Head where we attempted to spot porpoise. We were out of luck so contented ourselves with views of Grassholm, renamed gannet island by the kids. The island is home to thousands of gannets, who are responsible for the snow covered appearance of the island (bird poo).
The Wick
After lunch it was on to the main attraction, The Wick. This sheer cliff is rammed full of seabirds, mostly guillemots and razorbills, which you can hear just as well as you can see. All the visitors to the island seemed to congregate here too as it's the best place to watch puffins on Skomer.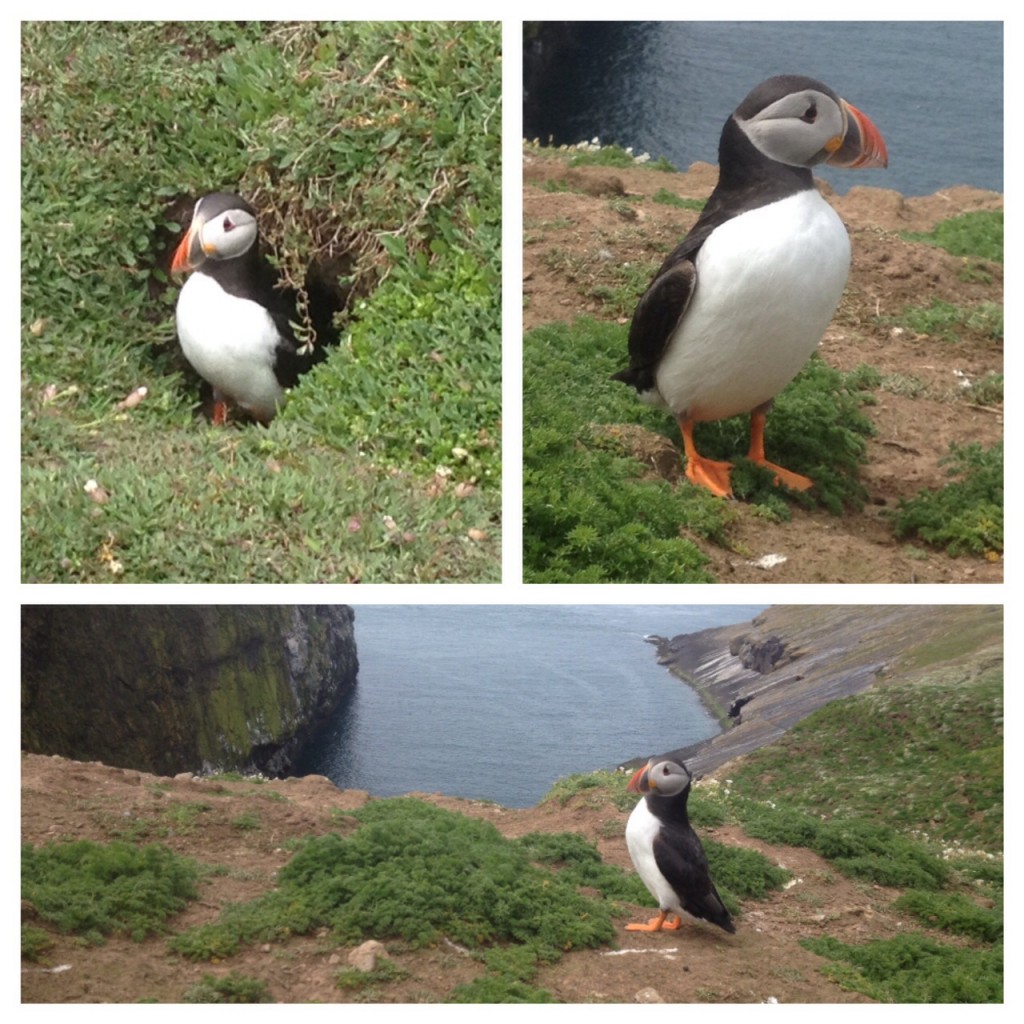 This year's puffin count recorded more than 21,000 individuals, the highest number ever. The footpath runs between the puffin burrows and the cliff so visitors are treated to great close up views of the birds. There was no need for binoculars, although there was a Skomer volunteer manning a telescope focused on The Wick for better views of other seabirds.
I remember my volunteer work consisted of boardwalk building and a bird count. I should probably apologise for any inaccuracies in puffin numbers during the early 1990s. It was hard to accurately count birds that wouldn't stay in one place for long!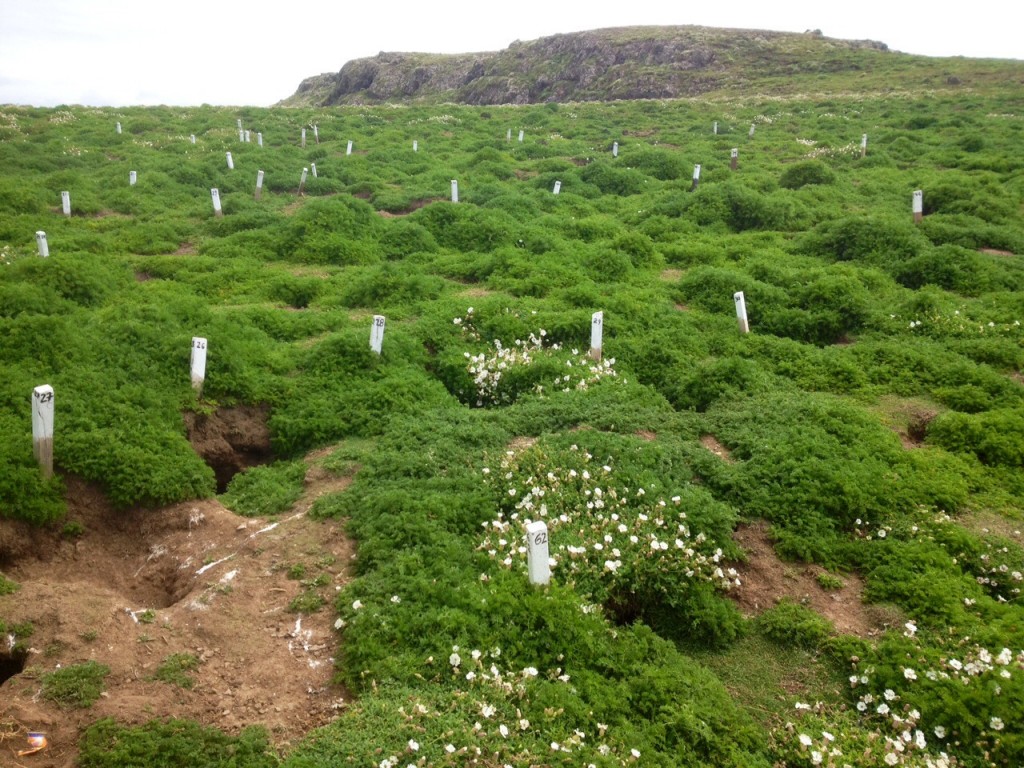 The puffin burrows are marked with numbered sticks. These help the volunteers record which burrows are occupied and which eggs have hatched. Every so often a startled puffin emerged from one of the burrows, let out a squirt of poo and escaped the cameras by heading out to sea.
Of course puffins are not the only bird on the island. They're not even the main attraction for the serious birdwatcher. The Skomer island blog shows that a black stork flew over on the day we visited; previous visitors this year include several golden orioles and even hoopoes! Needless to say we didn't see any of these, but we were quite content with puffins.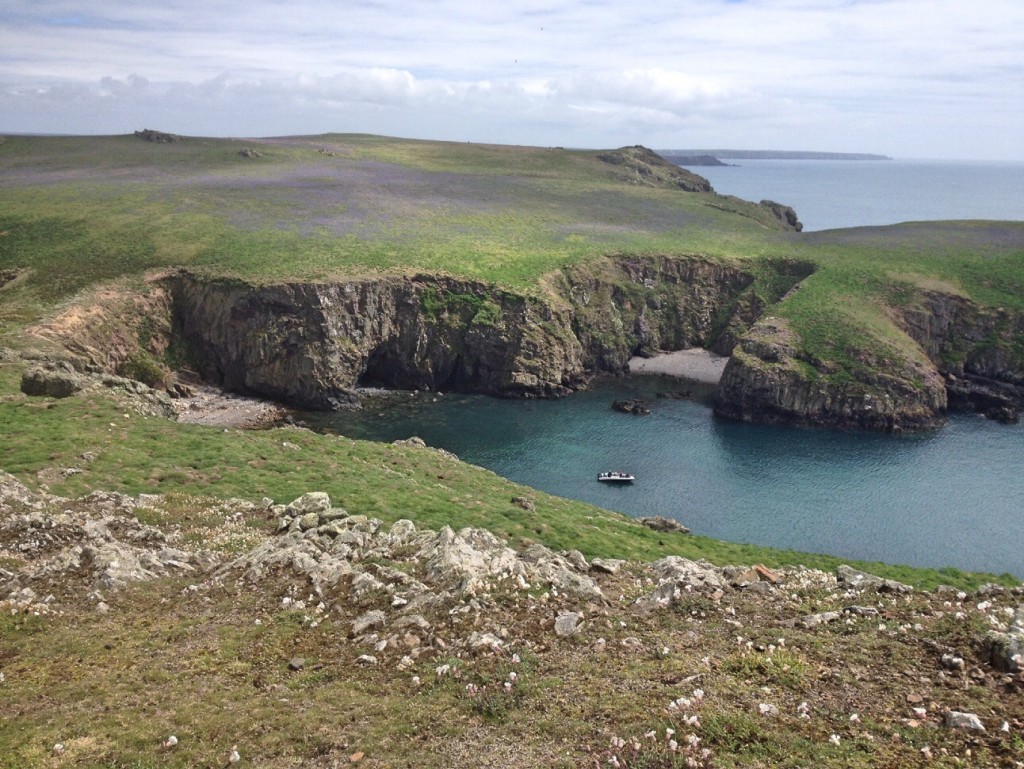 After we finally tore ourselves away from The Wick we headed back to our start point, stopping to take in the glorious views over The Neck (inaccessible to day visitors). The photo above really doesn't do it justice as the ground was covered in swathes of bluebells and pink campion.
We arrived back at the landing stage earlier than our planned departure time so that I could take some photographs of the guillemots we'd passed earlier. As it turned out, the boat arrived early too and we were allocated seats on an impromptu 2.30pm sailing. The trip back was completely calm, no spray and no swell, much more pleasant.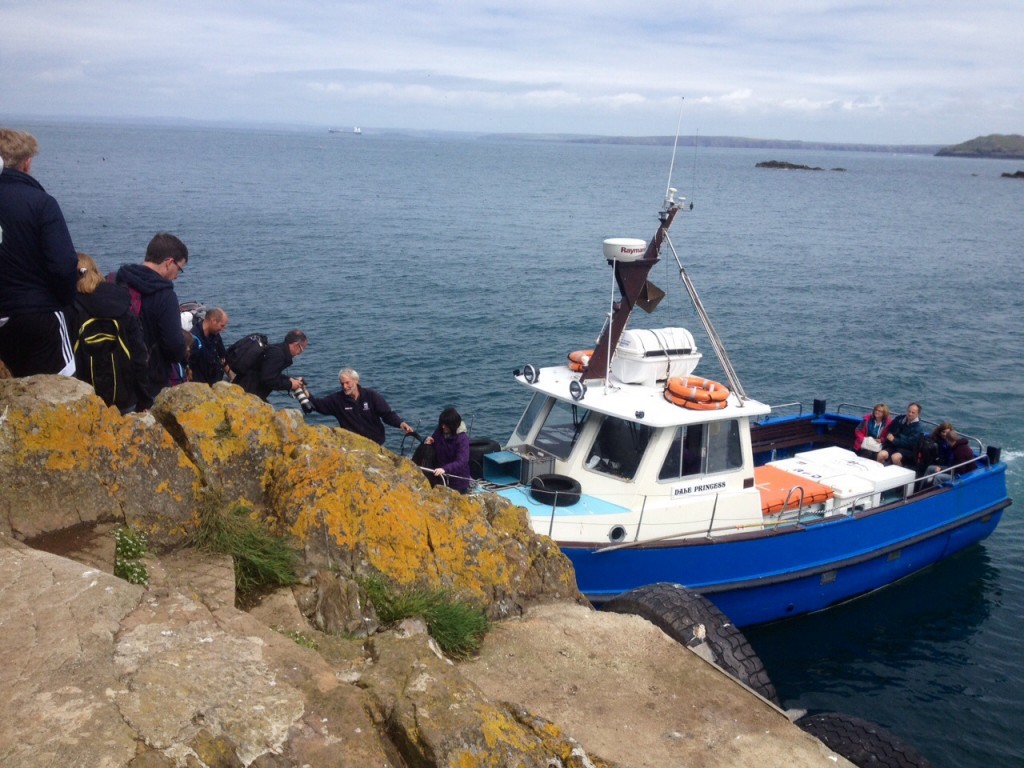 Did my return visit live up to expectations? Of course it did, and the rest of the family enjoyed it too. Sadly there was no sign of the boardwalk we built, but the island was exactly how I remembered it, with added puffins.
If you're visiting the area you might also like to read my blog post about things to do near St Davids, Pembrokeshire.
More info:
Access to Skomer. The island is open from 1 April to 30 September, except Mondays (although it is open on Bank Holiday Mondays). It is not possible to book  trips in advance so on busy days during peak puffin season you should aim to be in the queue at Lockley Lodge, Martin's Haven before 8am. Once you've got to the front of this queue and paid your landing fee you'll be allocated a boat departure time. The landing fee is £10 for adults, children under 16 and members of the local Wildlife Trust are free.
Taking the boat to Skomer. The boat officially departs at 10am, 11am and 12 noon (although we were allocated a place on a 9.30am boat). It only sails when conditions allow. In particular, a strong northerly wind can mean no sailings; you can check latest boat information via @skomer_boatinfo on Twitter. The boat departure point is about 5 minutes walk downhill from Lockley Lodge. The fee is paid on the boat in cash only; this is £11 for adults, £7 for children.
When can you see puffins on Skomer? The best time to see puffins is May to mid-July. Most have left by early August.
What facilities are on Skomer? There are basic toilet facilities on Skomer but that's all; there's nowhere to buy food so bring a picnic with you. You can however hire a pair of binoculars; these cost £5 and are recommended if you've forgotten to bring your own.
Is Skomer suitable for children? Yes, but with some reservations. There are 87 steps to climb from the boat landing stage and much of the island is rugged terrain with open cliffs, visitors must remain on paths at all times. There are only a couple of  places to shelter on Skomer so visit on a dry day. Lastly consider whether it's the kind of place your family would enjoy. If you're looking for beaches, a cafe etc it won't meet your expectations. If you're happy to wander round the island, stop to watch wildlife and enjoy a picnic you'll be fine. There are kids trails available, pick one up from the warden at the introductory talk.