Despite living only 40 minutes drive from the Chilterns we don't visit as often as we should. Stretching across four counties, from Bedfordshire to Oxfordshire, they're less well known than the Cotswolds but a great option for walkers in hill deprived southern England.
The area is characterised by beech woodlands, chalk hills and brick and flint villages. Autumn, when the leaves change colour, is impossibly pretty. It also seems to be the only time of year I remember that I live close to the Chiltern Hills. There is an inherent switch in me; falling leaves equals walk in the Chilterns.
Add into this mix a fantastic cafe whose existence I'd only recently discovered. It was time to head to the Chilterns.
Turville village
We started in Turville, a small village with an impressive screen pedigree. Scenes from Midsomer Murders, Lewis and Jonathan Creek have all been shot here. And you may even recognise St Mary's Church, renamed as St Barnabas Church, which featured in the Vicar of Dibley. Of course all of this was lost on my Netflix generation of children.
Leaving Turville we walked up through Churchfield Wood, emerging beside the security cameras of Turville Court.
It's fair to say many of the home owners round here are rather well heeled. Whilst Google couldn't name the owner of Turville Court we did discover it was sold for £18 million in 2015. It has 26 bathrooms, 13 bedrooms and interior decoration which is definitely not to my taste.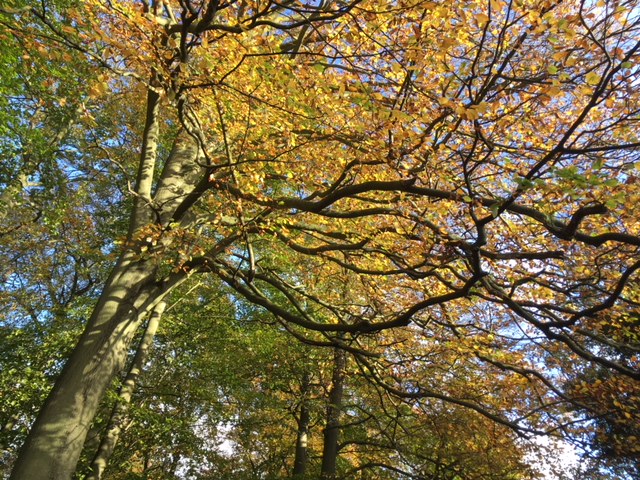 As we walked on we were treated to the sight of about 30 red kites circling above a nearby field. Kites are common in the Chilterns but I did wonder what was attracting the carrion eaters. Or maybe I read too many crime novels.
The next property, Turville Grange, is the country retreat of an influential American family and has previously been owned by both the Henry Ford family and the younger sister of Jacqueline Onassis. The footpath passes between the house and walled garden so you can sneak a view of the estate. Oh how the other half live!
The Barn at Turville Heath
Pub walks may be popular for beer lovers but I'm not much of a drinker. I prefer a cafe with coffee and cake any day. When I heard about The Barn Cafe in Turville Heath I knew it would be a perfect lunch stop.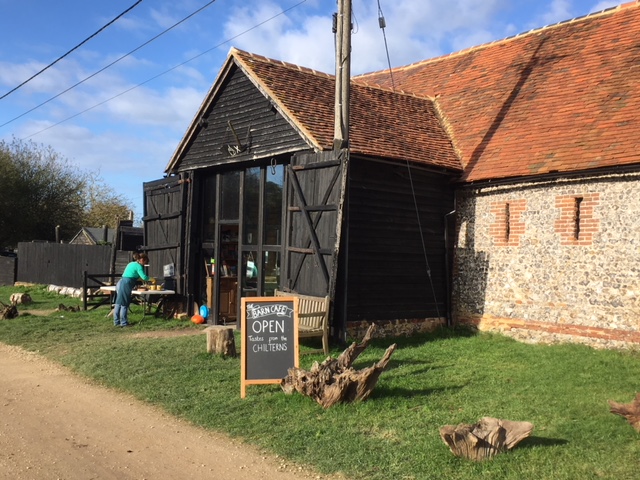 One niggling concern was that I wasn't sure exactly where it was. I was therefore relieved our walking route took us right to the front door. This is one of its great features. It's a no car cafe; you can only reach it on foot, bicycle or horse.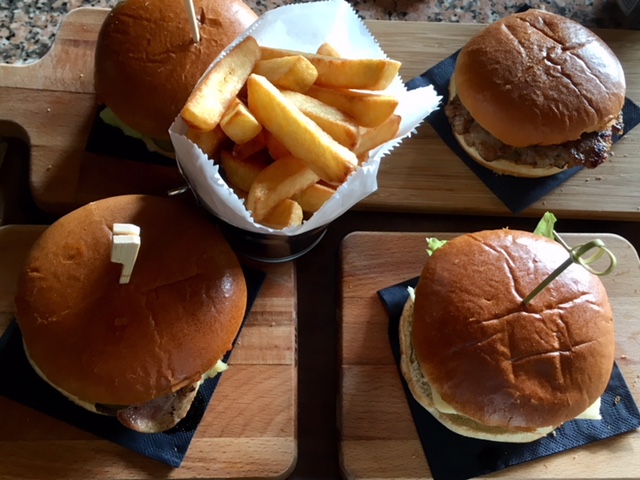 As befits the name it's a cafe in a barn; keep an eye out for the old Land Rover in the kitchen! The cafe serves its own Dexter cows in the form of beef burger and ghoulash, along with other home reared and local products. I was pleasantly surprised to find several veggie and vegan options.
We sat inside but there's limited seating so do come prepared for an outdoor lunch. After our excellent burgers we just about had room for something sweet so shared a slice of lemon and blueberry cake. Rarely get that in a pub!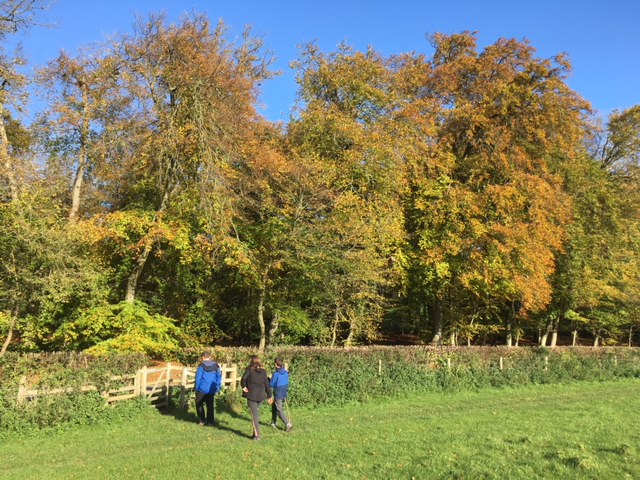 Onwards towards Ibstone
It was time to walk off our lunch. From Turville Heath we took the footpath leading down to Holloway Lane, and back uphill the other side. Did you know Holloway is another name for a sunken lane? It described this road perfectly.
At Hell Corner Farm, previously owned by the Labour MP Barbara Castle, we turned towards Ibstone and walked a track through the woods. The kids found a rope swing and argued over it for a couple of minutes.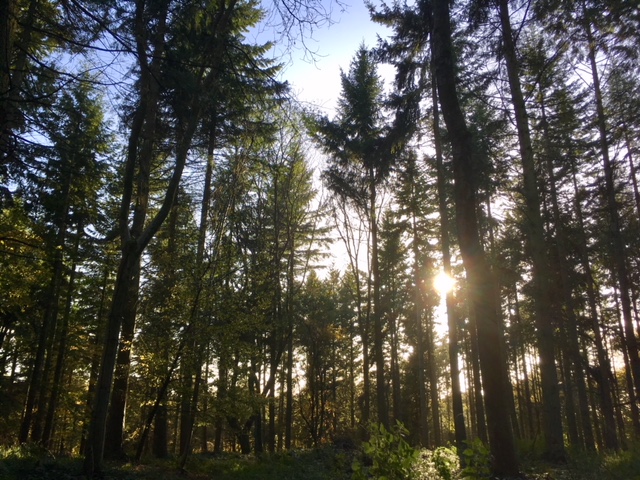 These woods were the reason I wanted to walk in the Chilterns. We kicked through leaves, spotted fungi and watched the sunlight filter through the trees. It really was the most gorgeous day.
We emerged onto the road near Ibstone House, yet another mansion owned by the super rich. After a short road section we headed back into the woods, eventually arriving near Cobstone Mill.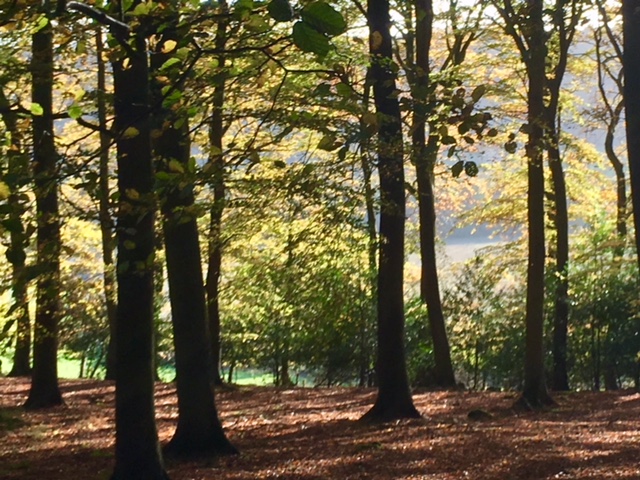 Privately owned Cobstone Mill stands proudly on a hill above Turville. The 200 year old windmill has starred in numerous TV programmes and films including Chitty Chitty Bang Bang. Somebody from the TV location agencies must really love this area. Or live here.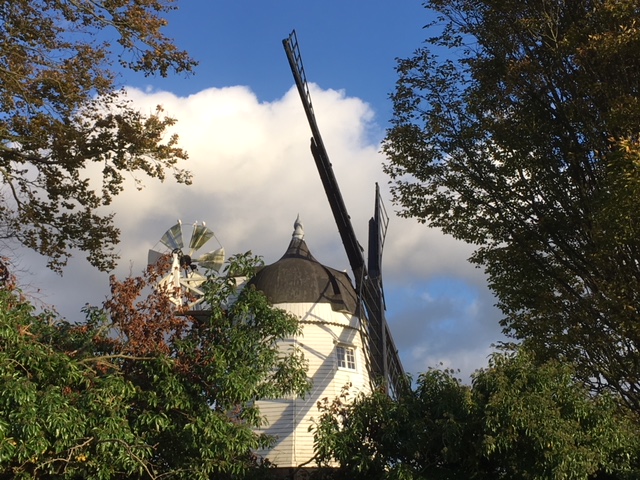 From the windmill it's a very steep walk back down the hill into Turville. So steep that it was hard not to run down it. Although I'd probably end up falling over if I attempted to do so.
Back in Turville we mooched around the church and admired the houses. It's a gorgeous area and we really must make the effort to visit more than once a year. Particularly now I know a great cafe for lunch!
More info:
The Barn at Turville Heath offers full service during weekends and a limited menu with self service during the week. 2021 update – the barn is open but you must book your visit in advance via the link above!