I've wanted to visit a Highland games for years. It was on my 'must do' list before I'd even written my UK bucket list. So perhaps it's no surprise that I planned our trip to Skye to coincide with their Highland games.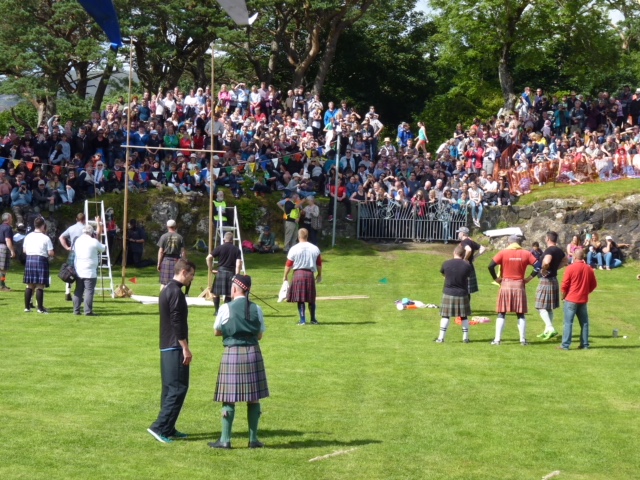 What are Highland games?
Highland games take place throughout Scotland between May and October. Although each event is slightly different they usually encompass piping, dancing, field and track events. It's thought the games originated as a way for clan chieftains to choose their best bodyguards and fighters. Seems logical, I wouldn't mess with someone who could toss a tree trunk at me!
The Skye Highland Games are held at The Lump. This aptly named area is a wooded promontory with a natural amphitheatre overlooking Portree harbour. It's a great location and, although busy, it was easy enough to find a space to watch. Those more organised than us bought along picnic blankets and camping chairs. Why didn't I think of that?
Piping
Most of the piping competitions took place the day before the main games. A fortunate coincidence from my perspective as I'm not a huge fan of bagpipes. Despite this we somehow managed to position ourselves next to the remaining piping competition. Perhaps that's why there was a space!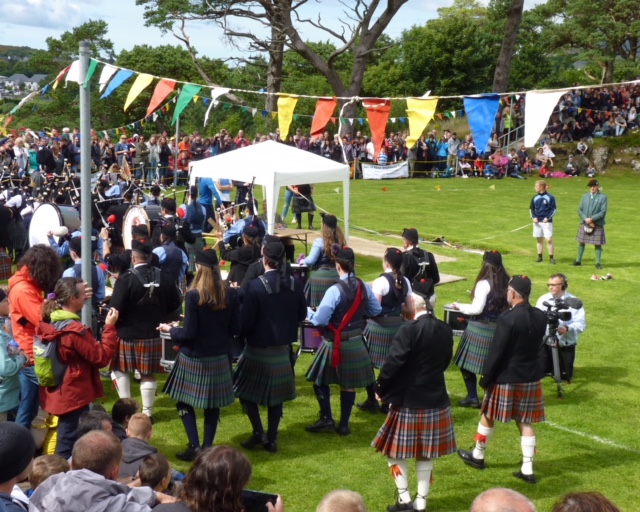 That said, I enjoyed the interludes when the Isle of Skye Pipe Band marched through the games field. I couldn't fail to be moved by the spectacle of the band members dressed in traditional clothing, combined with the sound of massed pipes and drums, parading through the grounds.
Dance
The dance competitions took place on the opposite side of the arena. Children of all ages, and a few grown ups, danced the hornpipe, Irish jig and reel.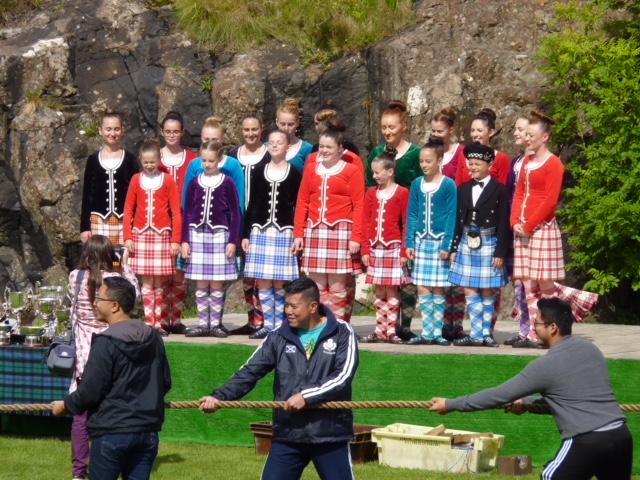 I have two left feet so feel unqualified to report on the dance competitions. Suffice to say there was lots of jumping up and down on the spot, pointed toes and outstretched arms. I can only apologise to the Highland dancers for this simplistic description of their celebrated dance.
Track events
The track events were a mix of running laps around the arena and a longer hill race.
Whilst some of the runners looked like they'd trained hard for the races there were a smattering of tourists too. I almost wished I'd brought my trainers. Instead I contented myself with working out who I'd have beaten. And who would have beaten me.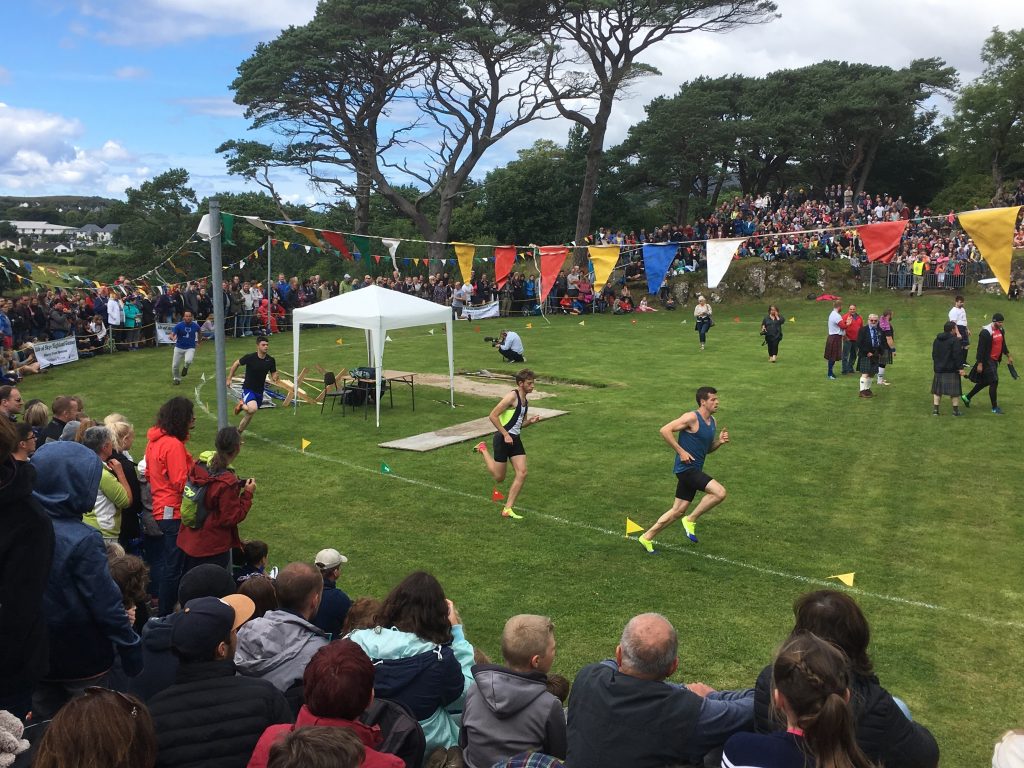 The main running event was the hill race. After leaving The Lump competitors ran down to the beach and up the hill opposite. Runners collected a token to prove they'd reached the marker flag before racing back to the arena. It's just under three miles in total, assuming you take the direct route. The hill climb wouldn't have bothered me; I'd be more worried about getting lost en route!
Field events
The quintessential Highland games events are the heavy ones. Hammers, tree trunks and stones are flung varying distances and heights. It's rather ironic this display of manliness takes place in a kilt.
Indeed, Highland Garb is compulsory for these events. An understandable, albeit somewhat bizarre, requirement given that most of the open event competitors weren't from Scotland!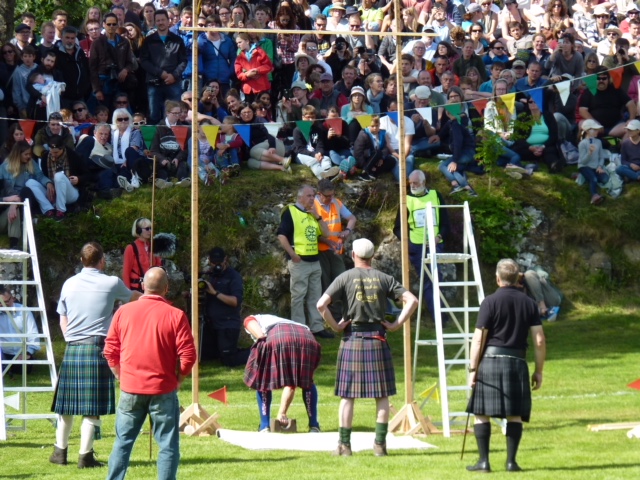 There were some seriously impressive competitors in the field events. I couldn't lift 56lb, let alone throw it several feet in the air. There must be some very sore backs after these events.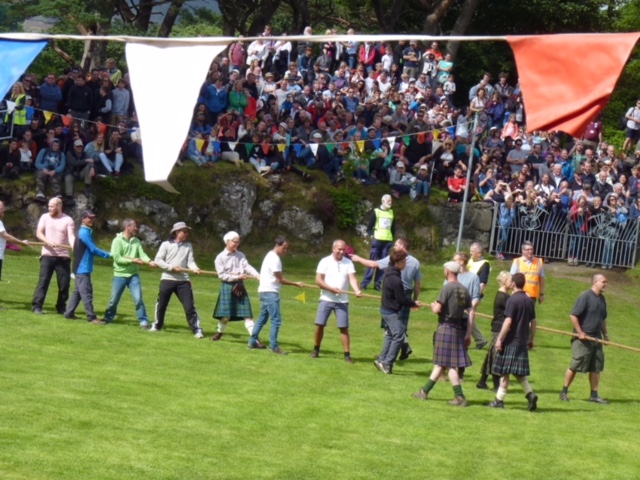 The penultimate field event was tossing the caber. Surprisingly it's not the distance the trunk is thrown that counts. Instead, contestants have to toss a tree trunk so that it turns end over end.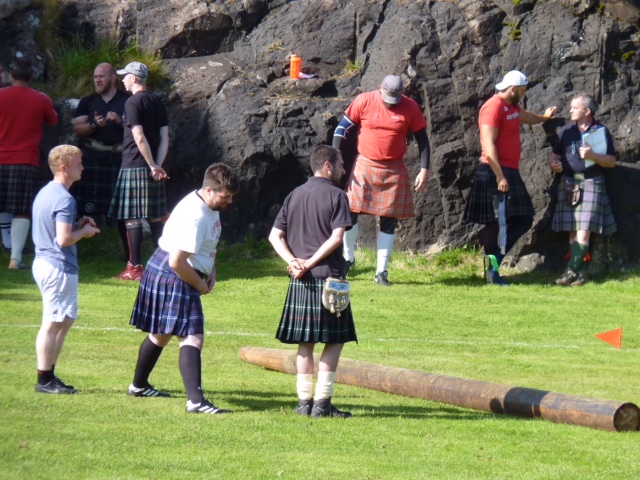 One moment will remain engraved on my mind forever. The hill race runners returned for a final lap at exactly the same time as one of the caber competitors managed to lift and toss. As the tosser (yes, seriously) staggered towards the runners with his caber I had visions of it going seriously wrong. I could hardly bear to watch. Fortunately all ended well and no runners were impaled with a caber!
I'm glad to report that my first Highland games lived up to my high expectations. Have you been to the Highland games? If so, what did you think?
More info:
The Skye Highland Games are held in Portree at the start of August. Tickets cost £10 per adult for the main event day, there is a reduced fee for the earlier piping competitions.