Crocodiles of the World is the only crocodile zoo in the UK and is run by enthusiast Shaun Foggett. Originally opened in 2011 it recently moved to larger premises so it seemed the ideal time to pay a visit.
We had a rather stressful start to our day as we couldn't find the zoo. Although it's signposted on arrival there are no signposts nearby (presumably because it's new) so we ended up driving through Brize Norton and Carterton several times whilst my daughter attempted to navigate from Google maps. We finally arrived, and I realised how easy it would have been to find if I'd accurately followed the directions on the website.
The zoo houses more than 100 crocodiles from 13 different species. It's split across two buildings, and a chalkboard outside the main entrance details the daily events such as talks, feeding and handling. If you're visiting, make a note of these as you'll definitely want to attend.
We started our day with the lace monitor feeding. As is obvious from this statement, the zoo has a few other species in addition to the crocodiles. These include snakes, alligator snapping turtles (the kids love these thanks to Steve Backshall) and monitor lizards.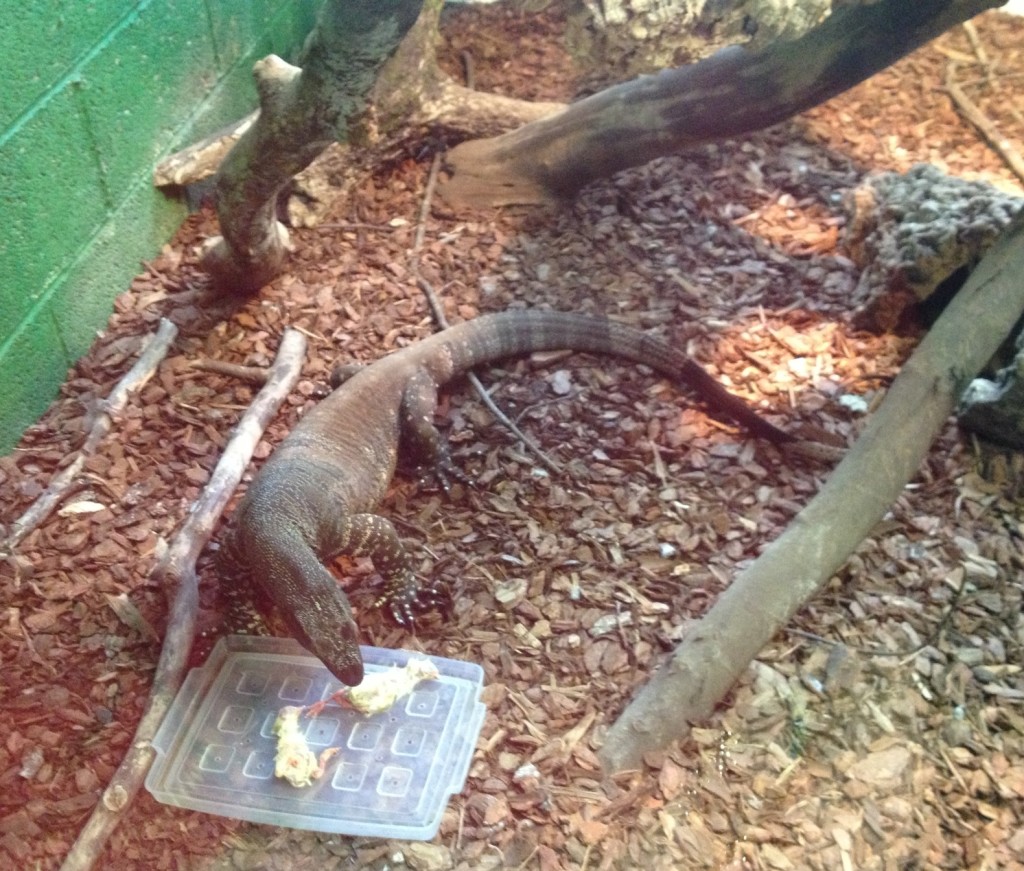 The lace monitor was fed with several dead chicks. As it had recently moved to a new enclosure the keeper explained it hadn't fully settled in so it wouldn't take food from the tongs. Instead the chicks were left on the floor for the lace monitor to eat; it didn't take long!
The zoo takes its conservation responsibilities seriously. Each of the crocodiles has a fact sheet on the enclosure detailing information about them and their conservation status in the wild. The zoo has charity status and undertakes ongoing work to educate the public and support programmes in the wild.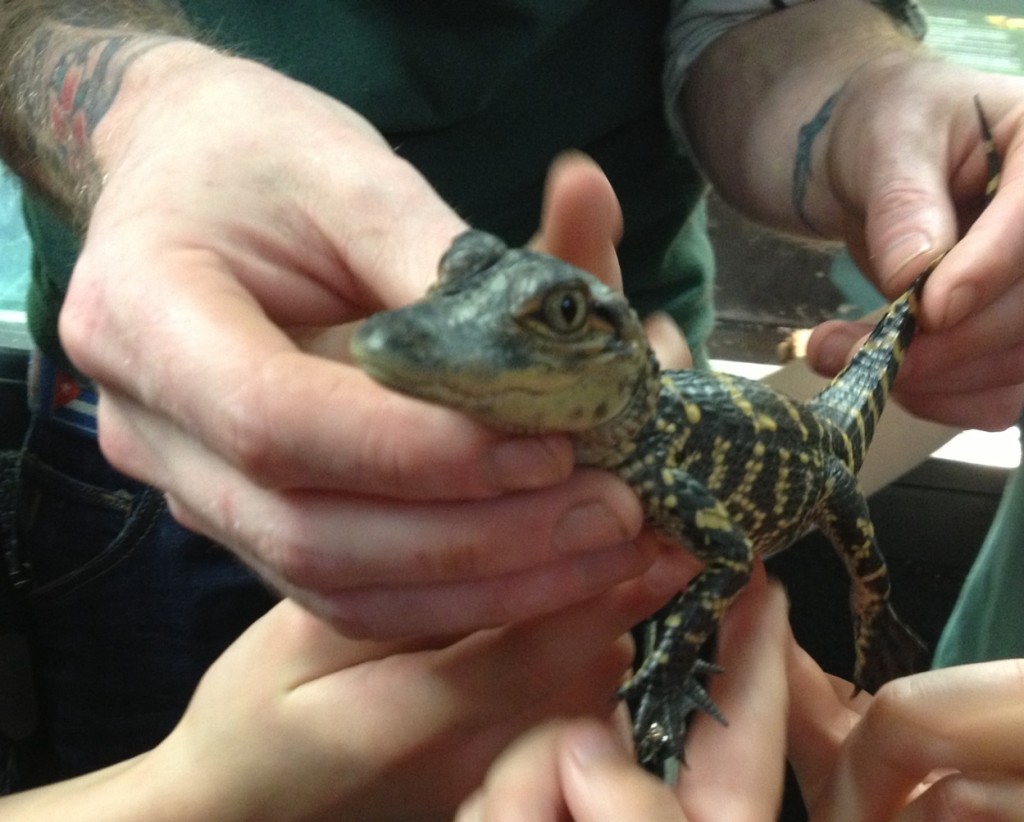 Some of the crocodiles are part of a breeding programme, including the Siamese crocodiles which had recently laid eggs. The zoo has a hatchling area and we all got to stroke a baby crocodile which was rather cute.
The one thing I hadn't appreciated was how incredibly warm the buildings would be. It's obvious now that I think of it, but if it's cold outside wear layers rather than a thick jumper so that you can easily remove clothing.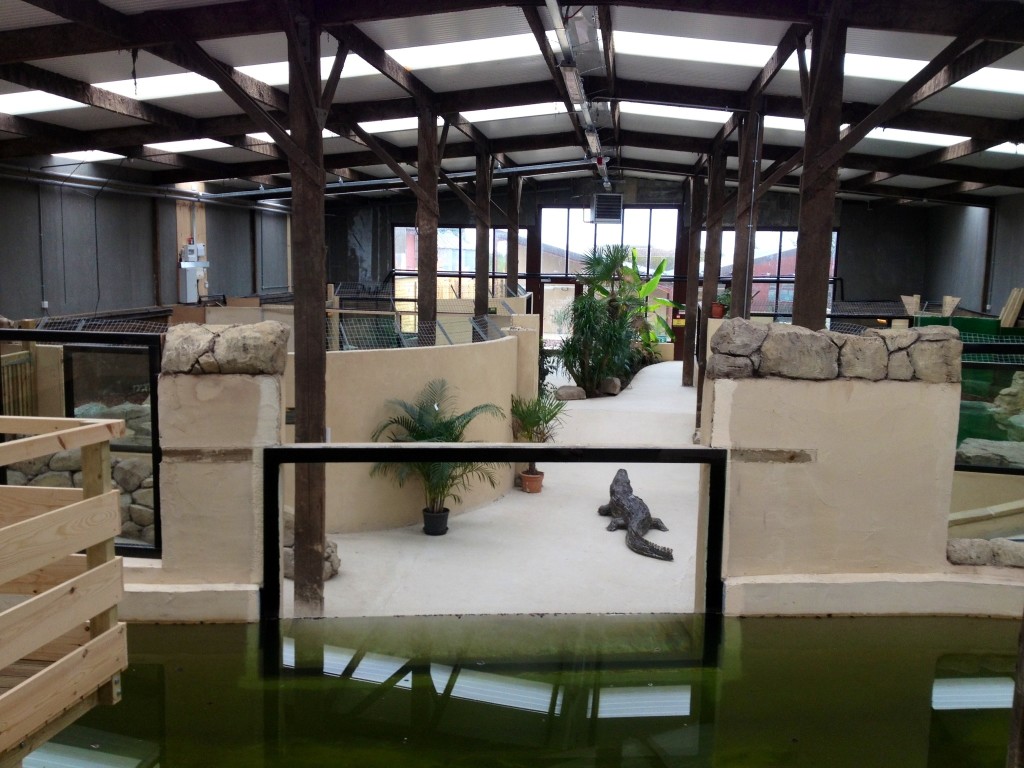 As can be seen above, there's a model on the floor in the main crocodile house. When viewed from the entrance it appears a crocodile is on the loose. Both my kids were fooled and neither wanted to go in to begin with (OK, I may have wound them up a little).
The crocodile house has a collection of around 30 juvenile Nile crocodiles, by far the most numerous of any breeds at the zoo. We listened to a talk about these and watched them for a while sunbathing under the lights. I was really regretting wearing a jumper at this point!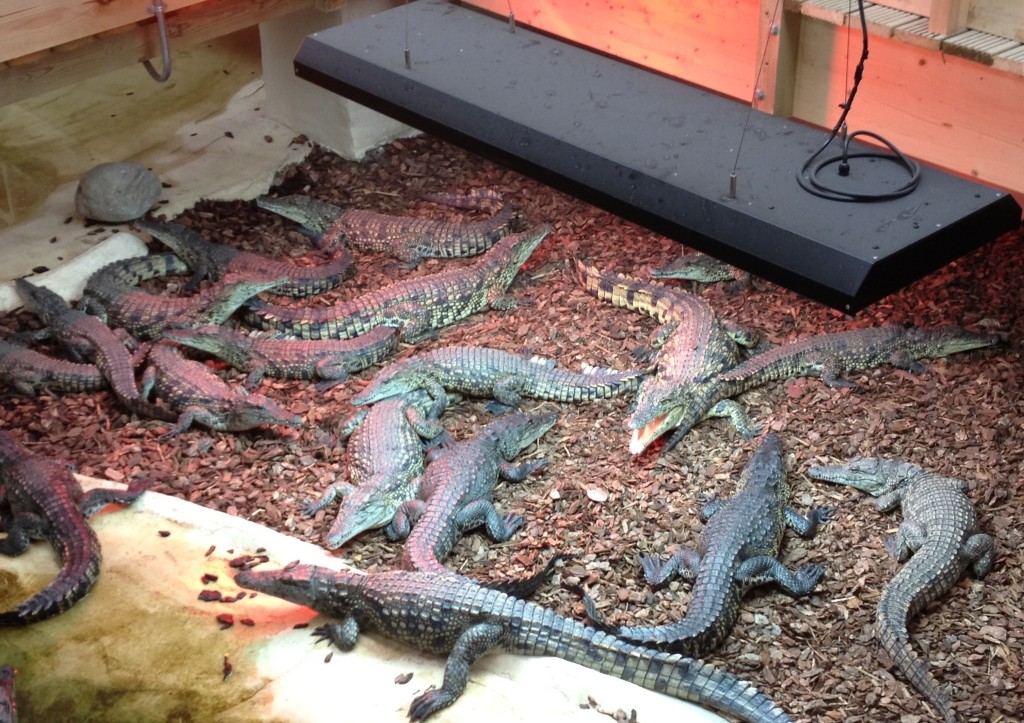 The zoo has an outdoor picnic area next to George, a spurred tortoise, and we ate our lunch here. There's also a small cafe which is useful for a coffee stop. I felt rather sorry for the lady on the entrance desk as she was covering the cafe too and had to run between them. I'm hoping this was a one off!
Would I visit again? Yes, but I'd ensure our visit was timed around the talks and feeding sessions to get the most out of it. If you don't attend these you'd probably be finished in an hour, which wouldn't make it a very cost efficient day out.
More info:
Crocodiles of the World is open 7 days a week from 10am-5pm. A family ticket (2 adults, 2 children) costs £27. Alternatively an adult ticket is £8.95, children are £6.50. Kids aged 2 and under are free. The site is wheelchair and buggy accessible. Full details on the website here.