I was lucky enough to get some 'me' time a few weeks back. I'm not the kind of person who enjoys spa breaks; instead I indulged in my pre-kids hobby and booked a short walking holiday based in Elterwater in the Lake District.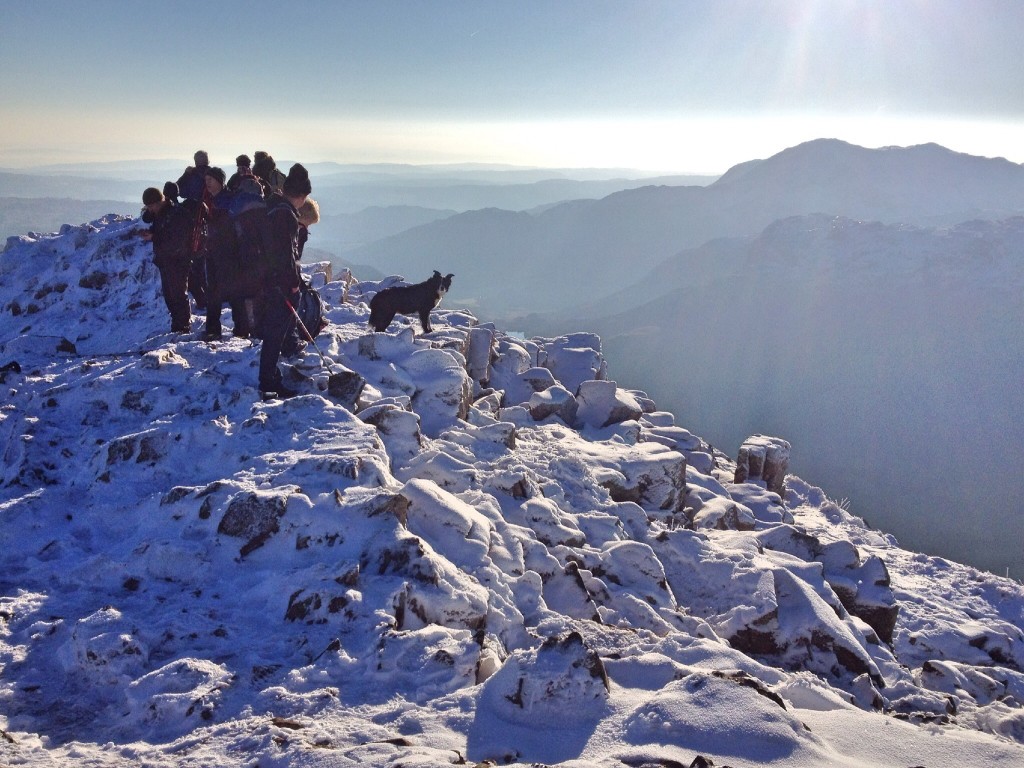 This was the fourth time I've walked with Country Adventures so when I finally arrived at Elterwater Hostel (thanks M6) I already knew the leader, Joe, and some of the others in the group, many of whom are regulars.
That evening Joe outlined the walking routes for the next day. Our walks were based in and around the Langdale Valley, and as there were several leaders we had a choice of a challenging walk or a more moderate option. As I was walking without kids, I was happy to go for the slightly harder route up Harrison Stickle. I cannot remember the exact distance but I think it was around 9 miles long with 3000 ft of ascent in total.
Day 1 – Harrison Stickle
I'd been checking the weather forecast religiously the previous week and was prepared for rain. Not just any rain, but torrential rain and wind; this being the Lake District after all. Instead we were greeted with a cold sunny day and not a cloud in the sky. A perfect day for walking.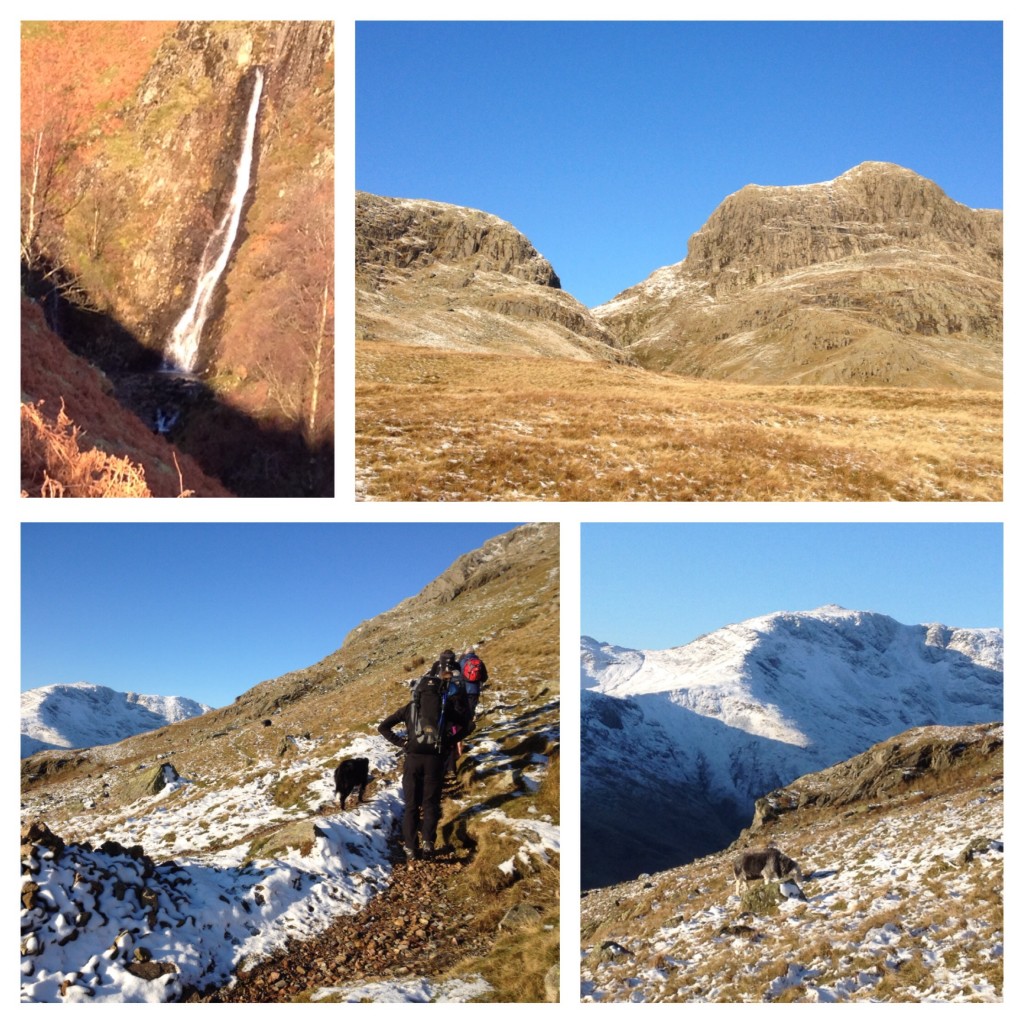 Our day started with a short minibus ride to Dungeon Ghyll car park. Packs on, we headed off in the opposite direction from most walkers who all seemed to be walking straight up to Stickle Tarn. Instead our route took us on a gradual ascent up between Harrison Stickle and Pike of Stickle.
Higher up we started to encounter snow. It was still in the light and fluffy stage. Lovely for walking in except when it gets down the back of your boots and melts inside them! Despite this I was still walking with just a fleece jacket; hard to believe it was the middle of winter.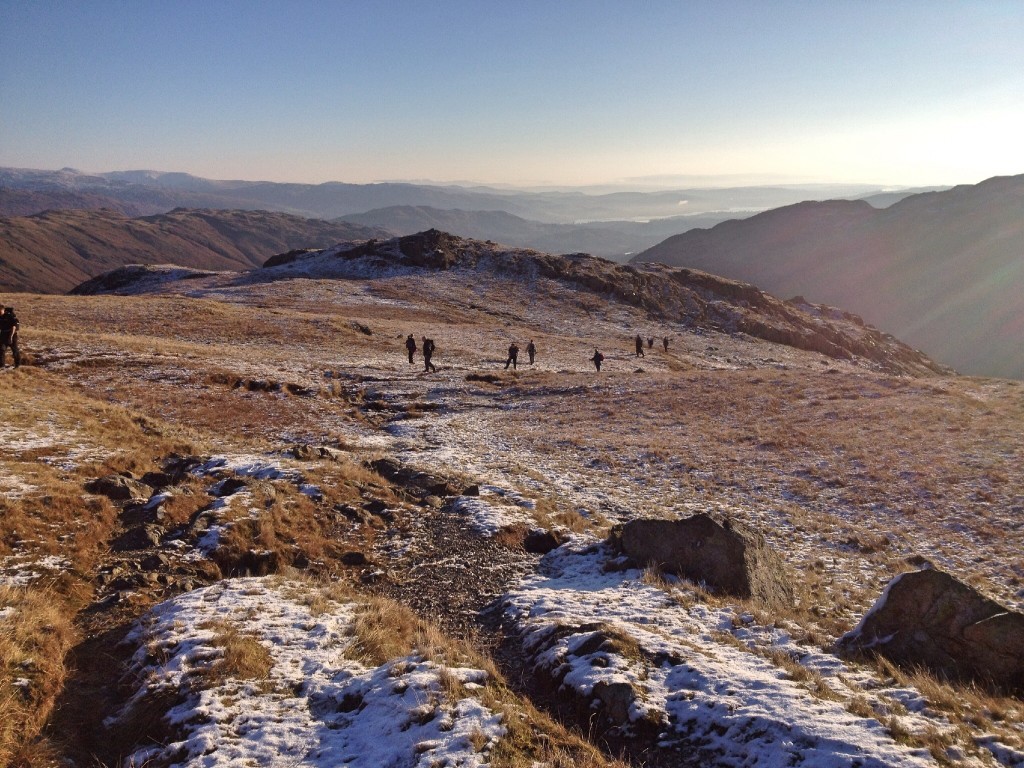 We seemed to reach the summit pretty quickly. The views from the top of Harrison Stickle were stupendous. Looking back at these photos I am reminded how perfect the day was. Our guide helpfully named the peaks around us although I promptly forgot them all. Instead I was happy to just stand and take in the panorama.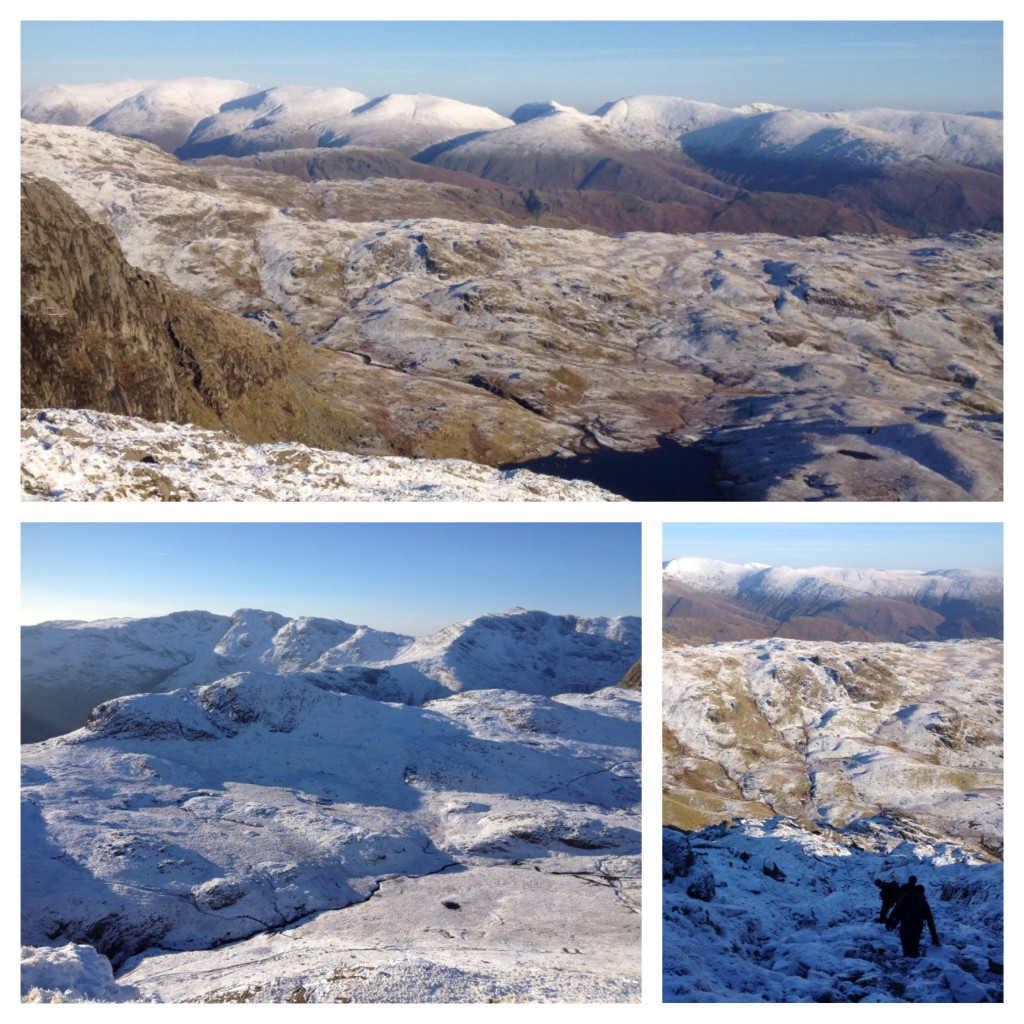 I could have sat on the summit cairn all day but lunch called. We first had to negotiate a rather icy downhill stretch which I didn't particularly like. It was a relief to get out of the shade and back into the sun. We skirted around Stickle Tarn; my camera once again working overtime.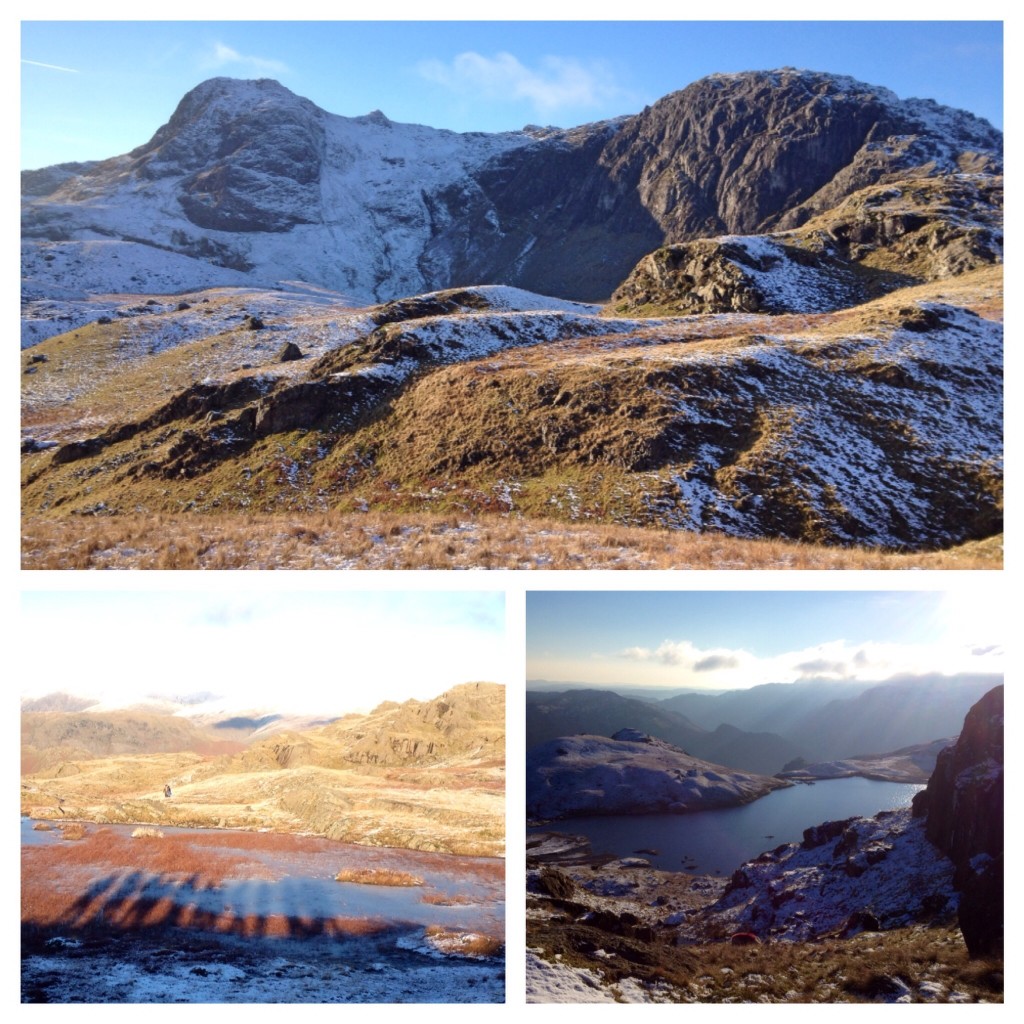 As we walked away from Harrison Stickle it was hard not to turn round and check the view every couple of minutes (top photo in collage above). The peak and it's shady descent are imprinted on my mind for ever more.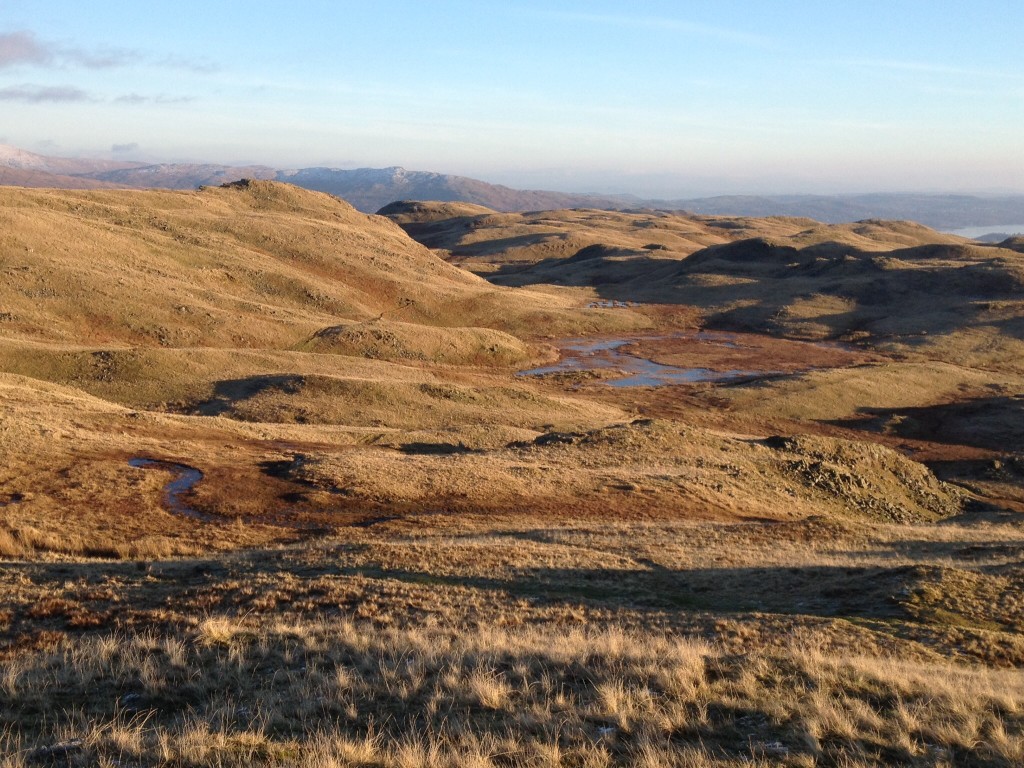 Despite having reached the summit the bulk of the mileage was still ahead of us. We walked back to Elterwater across the fells, passing by Blea Cragg and Lang How. The best views were behind but we were still treated to a glorious winter walk, arriving back into Elterwater just as the tea shop was shutting (boo!).
That evening we ate at the hostel and enjoyed one of Joe's quizzes. Some of the questions had made a repeat appearance from previous years, time for some new ones Joe!
Day 2 – Lingmoor Fell
There was just one walk on the second day but it came with an option to shorten it. We were walking from the hostel, on the southern side of the Langdale valley, up and over Lingmoor Fell.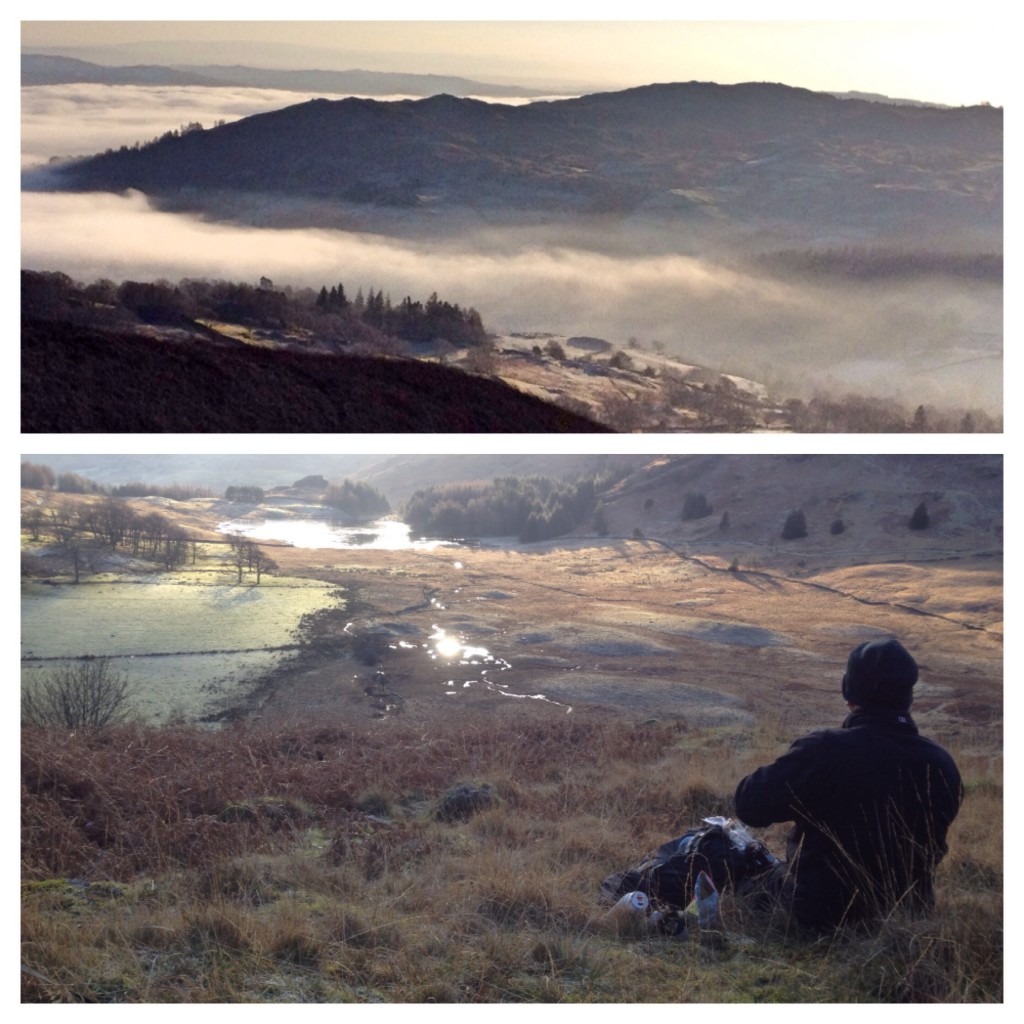 The views were never going to surpass those of the previous day but it was impressive to see the fog cloaking Windermere below us as we emerged from the woods. I wonder if those in Windermere knew we had such great weather?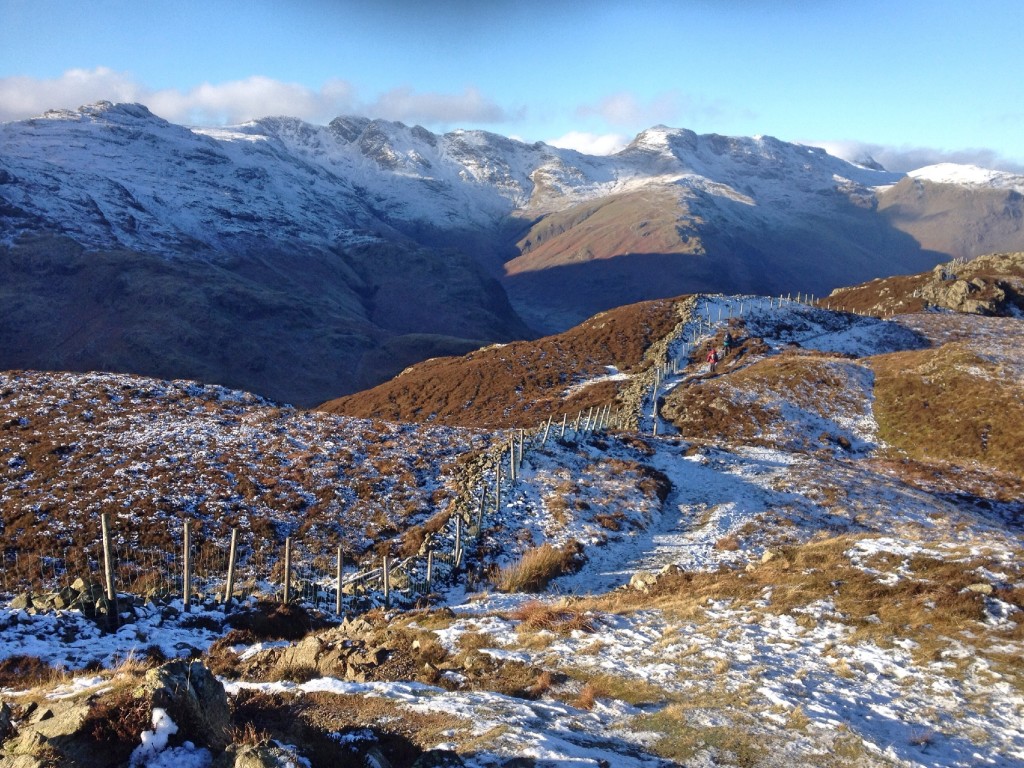 Standing atop of Lingmoor Fell gave us another view of the Langdale Pikes. The weather wasn't quite as agreeable as the previous day so we didn't hang around on top for too long. Once again we were faced with an icy descent which involved some detours over bracken; at least this made for a soft landing when the inevitable happened!
Lots of walkers appeared as we hit the road and tourist hotspot of Blea Tarn. After stopping for the obligatory photo of the Langdale Pikes (above) we followed the well made track back past Little Langdale and into Elterwater. Once again arriving home as the tea shop shut.
No quizzes on day 2. Instead a game of film and TV Pictionary. Some of the drawings had us in stitches, I haven't laughed so hard in ages.
Day 3
I'd have loved to walk on the last day. But with another M6 journey to contend with I decided it was best to head off early. First though a browse around the outdoor shops in Ambleside and, at last, a visit to an open tea shop!
More info
I travelled with Country Adventures, a company that offers walking and other activity holidays in the Lake District, Yorkshire, Peak District and Wales. I've always enjoyed my trips with them and I think the fact that many of their clients come again and again speaks for itself. Our group had sole use of Elterwater Hostel but Joe can arrange alternative accommodation if you prefer.