Guernsey is great for family walks and picnics. The terrain is relatively gentle and you can vary walks along the coastline with those inland along green lanes. Visit in early summer and you'll be treated to fabulous wildflower displays.
The walks below were enjoyed by our family, with the aid of a Perry's map of Guernsey and lots of cake.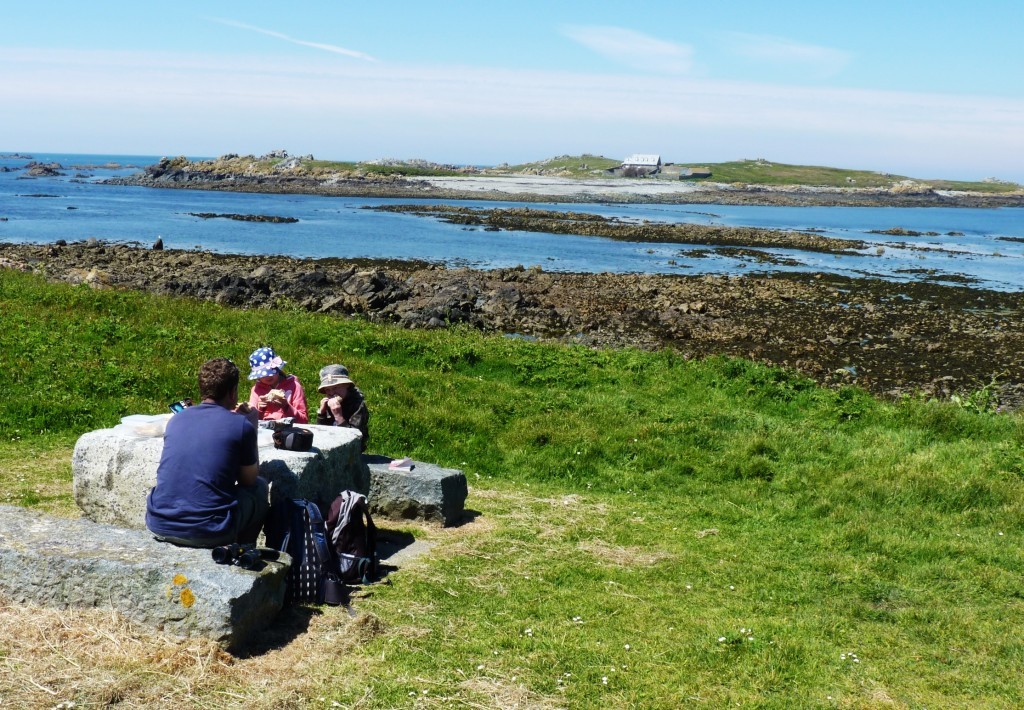 1. Lihou Island
Getting to this island is half the adventure!  Lihou island, off the west coast of Guernsey, is accessed by a causeway at low tide.  You'll need to time your visit carefully and check the causeway opening times beforehand.  As low tide approaches groups of people gather ready to make the crossing.  Rock pools are revealed either side of the walkway, and the first walkers tentatively make their way over.  Some parts of the track remain wet and covered with seaweed so sensible footwear is a must.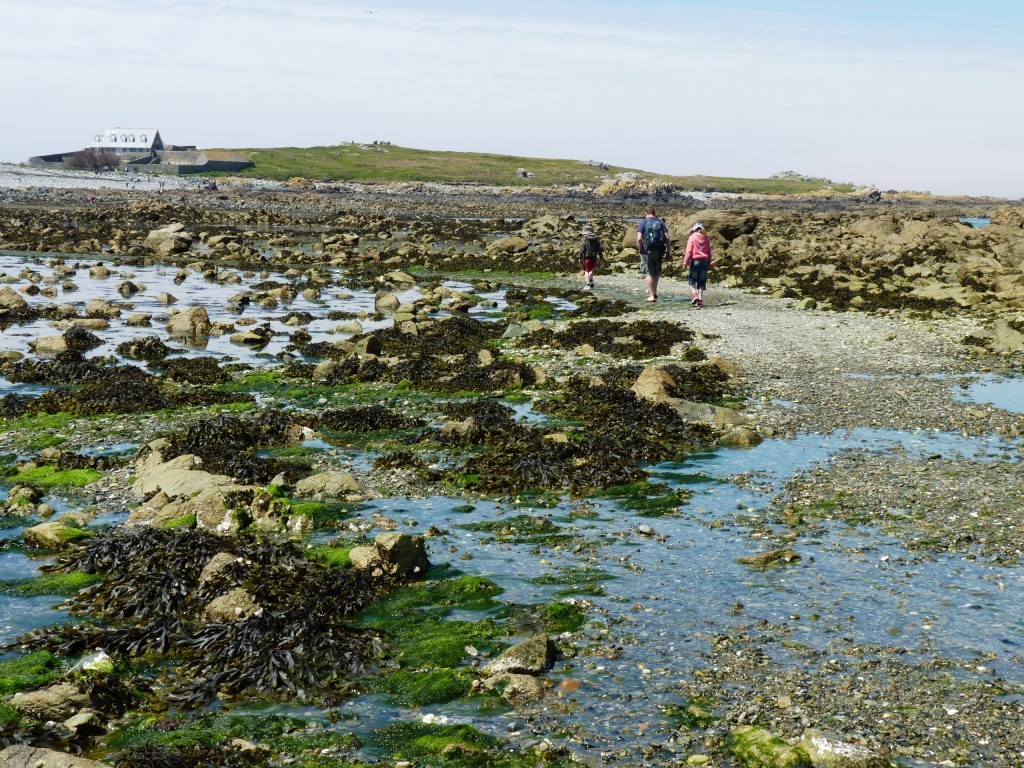 The island is pretty small, and takes no more than an hour to walk around.  Although there is a house on the island (which is available to rent) there are no toilet or other facilities for visitors.
Lihou is an important nature site and during nesting season you must respect the fenced off areas.  If you're lucky you'll see lots of gulls with fluffy chicks, but be aware they're protective parents. We saw a couple of people being dive bombed by the birds!
2. Icart Point to Petit Bot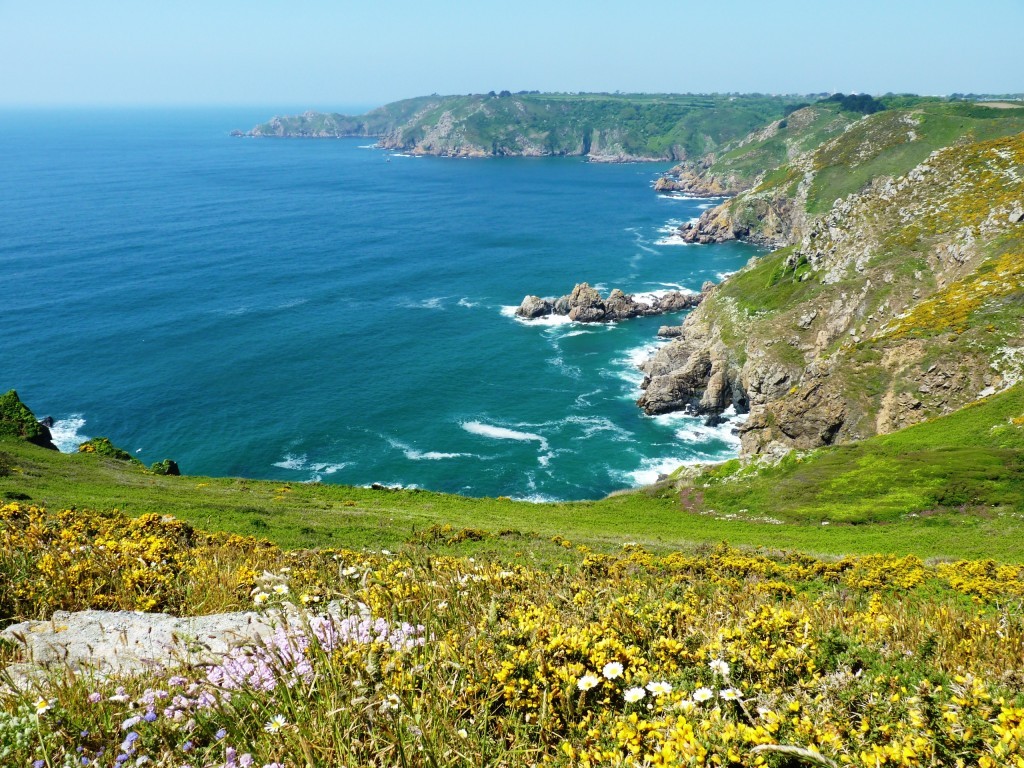 Probably my favourite walk of the week, this route has fantastic coastal views and colourful cliffside flowers.  It's a straightforward trail but there are a few ups and downs along the way.
We parked at Icart point, where we started the day with a drink at the cafe, before following the cliff path right towards Petit Bot. It's possible to climb down the beach ladder at Le Jaonnet Bay (low tide only) but we bypassed this and continued straight on to Petit Bot. There are toilet facilities and another cafe at Petit Bot.
After basking in the sun for a while on the pebbly beach, we walked back to Icart Point along the same path.  You can concoct an alternative route along inland paths if you wish, but we had no great desire to leave the coast.  Allow for 2 hours walking, plus cafe and beach stops.
3. St Saviour reservoir
Whilst the most spectacular walks are along the coast, this inland walk around St Saviour's reservoir is a gentle alternative and a relaxing way to spend an hour or so.
The 2 mile route, known as the Millennium Walk,  follows the edge of the reservoir for most of the way, with a short quiet road section towards the end.  You can pick up a leaflet with a map and points of interest from the Tourist Office in St Peter Port.
4. Jerbourg point to Fermain Bay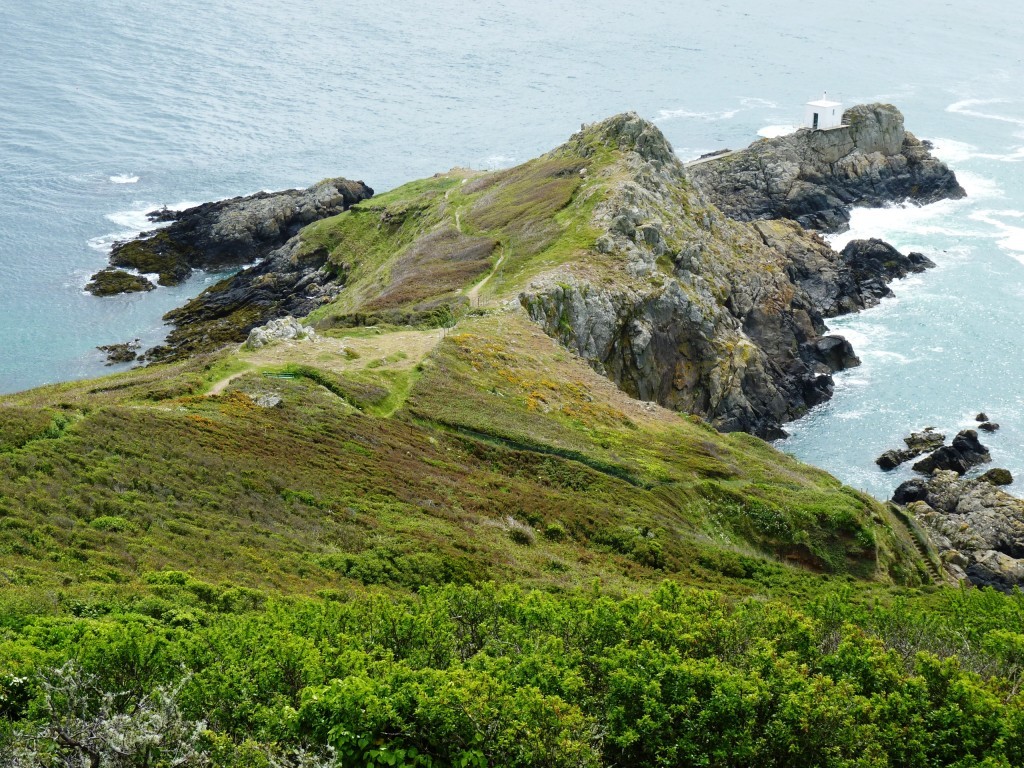 This is another cliff walk with great views of the coast and neighbouring islands.  Park in the car park next to Hotel Jerbourg and take the track down from the eastern corner.  Follow this all the way to Fermain Bay, ignoring the paths leading off the main route. There are a couple of diversions off, but continue following the signs to Fermain.
It takes about 45 minutes to walk to Fermain Bay.  We coincided our walk with the arrival of a huge cruise ship to Guernsey, which the kids enjoyed watching.  There's a great viewpoint not long before you reach the bay, with seats if you're in need of a rest.
We ate lunch in the cafe overlooking the beach. It was a great spot but we didn't linger as bad weather was heading our way. We returned via a much quicker inland path back (for which you'll need a map) or you can retrace your route.
5. Portelet to the Fairy Ring
This is a short walk, with the advantage that it's on tarmac so is also suitable for kids on scooters or bikes.  It takes you out to the Fairy Ring, a sunken ring in the ground with a raised central area.  The kids can sit in here and pretend they're eating lunch with fairies.  There's an information board next to the Fairy Ring with the actual history, but if your kids are similar to ours they'll probably prefer their own made up stories.
If you enjoy walking on Guernsey you'll probably love Herm Island. Read more about our day trip to Herm.