Highgate Cemetery, one of my UK bucket list items, might appear a strange destination for a family day out but we loved it. We spent an afternoon visiting the cemetery after a morning walk across Hampstead Heath.
Hampstead Heath
We had a couple of hours spare before our cemetery tour so I'd planned a walking route from Hampstead Heath underground station to Highgate Cemetery.
I wasn't sure what to expect from Hampstead Heath. My prior knowledge mostly came from lurid tabloid headlines about the after dark activities of gay men on the western heath. The daytime reality was a tranquil dog walking and running area, albeit one that was in need of a good dose of rain.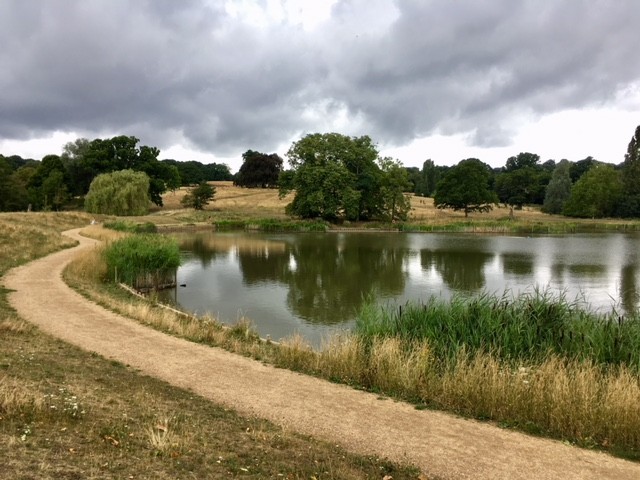 Our route took us up to the viewpoint on Parliament Hill. From here the Shard, Gherkin, St Paul's Cathedral and BT Tower are all easy to see. Some of the other buildings shown on the orientation map were harder; I couldn't see the London Eye however much I looked.
Highgate is also famous for its outdoor bathing ponds. These were much busier than I expected on a gloomy weekday. I'm not a water lover so couldn't imagine wanting to swim in them, surrounded by ducks and pond debris. However plenty of swimmers looked like they were enjoying it, particularly the divers jumping off the board in the men's bathing pond.
Before heading to the cemetery we popped into the Village Deli in Highgate village for a takeaway lunch. Despite the expensive sounding name, and location, our picnic lunch was incredible value and very tasty, highly recommended. There's a square opposite to sit and eat your lunch in.
Highgate Cemetery
Highgate was one of seven new private London cemeteries, constructed in the Victorian era, to accommodate the increasing number of burials. Prior to this, burials were in local churchyards but these were literally overflowing due to the doubling of London's population.
Many of London's wealthiest were laid to rest in Highgate. However, the cemetery fell into decline after the second World War. Decaying and vandalised it was taken over in 1975 by a charity, the Friends of Highgate Cemetery, who work to restore and preserve the area.
We visited West Highgate on a guided tour before crossing Swain's Lane to look around the East Cemetery independently.
West Highgate Cemetery
Forget your local graveyard. Imagine instead a jumbled area of crowded gravestones and gothic and Egyptian influenced monuments, some covered with 'Dangerous' tape. Nature is in charge; tree roots climb over gravestones, ivy and bramble tendrils encircle the monuments. This is West Highgate cemetery. Some visitors call it romantic, others creepy; I guess I'm somewhere in between.
We started our tour in the open space in front of The Colonnade; big enough, our guide explained, so that the horse drawn carriages delivering coffins could turn around.  From here we followed the path up through the graveyard to the Egyptian Avenue, flanked by columns and obelisks.
There are sixteen family vaults on either side of the avenue; each with room for twelve coffins. The vaults are also home to a large spider, the rare orb weaver. Discovered during a bat survey the London Wildlife Trust estimates the vaults could contain a hundred of these adult cave spiders. I'm not sure whether the bodies or the spiders unsettle me more!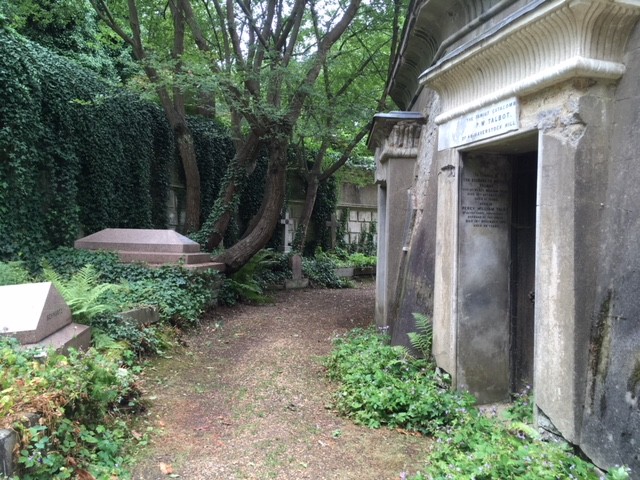 The Egyptian Avenue leads out into the Circle of Lebanon; a huge 300 year old cedar tree surrounded by a circle of tombs. The Victorians certainly knew how to celebrate their interred relations, very different to today's attitude to death.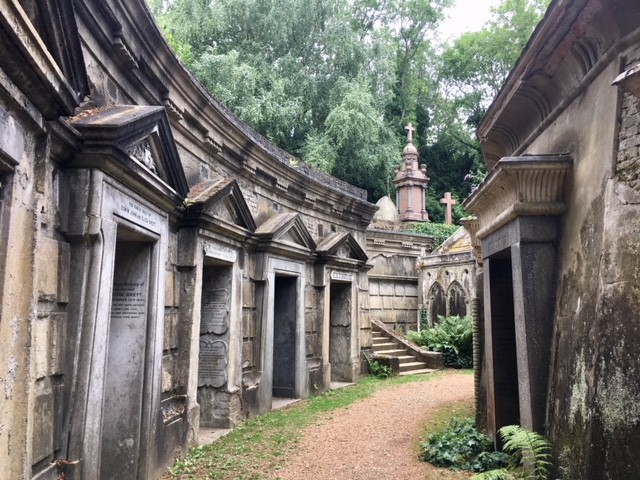 Our eyes slowly accustomed to the dark inside our next stop, the above ground Terrace Catacombs. It takes a moment longer to realise that every recess on either side of the passageway houses a coffin. Room for 825 people in total! We heard how coffins were once prone to exploding due to a build up of gases inside them. The ingenious solution was to drill a small hole into the coffin, insert a pipe and burn the gases off.
Outside the catacombs stands the mausoleum of Julius Beer. This was built for his daughter Ada who died she was just eight years old. Although we couldn't go inside our guide showed us photographs of its rich interior. The mausoleum cost £5000 to build in 1878; in today's money that's around £3 million!
Most residents of West Highgate cemetery may not be household names today but many were famous in their day. I loved hearing the stories of some of these. Our guide recounted the life of Tom Sayers, a bare knuckle fighter whose stone dog adorns his grave. And that of Jim Selby, a carriage driver who raced from London to Brighton and back in less than eight hours.
The grave of George Wombwell reflects his livelihood, a travelling menagerist. His tomb lies under a statue of his lion, Nero. George famously advertised a dead elephant as one of his exhibits in order to attract more visitors than a competitor, who only had a live elephant. Different times indeed.
One of the more recent graves is for Alexander Litvinenko, the Russian defector who was poisoned by polonium radiation. His grave is buried 12 foot deep and lined with lead to protect from visitors from accidental radioactive exposure.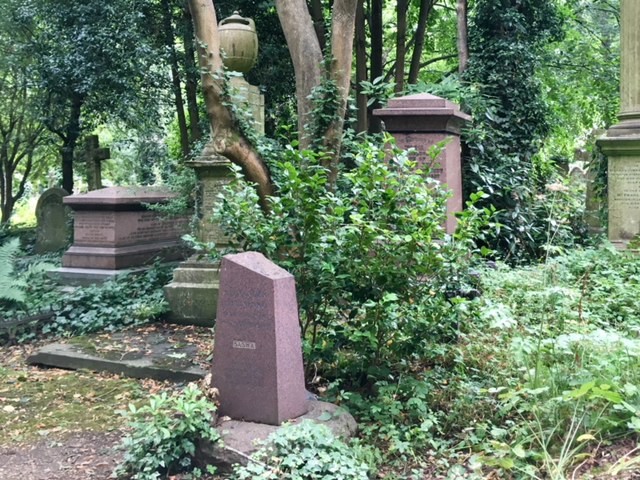 Our guide also explained the symbolism used by the Victorians. I've never given it any thought before but urns, clasped hands and broken pillars all have specific meanings. For example, a broken column indicates a life cut off in its prime. I'd always assumed it was due to vandalism!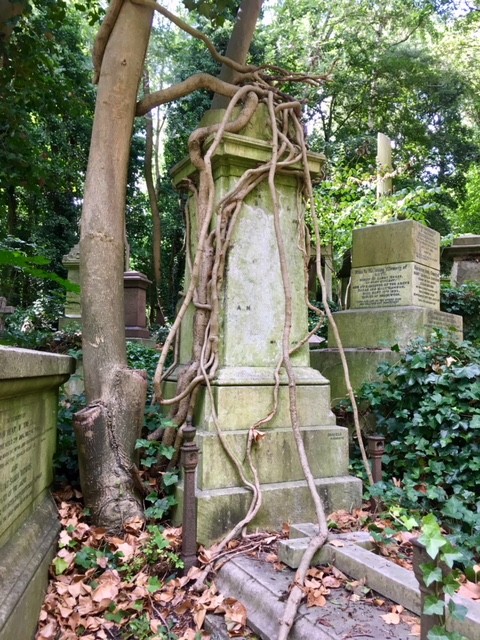 We finished our tour with a visit to the dissenters graveyard. This is an area of two acres set aside for non-Anglicans; not as extensive as the fifteen acres for Anglicans.
I'd hoped we might see some of the wildlife that Highgate is famous for. There were plenty of butterflies and a cheeky robin but no fox cubs lounging on gravestones that I've seen in some photographs. Fortunately we didn't see the vampires or ghosts that Highgate is also known for!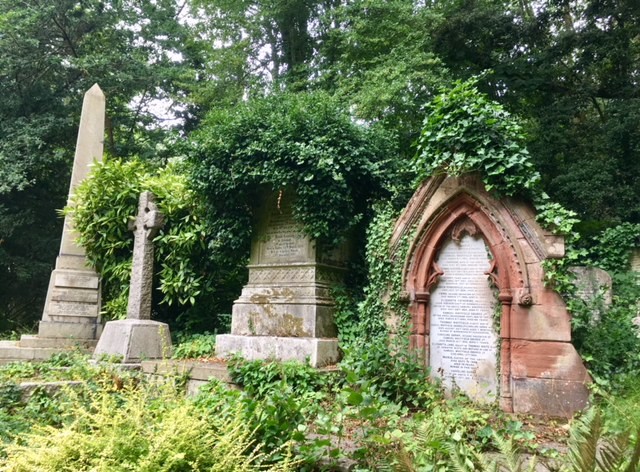 East Highgate cemetery
East Highgate Cemetery is a tidier, more manicured resting place on the opposite side of Swain's Lane. There's less woodland and the graves are arranged in a more formal layout.
The entry booth provides maps with the graves of more notable residents marked; there are plenty of familiar names. There are all walks of life here; from historians, architects, zoologists and cabaret stars to political activists. Even the mastermind of the Great Train Robbery.
Over in West Highgate most of the gravestones we saw were of traditional design. Whereas in East Highgate Patrick Caulfield's gravestone has the word DEAD cut out of the granite, and Malcolm McLaren has another statement headstone. Douglas Adams has a simple grey headstone but fans have adorned it with a pot full of pencils.
However the most famous grave belongs to that of Karl Marx, the German philosopher. Although originally buried in another part of the cemetery he was moved in the 1950s after the Communist Party funded a new memorial.
We didn't stay long in East Highgate as we had a train to catch. Fortunately we left early as I took the roundabout route back to the underground station. Yes, we went the wrong way!
If you're looking for other unusual things to do in and about London please pop over to my 10 quirky things to do in an hour in London post.
More info
You'll need to book in weekday tours advance in the West Cemetery on the Highgate Cemetery website. Alternatively turn up early on a weekend and go on the next available tour. You can visit the East Cemetery without a tour, an entrance fee is payable.