Summer days are made for picnics. Whether you're looking for somewhere to take the kids, a peaceful river bank or a hill with a view there are plenty of great picnic spots in Oxfordshire. Scroll down to find my favourites!
Please note: If visiting during the Covid-19 pandemic, you should adhere to the relevant restrictions. Leave the site exactly as you found it and be aware some facilities e.g. toilets may be closed.
1. Cutteslowe Park, Oxford
Cutteslowe is the largest park in Oxford with lots to keep children entertained. There's mini golf, a splash zone (summer only), miniature railway (selected weekends), play areas, duck pond, sandpits and picnic tables. You could easily spend all day here. Parking charges apply.
2. Warburg Nature Reserve, near Henley
Hidden in the Chiltern hills this woodland is a great spot for nature lovers. At the reserve entrance you'll find a small interpretation centre, toilets and an area with picnic tables (no picnics elsewhere on the reserve). Once you've eaten, walk off your lunch on the circular wildlife trail. If you visit in early summer look out for the orchids.
Warburg isn't the easiest place to find so follow the instructions on the BBOWT website.
3. White Horse Hill, Uffington
In my opinion the view from White Horse Hill is the best in Oxfordshire. After your picnic be sure to explore the area; as well as the chalk figure, walk around the Iron Age hill fort of Uffington Castle and wander along the Ridgeway to the Neolithic burial ground of Wayland's Smithy.
Park in the National Trust car park, charge applies for non members.
4. Abbey Meadows, beside the River Thames, Abingdon
Another family friendly option. Visit in the summer to enjoy the interactive water features and outdoor swimming pool. You'll also find a newly refurbished playground, tennis courts and walks along the River Thames.
Parks in general are great for picnics; check out the free parks website for lots more suggestions.
5. Hartslock Nature Reserve, Goring
This is a good option if you want to combine a walk with a 'sandwiches in a day pack' picnic; as a nature reserve it is not suitable for large gatherings. Park or take the train to Goring and then follow the river east until you reach the reserve. Head steeply uphill and sit on the bench looking out across the Thames and Goring Gap. A fabulous view, albeit slightly less lovely since the railway electrification gantries have been installed!
6. Minster Lovell hall, near Witney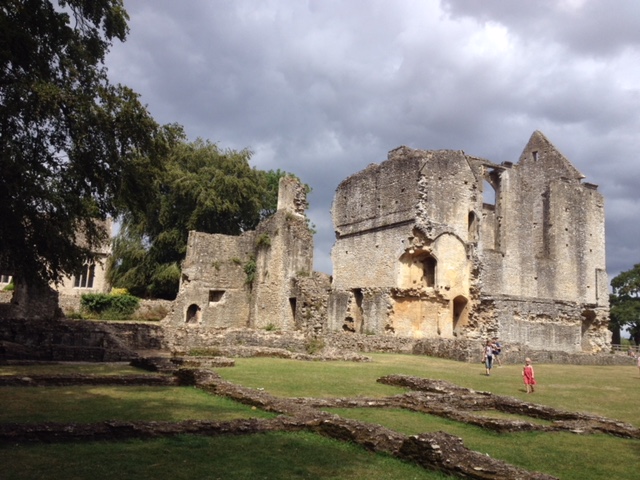 Minster Lovell hall was a 15th Century Manor House. Now in ruins it backs onto the River Windrush; a perfect setting for a picnic. Paddle in the shallow river, watch the ducks or explore the ruins. Be warned, it gets very busy in summer.
Park in St Kenelm's Church car park from where it's a five minute walk to the ruins.
7. Blenheim Palace parkland
Blenheim Palace is one of Oxfordshire's most visited attractions. Its manicured parkland make sure a great picnic spot.
Whilst you need to pay to access the Palace or Pleasure Gardens it is possible to enter the parkland for free on a public footpath. Just pick up an OS map or follow the instructions here.
8. Rollright Stones, near Chipping Norton
Picnics aren't just for summer. We ate a memorable picnic one cold January day surrounded by the Rollright Stones, a complex of three Neolithic and Bronze Age monuments.
There's limited road parking beside the stones and an honesty box for your £1 entrance fee.
9. Lord Wantage monument, The Ridgeway
Take the B4494 from Wantage to Newbury for approximately three miles until you reach the Ridgeway car park. Park on the left hand side and then walk east along the Ridgeway for a few minutes until you reach the Boer war monument.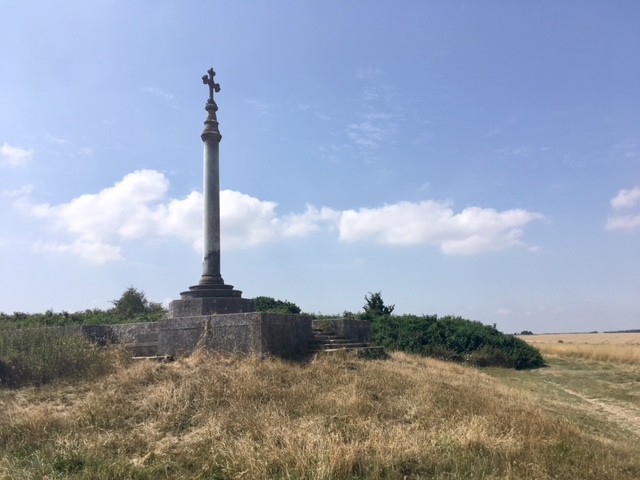 Despite the amount of house building in Oxfordshire I always marvel at how much 'countryside' you can see from here; it feels very rural. Although you're unlikely to be alone as it's a popular rest stop for walkers and cyclists on the Ridgeway.
10. Beside the Oxford canal, Thrupp
Thrupp is a small canalside village a couple of miles from Kidlington. Choose your picnic spot beside the towpath and settle down to watch the narrow boats and ducks.
Parking is behind Annie's cafe. Of course, if you've forgotten your picnic you could always just eat here instead!
11. Wittenham Clumps, Long Wittenham
Easy to spot from a distance these two wooded clumps are visible across much of flat South Oxfordshire. Archaeological digs have confirmed the site has been used since the Bronze Age; understandable given it's prominent location.
Nowadays it's a nature reserve and is better known for its kite flying and winter sledging opportunities. There's an orientation pillar, benches and lovely views of the River Thames from the top of Round Hill. Or Didcot if you look in the other direction.
12. Watlington Hill, Christmas Common
Oxfordshire is well known for red kites and this is a great place to watch them. Its chalk grassland is also a haven for butterflies in the summer.
Park in the free National Trust car park at the top of the hill and walk a couple of hundred metres to find a picnic spot with a view. If you're feeling more adventurous there's a waymarked short route to follow around the hill.
13. Port Meadow, Oxford
Port Meadow is a large meadow just outside the centre of Oxford bordering the River Thames. Best visited in summer unless you're a bird watcher, if so visit in winter when the flooded plains are full of geese and ducks.
For picnics I prefer the Thames Path side on the opposite river bank, away from the grazing ponies and cattle, unless you're happy surrounded by hooves!
14. Kirtlington Quarry nature reserve
Famous for its fossils this small nature reserve was once used for the production of cement. The tooth of a Megalosaurus has been found here so your picnic would have been a scary affair 166 million years ago. Nowadays it's rather more relaxing; after your dinosaur hunt here's a large flat area perfect for setting up your picnic mat.
15. Faringdon Folly woodland
Previously owned by the eccentric Lord Berners Faringdon Folly is usually open on the first and third Sunday from April to October. There are great views from the top so it's worthwhile trying to coincide your visit with one of these dates. However the surrounding woodland is always open and is perfect for a picnic.
Wherever you decide to picnic remember to follow the Countryside Code.  Respect the countryside and most importantly take all rubbish away with you.
If I've missed your favourite picnic spot please let me know in the comments.