After a hearty fried breakfast at our B&B we packed and were on the road again.
Whenever I've visited the Lake District previously it has been to walk in the mountains. However I knew my favourite hills would be busy in August so this time we opted to discover a lesser known part of Cumbria, its southern coast.
Piel Island
Piel Island is a small island off the southern tip of Cumbria. It's accessible from Roa Island via a small ferry boat. We arrived early and took the first ferry of the day. It's only a short journey but I was rather glad of this as the ferry was less substantial than I expected!
The main attraction on Piel Island is Piel Castle. Although I guess some might dispute this and choose the pub instead. The castle was built in the 14th century to guard Barrow-in-Furness against pirates and Scots raiders. It's possible to camp on the island and a couple of tents were set up in the castle grounds.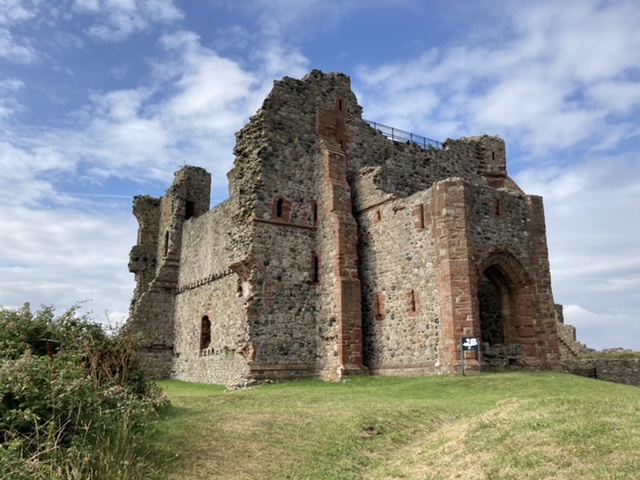 Aside from the castle there are birds and seals to spot over on South Walney Nature Reserve and out in the sea. We heard the seals long before we saw them; glad we had our binoculars! Closer to shore, on Piel Island, were flocks of oystercatchers.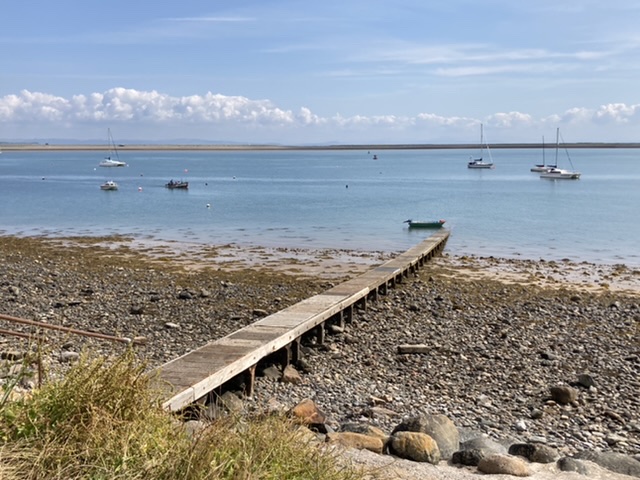 Piel is only a small island (about 50 acres) so before we knew it we'd walked a circuit. We finished back at the Ship Inn, where we enjoyed the view with some rather expensive soft drinks.
Our early start allowed us to experience the island with just a few other visitors. As we disembarked back on the mainland we were amazed to see crowds of people waiting to visit the island. So much for us visiting a lesser known part of Cumbria!
Ulverston
We took the A5087 coastal road to Ulverston. It's a scenic drive, with almost uninterrupted views over Morecambe Bay.
Ulverston is famous as birthplace of Stan Laurel, one half of Laurel and Hardy. My partner and son visited the Laurel and Hardy Museum, which they found smaller than expected but still interesting. We ate a late lunch at an eclectic cafe (Fourpence Cafe), surrounded by antiques, flavoured oils and old fashioned ladies underwear hanging from the ceiling.
Ftom Ulverston it was a long drive up through the Lake District to our overnight stop. I originally planned to drive up the west coast but our SatNav was determined to send us inland. We stocked up at Booths in Keswick; the crowds in town reassured me we were making the right decision to stay out of the tourist hotspots.
Gilcrux walk
After settling in and cooking dinner at our Airbnb our evening walk took us to the nearby village of Gilcrux. We walked via The Ghyll, a wood with a stream running through it.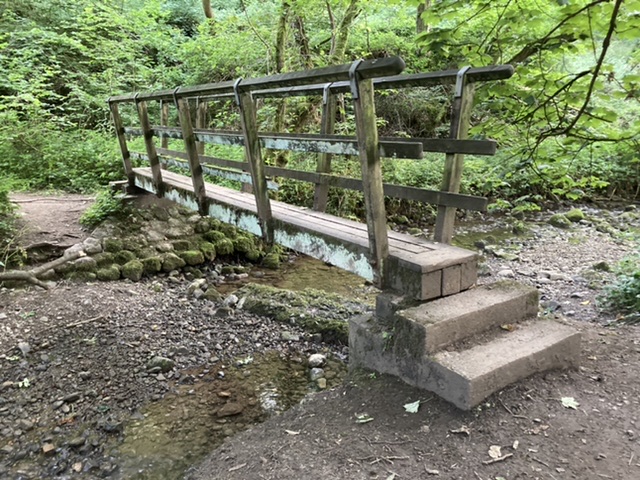 Our destination was the village pub, where we sat outside and enjoyed our drinks in the evening sun. The return route wasn't as scenic, back along a narrow road, jumping into the undergrowth whenever we heard a car (fortunately not often).
Overnight stop
Our Airbnb was in Arkleby, about half an hour drive north of Keswick. Located in a short terrace of houses it was in a peaceful area with friendly neighbours. The house was well decorated and furnished. However the kitchen equipment wasn't quite up to the same high standard (I'm looking at you, kettle, toaster and potato masher!). The views to the rear were over farmland; we also enjoyed watching woodpeckers on the neighbour's bird feeders.