As you may have read in my previous post I'm hoping to run the London marathon in April 2016. The good news is that I've survived my first full month of training; read on to find out how I'm getting on.
Marathon training
The first month has been relatively easy, primarily because I'm running distances I'm already comfortable with. The hardest part is fitting the runs into the week and I know this is going to get much more difficult over the next two months.
My London marathon training plan consists of 4 runs per week. During the week I run in the early evening, which generally means I'm running around the streets during rush hour. I'm not convinced that breathing in fumes from cars spewing out exhaust fumes is healthier than not running. But I haven't got the motivation to get up and go for an early morning jog.
At the weekend I manage to get out during daylight and run beside quiet roads and on footpaths. I ran 10 miles on Saturday and although the route was a tad muddy in places it was lovely to breathe fresh air and hear birdsong.
New kit
Thanks to Christmas and my birthday I have some shiny new gear. Most importantly, a pair of trainers; the most expensive I've ever owned. I had my gait analysed on a treadmill at a local running shop and this indicated I needed extra support. After trying on most of the shop's stock I finally chose a pair of Mizuno Wave Inspire 12 trainers which were comfy the minute I put them on. Sadly, courtesy of the winter weather, they don't look very new any more.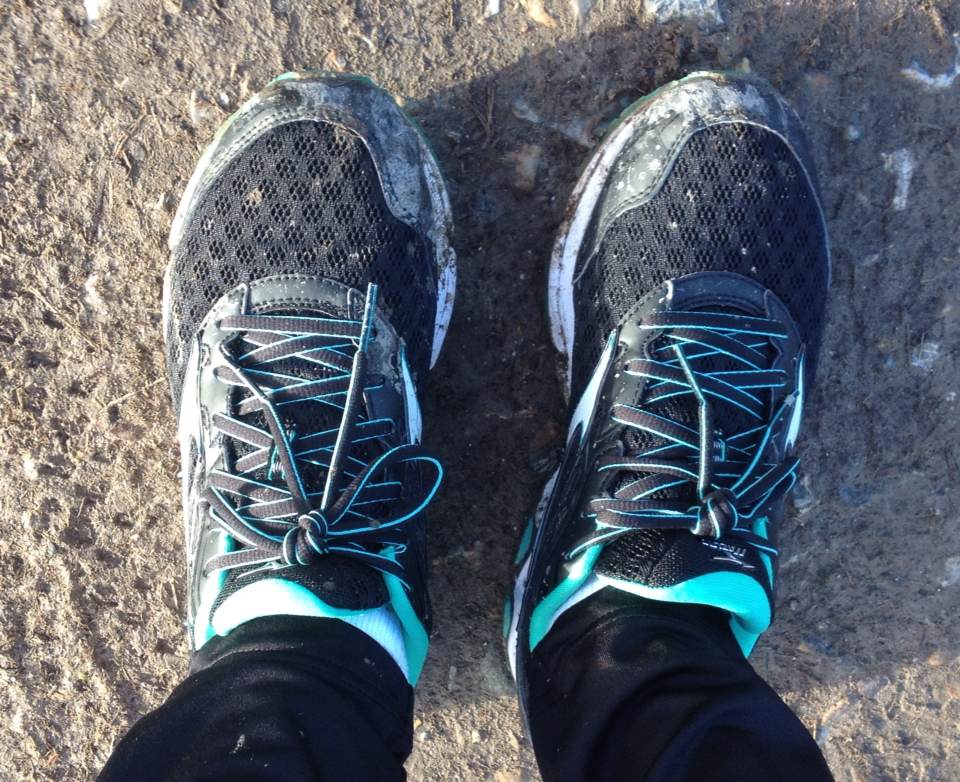 Trainers aside, I received a foam roller and running clothes too. I quite enjoy rolling back and forth on the roller. Primarily as it seems easier than doing all the strength exercises I'm supposed to be doing.
I'm also considering buying a Garmin GPS watch. I never thought I'd need one (and realistically I don't) but my old iPhone has questionable battery life and no sound. The app I use on it also suggested I was running 7 minute miles; great if this was true but it seems to be missing a couple of minutes somewhere!
Nutrition and health
I'm attempting to eat healthier. Not cutting down on food but, with the exception of chocolate, trying to eat more nutrient rich options. So instead of crisps and biscuits I'm eating almonds and tubs of addictive Munchy Seeds. I've started taking a multi-vitamin with iron tablet. I think my diet is pretty healthy but I've had low iron levels in the past and as I'm also vegetarian and significantly increasing my running mileage I thought it best to pre-empt any problems.
Being of a certain age I was also able to take advantage of the NHS Health Check offered to people aged 40+. The test checks blood pressure, heart rate, cholesterol levels and general lifestyle factors to give you a risk factor of having a heart attack or stroke in the next 10 years. Mine came out at 0.8% which is obviously good news for the marathon run. I'm just hoping my creaky legs last long enough!
Into February
The marathon training steps up a gear this month. The runs are getting longer and I'm also supposed to be speeding up some of the shorter workouts. I'm looking forward to the nights getting longer and the opportunity that gives me to run away from the main road routes.
Are you training for any events this year? How's it going?