A couple of weekends ago we went to Prescott Hill speed climb, a racing event where cars compete against the clock to be the fastest to the top of a 200ft hill.  Prescott Hill is, according to their website, a prestigious motor racing venue and also home of the Bugatti owners club.
Readers who know me may think this a rather strange choice for a day out as I'm really not into cars. I don't mind what I drive as long as it's safe, economical and gets me where I want to go.
However, I have a soft spot for the big old American cars I used to watch in Dukes of Hazard and The A-team back in the 1980s. When I saw a half price Groupon offer for the autumn classic event, showcasing American cars I decided a visit would be fun.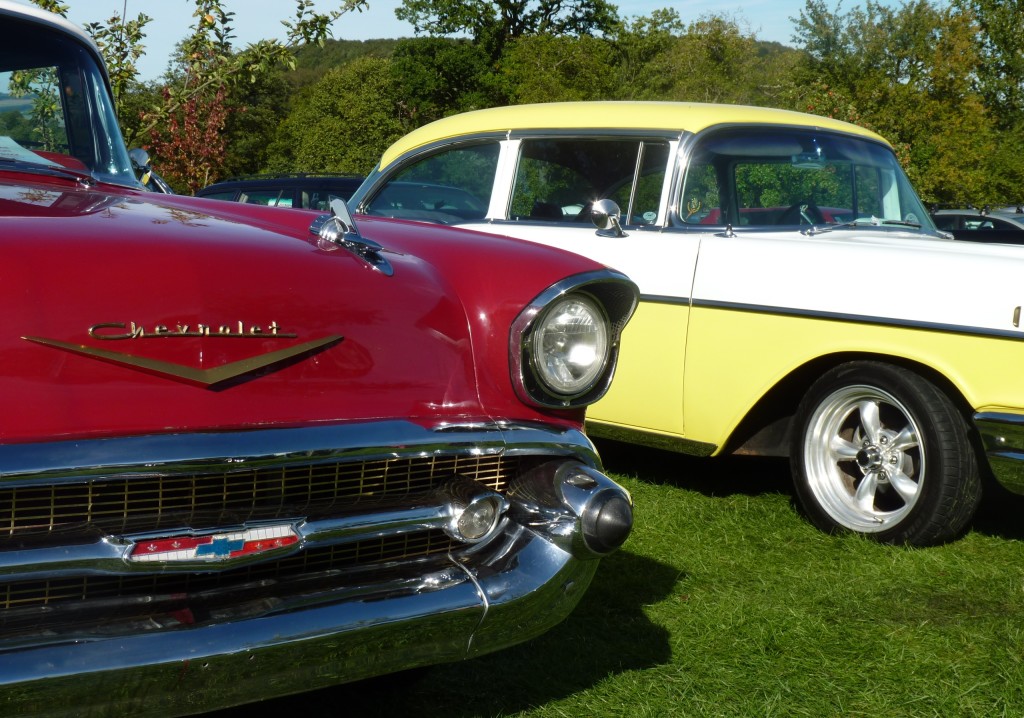 Upon arrival we had an interesting moment trying to park the car on a slippy and bumpy hill. I was very glad we'd visited on a sunny day as the prospect of trying to get off the hill in muddy conditions was not appealing.
The main racing took place in the afternoon, so we used the morning to watch practise runs, wander around the cars and see some of the other entertainment on offer.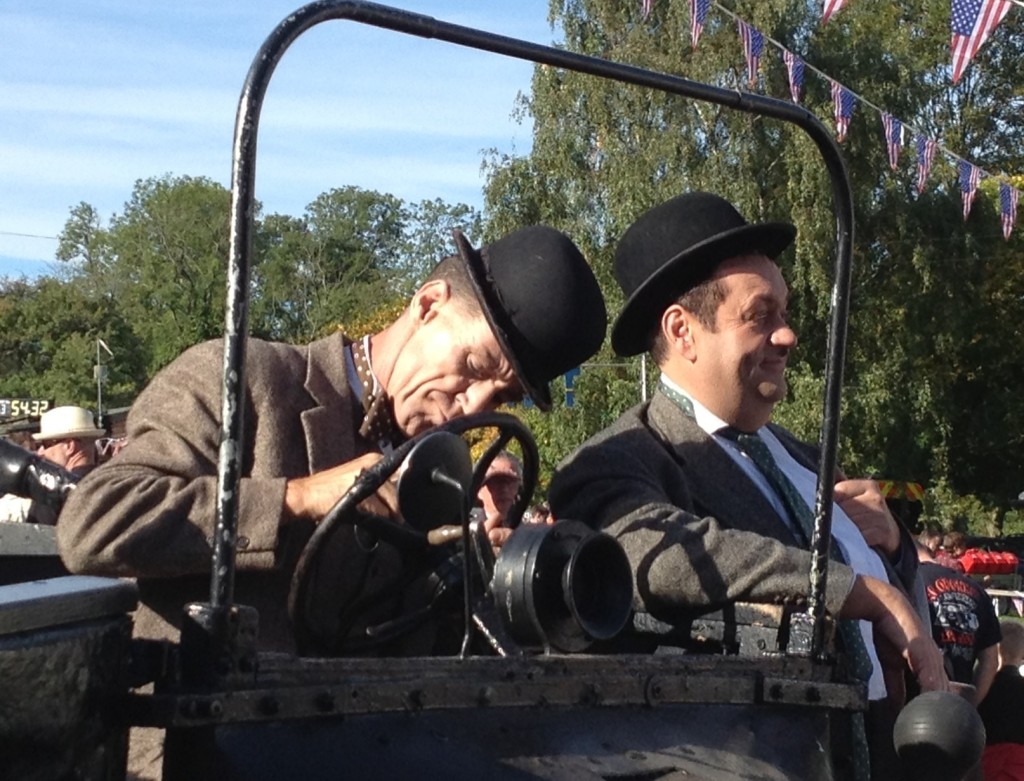 These Laurel and Hardy impersonators put on a silent show and mingled with the crowds, happily posing for photographs. There was also musical entertainment with a band playing 1950s American jukebox classics.
Demon Drone Wall of Death
One of the non-racing attractions I enjoyed most was the Demon Drone Wall of Death motorcycle stunt show. After queuing for a while we were ushered up stairs into the wooden motordrome, overlooking the wall of death. The performers rode 1920s Indian motorcycles whilst performing various tricks such as riding side saddle, arms out and two to a bike. Each time the bike went round, the wooden platforms we were standing on wobbled a little, which scared my son as he thought it was going to collapse. Every other kid appeared engrossed by the show though!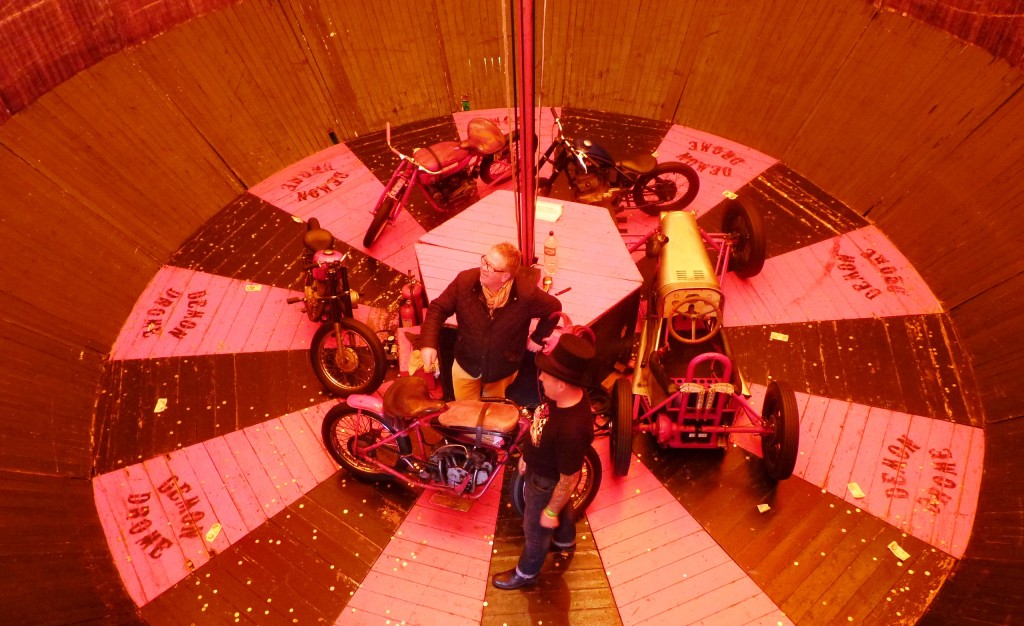 If you've got eagle eyes you may recognise the man standing in the middle of the above photograph.  It's Philip Serrell, an auctioneer and presenter of various TV programmes about antiques, who was filming during our visit. I've not got a clue about antiques though so had never heard of him until I looked him up after the event.
It was  tricky getting a photograph of the riders in action. The picture quality below isn't great, but it gives you an idea as to the rather impressive stunts.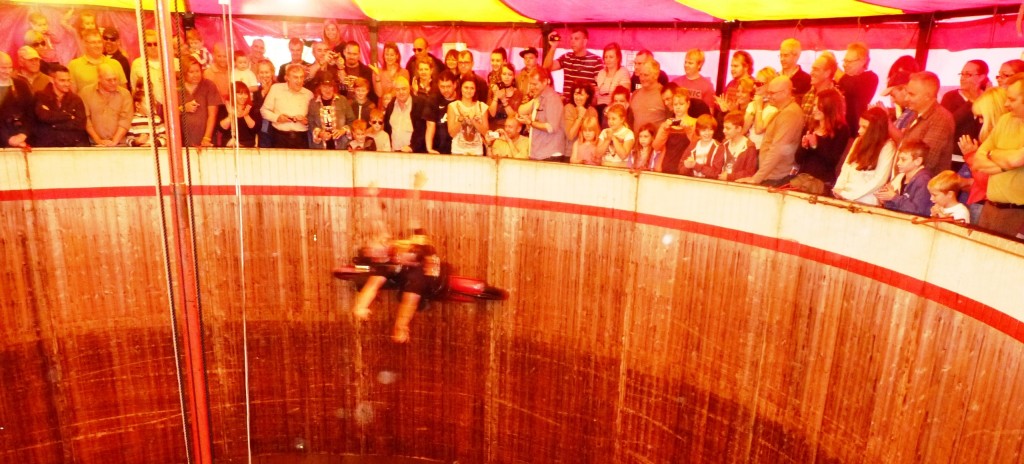 Of course, the main attraction was the cars.  The great thing about Prescott is the opportunity to wander around them freely, take photos and maybe speak to the owners. There are no barriers or restrictions which was refreshing, although you do need to keep a close eye on your kids in amongst all the cars.
Cavalcade
After the practise runs finished it was time for the cavalcade. This appeared to be a rather random procession of cars and motorbikes along the race route. It was our first chance to see some of the American classics and my son was so excited he took a blurry photograph of every car taking part.
After lunch, my daughter and I enjoyed looking around the cars on show. There were plenty to view with Chevrolets, Mustangs and big old Cadillacs on display. I was a little disappointed that more of the American cars weren't racing, but that was probably just my expectation.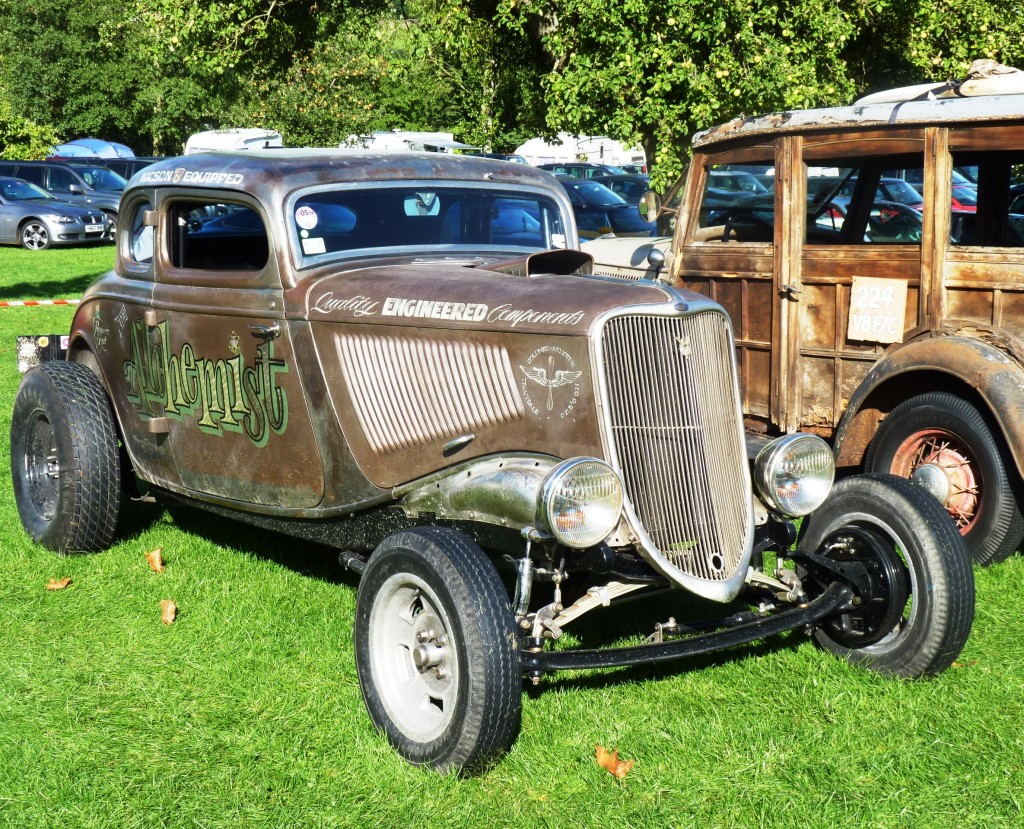 The  racing started at 2pm. There were a variety of different classes throughout the afternoon with Morgans, Triumphs, pre-war Aston Martins and Bugattis being some of those taking part.
As to be expected from the venue the course was well maintained, almost picturesque in appearance (never thought I'd say that about a motor racing track).  Spectators were able to stand next to much the track, which wound up the hill through woodland.  The course was quite short (1127 yards) with a hairpin bend and sharp corners to negotiate. Most drivers took about 50 seconds to complete it.
How would I describe the racing? Fast, exciting, noisy and great fun! Have a look at this short clip of a couple of the cars:
Overall we had a great day out, and I'd certainly visit again. I'd also be happy to recommend it to those who aren't particularly interested in cars, as I really enjoyed myself.
More info:
Prescott Hill run a number of events throughout the year, further details can be found on their website.
The site is partially accessible, with dedicated parking and disabled toilets available. The spectators area around the race track itself would be difficult to access as there are steps and sloping areas to negotiate.
There are burger and chips type catering vans as well as a club house which provides meals. The English breakfast looked to be a popular option with the drivers, and cost around £7. A lot of people had taken picnics to eat on the hill overlooking the race track, and this would be my choice next time round as there's not much available for vegetarians apart from chips.