This 4 mile circular walk from Bourton-on-the-Water takes in two Cotswold villages, a nature reserve and, not one, but two mazes. Hence the cheesy pun in the title!
Tourist literature describes Bourton-on-the-Water as 'Venice of the Cotswolds'. Whilst the River Windrush flows through the village it doesn't bear much resemblance to Venice except for the crowds of visitors. Once you've put the analogy aside it's an enjoyable place to spend a few hours and, as we found, it's easy to escape the tourist hordes.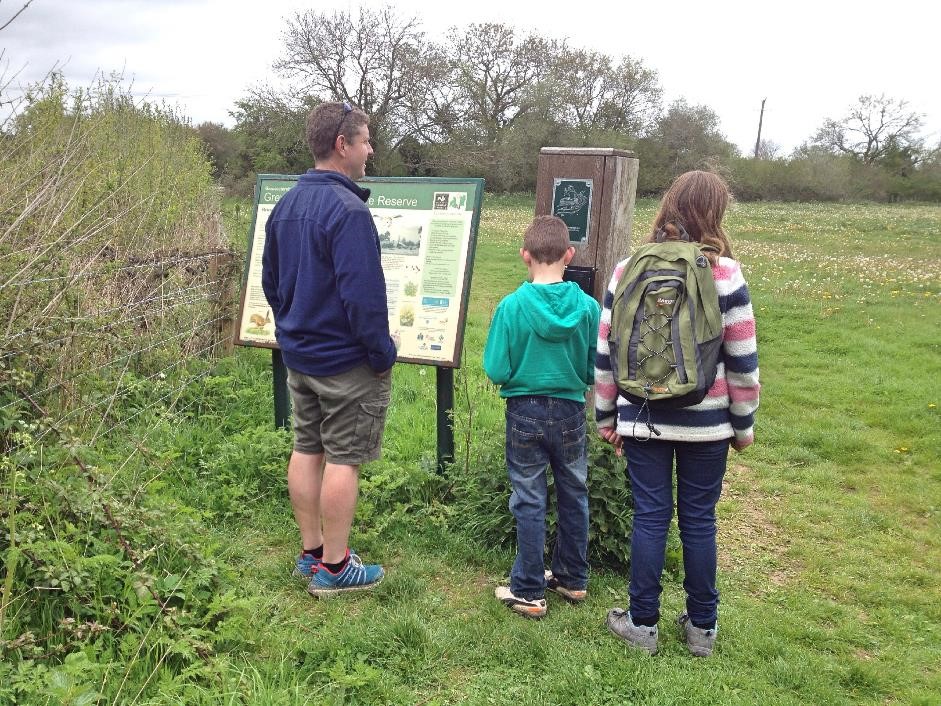 As is almost always the case, a 10 minute walk from the village centre took us away from the day trippers. We left Bourton-on-the-Water via Greystones Farm Nature Reserve, which is managed by the Gloucestershire Wildlife Trust.
We followed the route through the farmyard past an unusual looking building marked with the words 'Lely Astronaut'. I thought it might be an observatory but we found a small viewing window and realised it was a robotic milking parlour. We watched one of the cows for a while, hoping to see it getting milked, but the cow had other ideas so we left it in peace.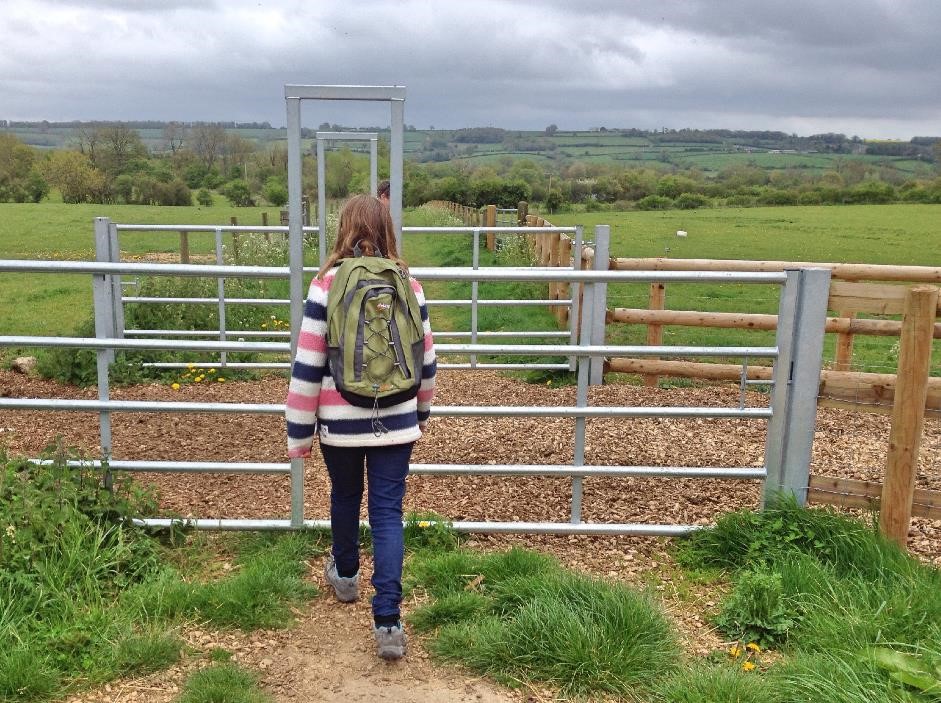 Leaving the farmyard we encountered this gate which had a convenient person shaped hole in it. It wasn't so convenient for the people behind us who had multiple dogs, one of whom they were pulling along in a cycle trailer!
Further on we found some badger setts. The badgers were tucked up underground as it was the middle of the day but it would be great to stake out one of the setts.
We walked on through meadows before crossing the River Eye and River Dickler. Otters and water voles evidently frequent these rivers but we searched in vain for footprints on the banks. Even though we didn't see signs of these elusive animals it was great to explore the incredibly clear rivers.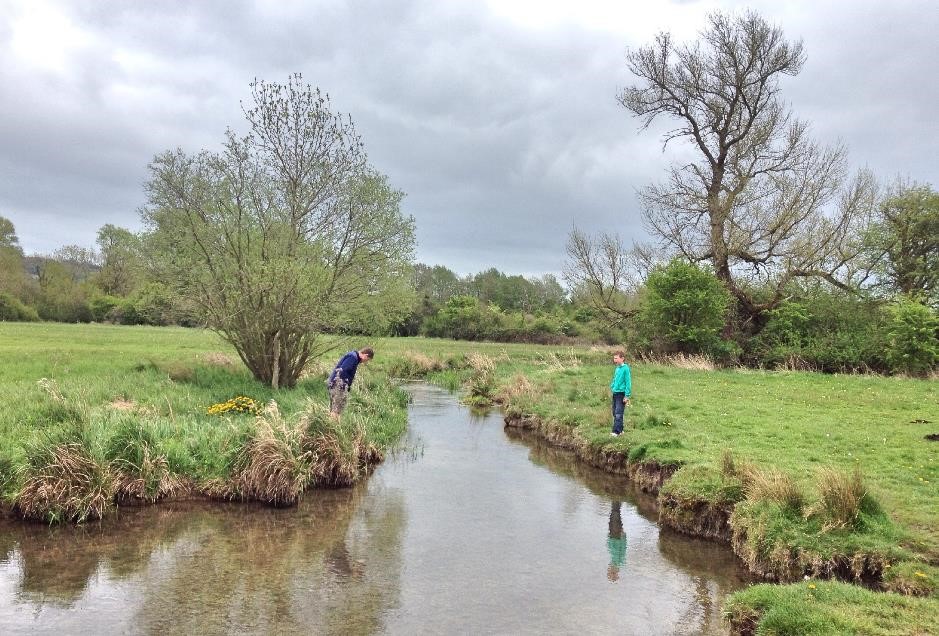 We managed to take a wrong turning after crossing the bridge. As we walked on the instructions started to differ from the route and when we reached a road it became obvious we'd gone the wrong way. Whoops. Fortunately we'd bought an OS map so we could work out where we were supposed to be, just a pity I hadn't checked it sooner. On the positive side we did hear our first cuckoo of the year.
We reached the village of Wyck Rissington via our unplanned road detour. This unspoilt Cotswold village is a complete contrast to the tourist honeypot of Bourton-on-the-Water. We only saw one other person in the village visiting its picturesque duck pond and Cotswold stone buildings.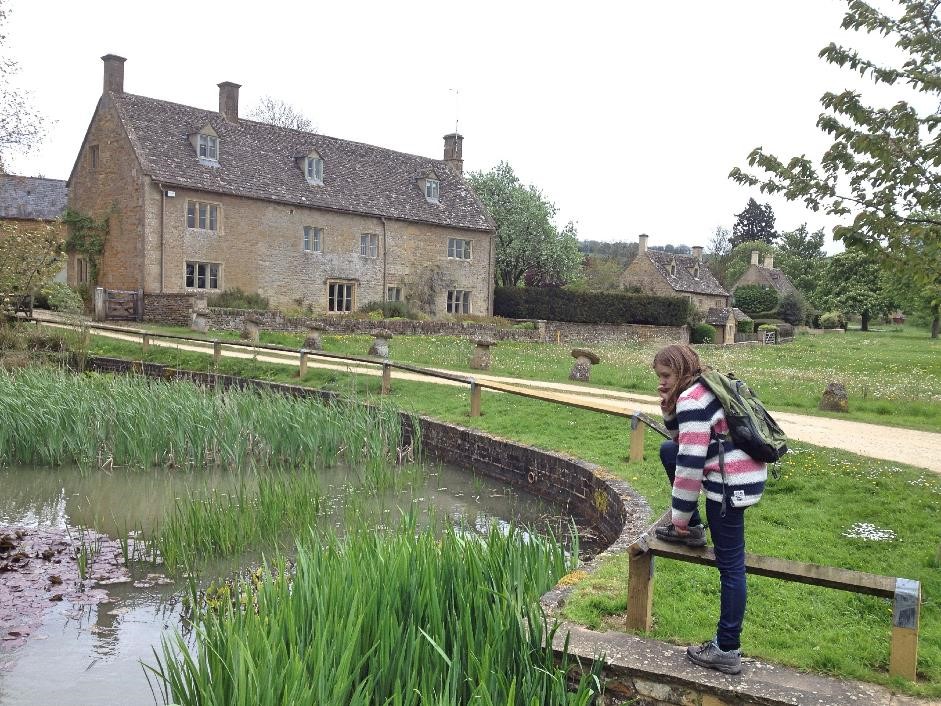 Wyck Rissington does have a couple of claims to fame. The composer Holst worked as an organist in the church in 1892. Holst enthusiasts can follow the 35 mile Gustav Holst walk which passes through places associated with the composer and ends at the church.
Of more interest to us was a story I'd heard about a maze in the rectory garden. It turned out we were 30 years too late as it was dismantled when the rectory was sold. However there is a mosaic inside the church which is a copy of the original maze. Can you complete it?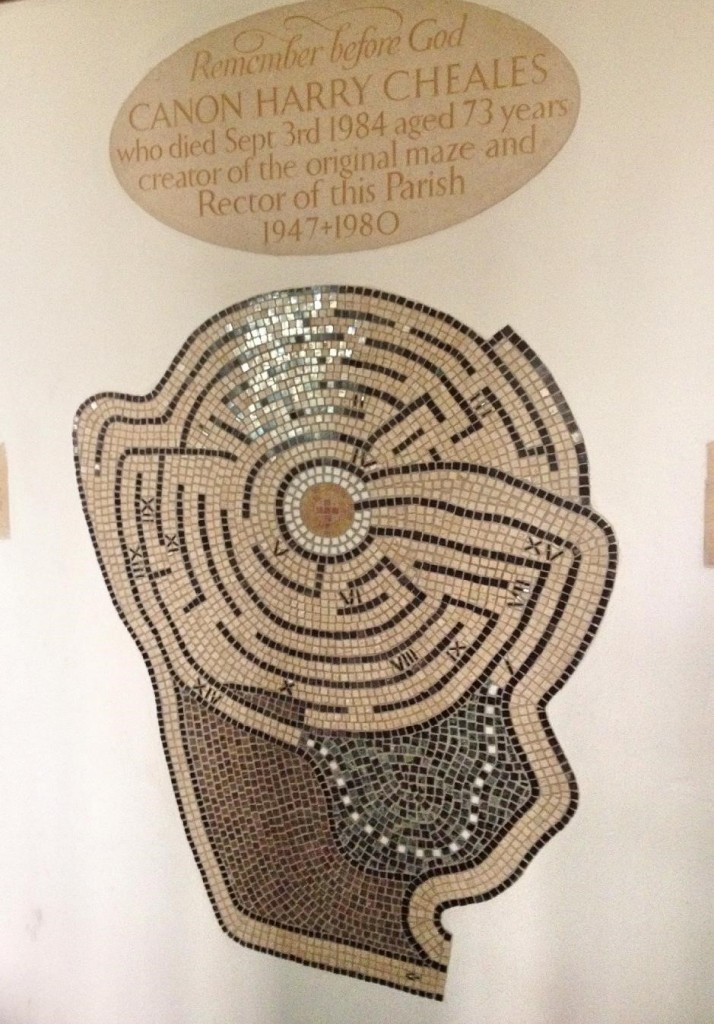 Our walk back to Bourton-on-the-Water was almost scuppered when we encountered a dog walker who told us about a herd of cows blocking our access ahead. Neither my daughter or I are fans but after checking the map we realised we'd either have to retrace our earlier route or brave the cows. With some nervousness we settled on the latter. We had several fields to cross; each one was carefully checked but there were no cows to be seen. Either they'd gone in for milking or the dog walker had imagined them. I was relieved!
The final stretch of walk took us past fishing lakes back into the village and onto our second maze of the day.
Dragonfly Maze, Bourton-on-the-Water
One of the reasons Bourton-on-the Water is so popular is because of its many attractions. These include Birdland, a model village, a perfumery, motor museum and a maze. We had time to spare after our walk so decided to explore the Dragonfly Maze.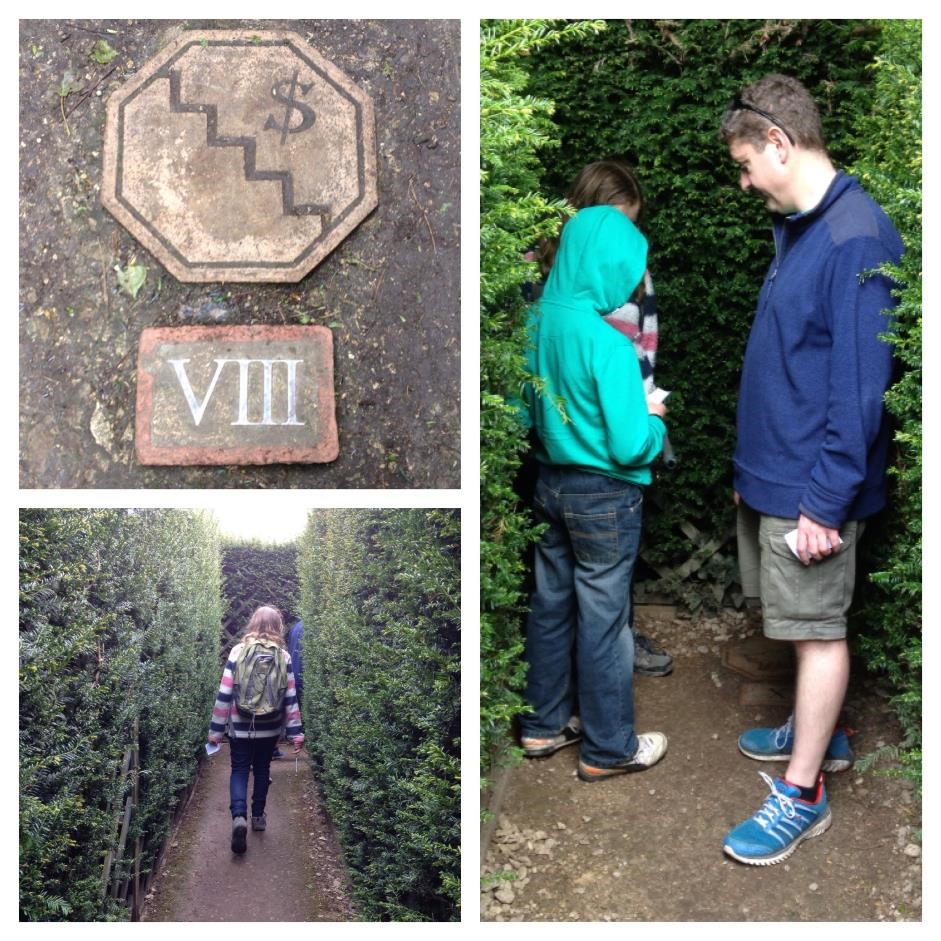 Dragonfly Maze is a yew maze with a twist. In addition to finding the centre of the maze we needed to solve clues along the way in order to fully enjoy the attraction at the centre (I'm trying not to give anything away here).
The clues are picture based, similar to the top left hand photograph above. We didn't manage to find one of them but were still able to solve the puzzle. The maze took us about 30 minutes to finish; it's not particularly big but the added puzzle made it an entertaining way to finish our walk.
Smiths of Bourton tearoom
In my view, a walk can only be perfect if there's a good tearoom somewhere en route. We were spoilt for choice in the village but settled on Smiths of Bourton tearoom.
We initially visited for lunch before our walk; I had a Ploughmans, the children sandwiches and my partner a fish finger sandwich. They were all delicious although my partner hadn't expected either tomato ketchup or mushy peas inside his sandwich. This was rather unfortunate as he doesn't like them; fortunately both kids do so after some sandwich swapping everyone ended up with something they enjoyed.
We returned after our walk for cake and coffee. My daughter was embarrassed to see one of her school teachers sitting on the table next to us, particularly as we were an hour's drive from home. I, on the other hand, was happy to see that the tearoom offered a selection of 3 smaller size cakes for £3.95. Perfect for me as I can never make up my mind. I chose fruit, carrot and chocolate cakes to share with the kids. You'll have to take my word that they were all delicious, a perfect end to our afternoon walk.
If you've enjoyed this you might also want to read about our walk from Winchcombe to Belas Knap or our climb up to Broadway Tower.
More info:
We followed the Bourton-on-the-Water and Wyck Rissington Jubilee walk. It's 4 miles long and flat so easy to do with children. There are loads of cafés, pubs and other facilities available in Bourton.
The Dragonfly Maze is open year round, depending on the weather. A family ticket for 2 adults and 2 children under 12 costs £9.