Last year my son and I had a very wet ride at Uptonogood, our local mountain bike event. This year the event followed on from one of the hottest days of the year. The organisers bravely sent an email stating the weather gods were smiling on us.
You can guess what happened. Overnight we had the most spectacular thunderstorm I've seen in years accompanied by the type of torrential rain you only ever see in films. The previously dry ground turned into puddle fest.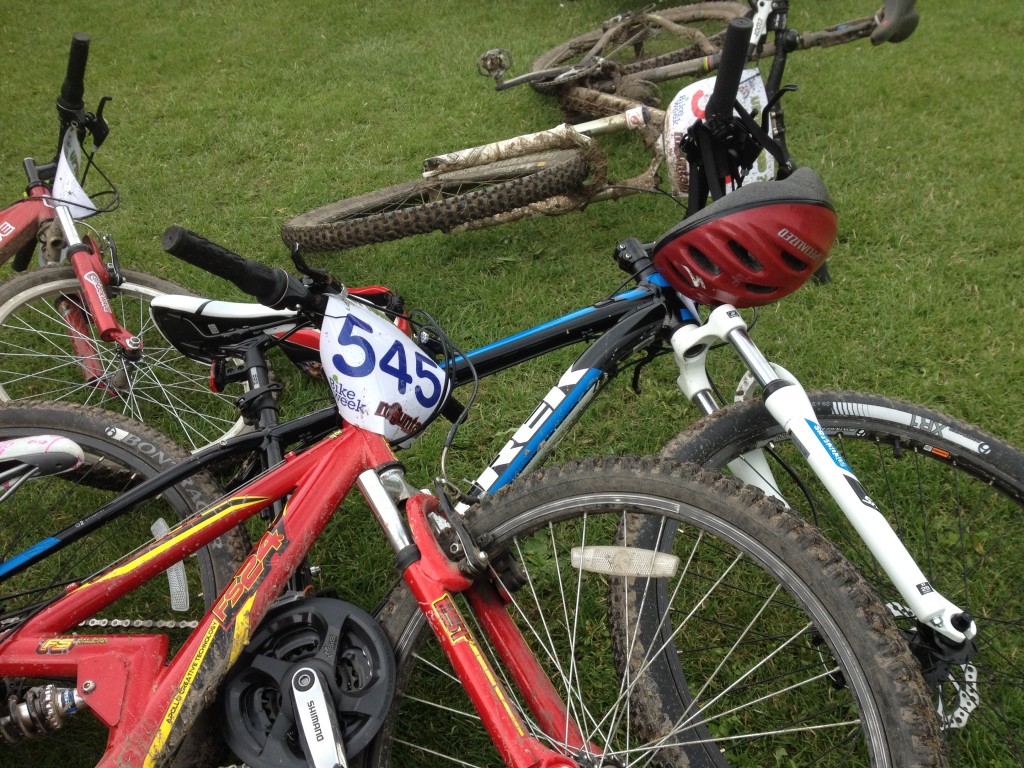 The rain had stopped by early morning but I did wonder whether the day had been jinxed as our son's bike had sprung a puncture overnight. A quick tyre swap and we were ready to battle the puddles.
Our arrival at Uptonogood coincided with the departure of the 25 mile route riders. I'd loved to have taken a before and after photo because the next time we saw them they were all caked in mud.
We'd signed up for the 12 mile family ride. After registering we stopped to listen to some rousing tunes from the local brass band before lining up for the mass start at 10.30am. It's not a timed race so we lingered at the back to avoid getting caught up in the scrum of handlebars and wheels.
I was glad to see a lead vehicle holding up all the traffic on the main road for us to cross; it was rather enjoyable to ride down the middle of a usually busy road. Thereafter the family route was almost all off road, apart from a few short stretches on quiet lanes.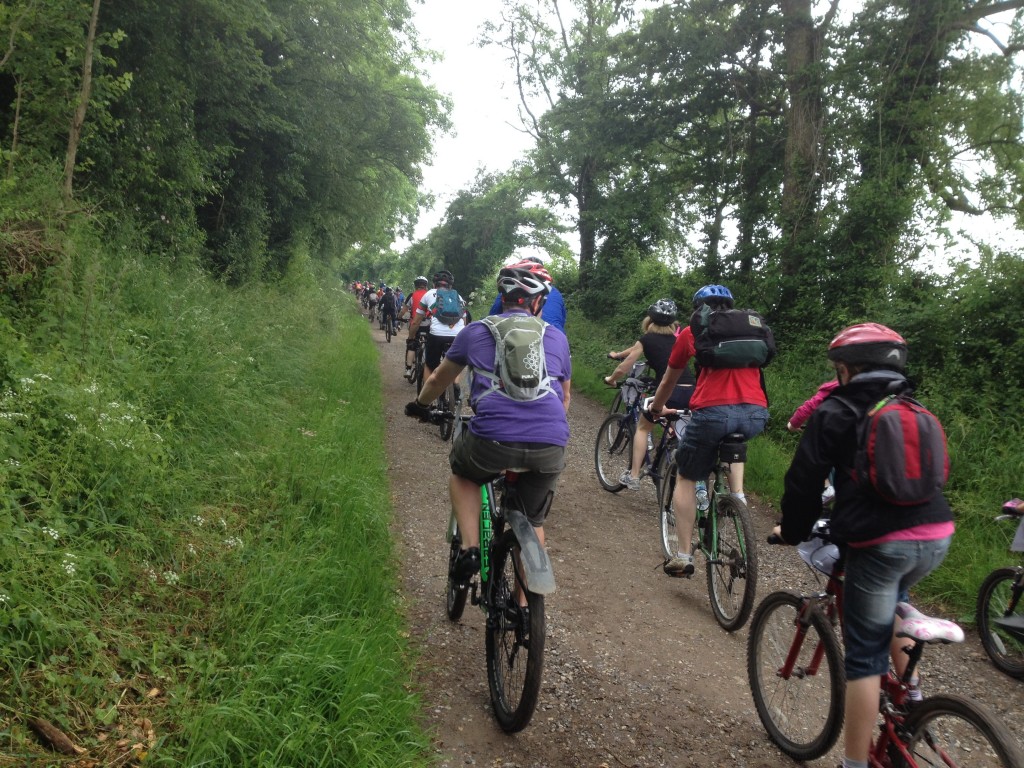 The first part of the course is an uphill stony track. There was a bit of a bottleneck with riders stopping for a breather and a few people wobbling into others. However, I was impressed by some of the youngest kids who pedalled all the way up.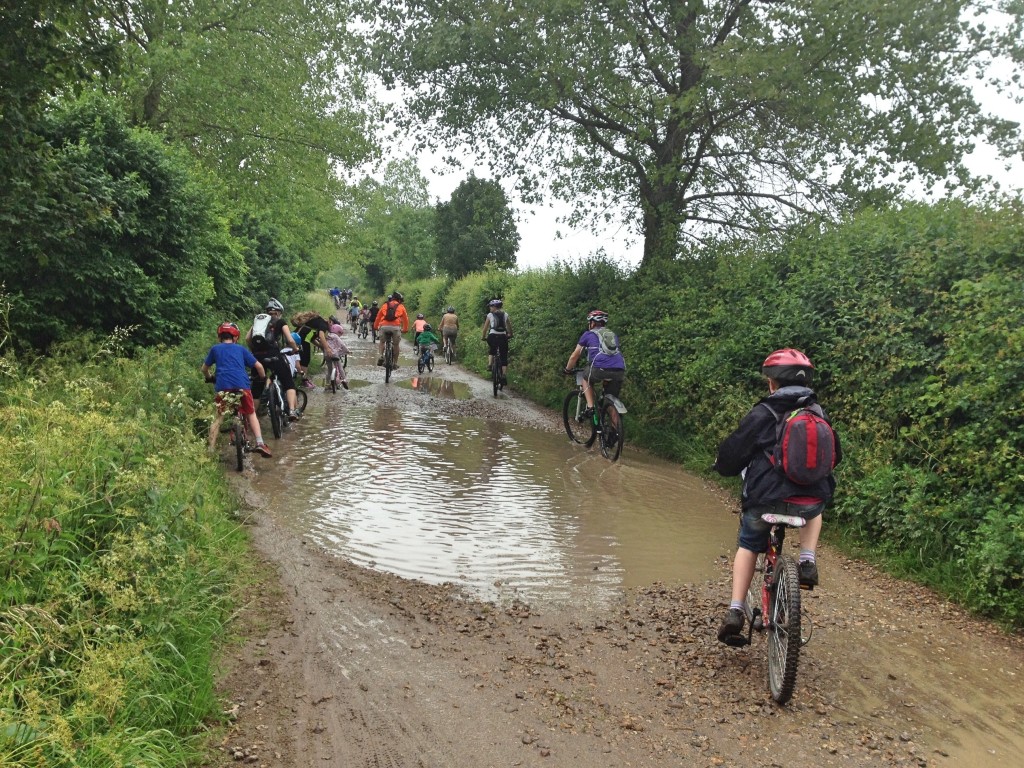 Despite my worries the course wasn't too wet. Some stretches were muddy, and there were large puddles to negotiate but I had expected worse. My son gained great pleasure from riding through the middle of them so he did end up with a wet and muddy back.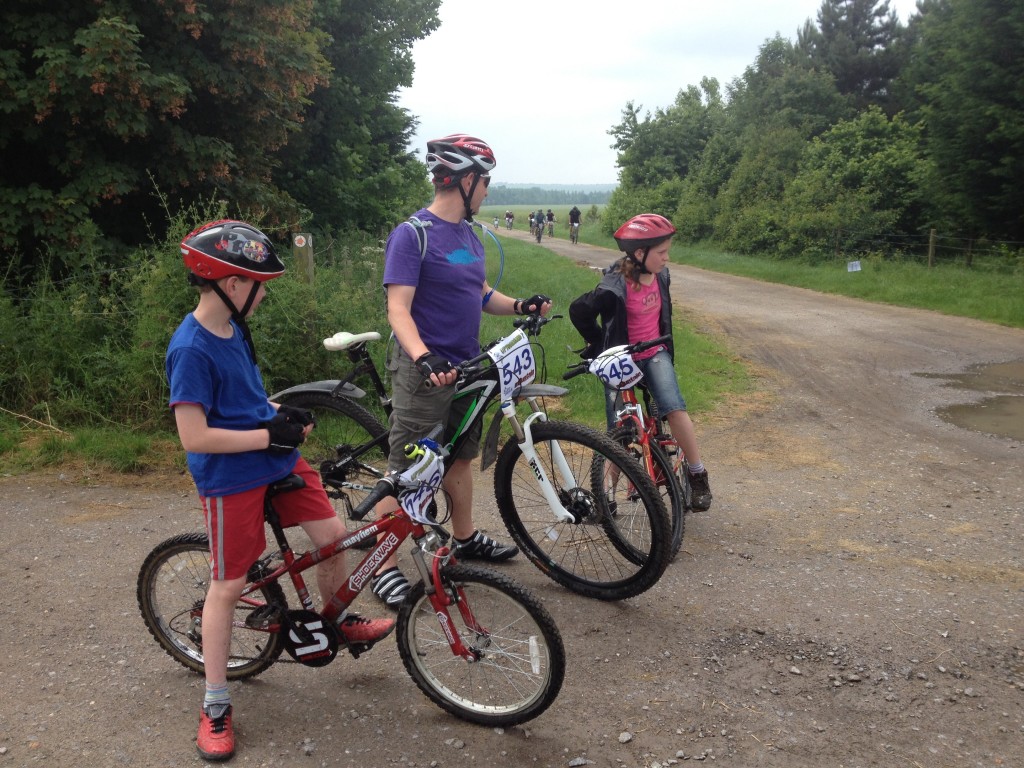 It took us a mile or two to thin out from everyone else. The course initially follows bridleways and a Sustrans route that we often ride along. After a while though it headed into new family cycling territory. This involved an uphill stretch at which point most family riders got off and walked. The fit 25 milers briefly joined us here and they all whizzed up the hill without a breather.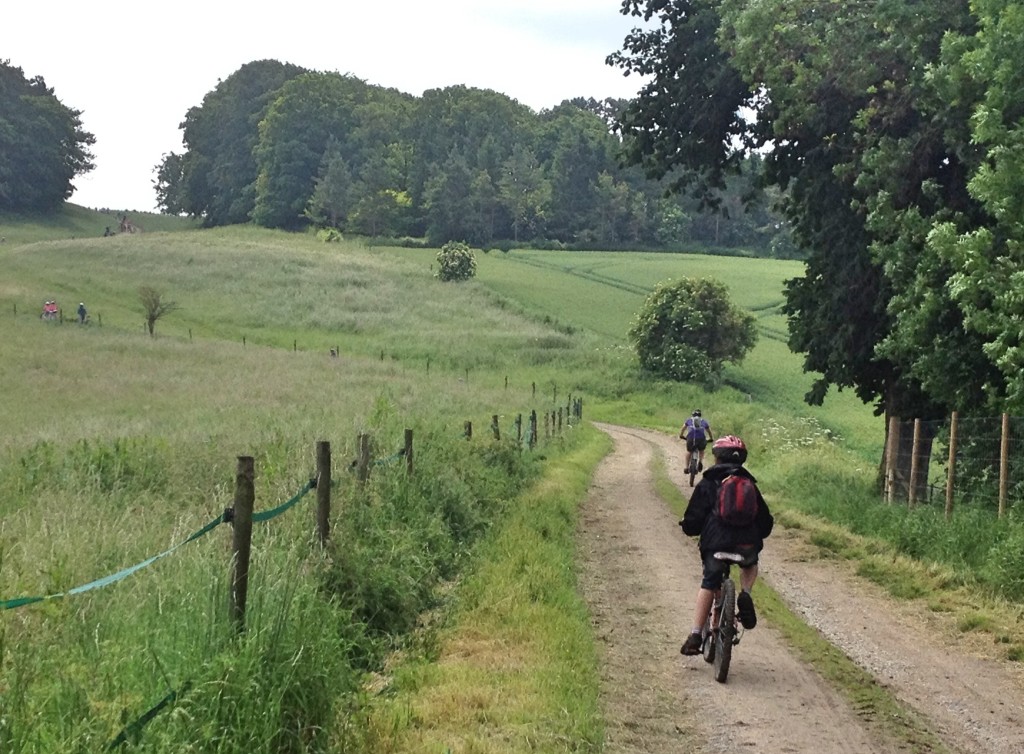 It wasn't happy families the whole way round. Eldest daughter has an old heavy bike which meant she hard to work harder to keep up. This resulted in a bit of a strop, which was compounded when she somehow managed to fall off it too. I had to suppress an incredulous 'how did you manage to fall off there' comment, even though it was going through my head at the time!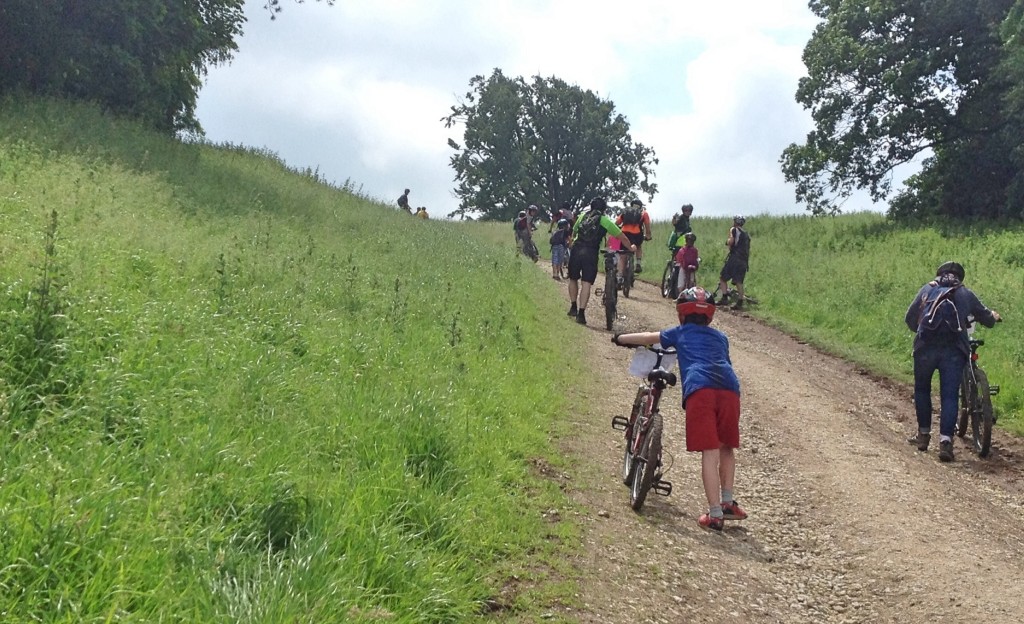 My favourite part of the course was the stretch along the Ridgeway. It's made from fast draining chalk so the ground was pretty dry and easy to cycle along. We passed several groups of teenagers who looked like they were undertaking their Duke of Edinburgh award, it always amazes me how heavy their rucksacks are. The views here were predominately rural apart from the landmarks of Didcot Power Station and the Diamond Light Source. We could see for miles!
Heading off the Ridgeway the rest of our route was fast and downhill. The clouds were becoming ever more ominous and a few heavy drops fell but we were only a mile from the finish at this point so it wasn't too bad.
There was plenty of cheering from the onlookers as we cycled back into the village recreation ground. The kids got a certificate, badge and lollipop at the finish tent. Hats off to the organisers, from our perspective everything ran smoothly and I'm hoping all participants had a good ride.
So what was the best bit? I'm sorry but it wasn't the ride. It was the cake afterwards! I sent the kids into the hall with £1 each and wondered why they took so long. Turns out they couldn't make a decision between the sheer variety of baked goodies on offer. Fruit cake, brownies, flapjacks, cupcakes, lemon drizzle, how to choose from so many options?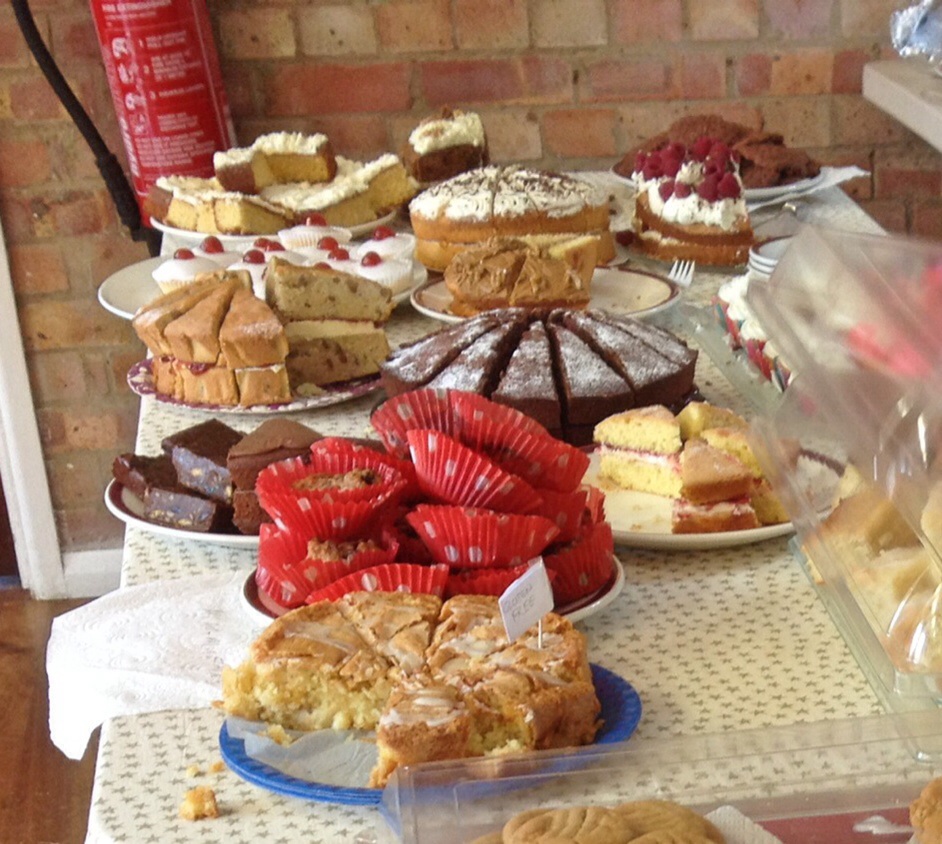 We stayed a little longer as there was live music and a BBQ. I resisted the lure of a (third) visit to the cake stand but even now as I write this I'm wondering what cake I'd have gone for……
More info:
Uptonogood is a mountain bike event that takes place in Upton, Oxfordshire each June. It's a family friendly day out with 5 and 12 mile rides for the kids and 25 or 45 mile rides for the more serious adult cyclists. Keep an eye on their website for details of next years event.