What would your perfect Mother's Day look like? Mine would start with breakfast in bed followed by a walk and picnic. Later on the children would complete the housework with not a moan or groan to be heard. Likelihood of this happening in our family? Zilch. But at least the walk and picnic happened!
Along the Ridgeway, Watlington
Our walk began in the small market town of Watlington, at the foot of the Chiltern Hills. It's home to some interesting looking independent shops (OK, it has a chocolate shop) but the shops were closed on Sunday and the town deserted.
Watlington is also home to the actor Jeremy Irons. I saw him here a few years back; out riding a horse and accompanied by a couple of dogs. He greeted us cheerfully but I didn't recognise him; fortunately my fellow walkers did.
There was no sign of Jeremy on this walk. Surprisingly, for such a lovely spring day, we saw very few people.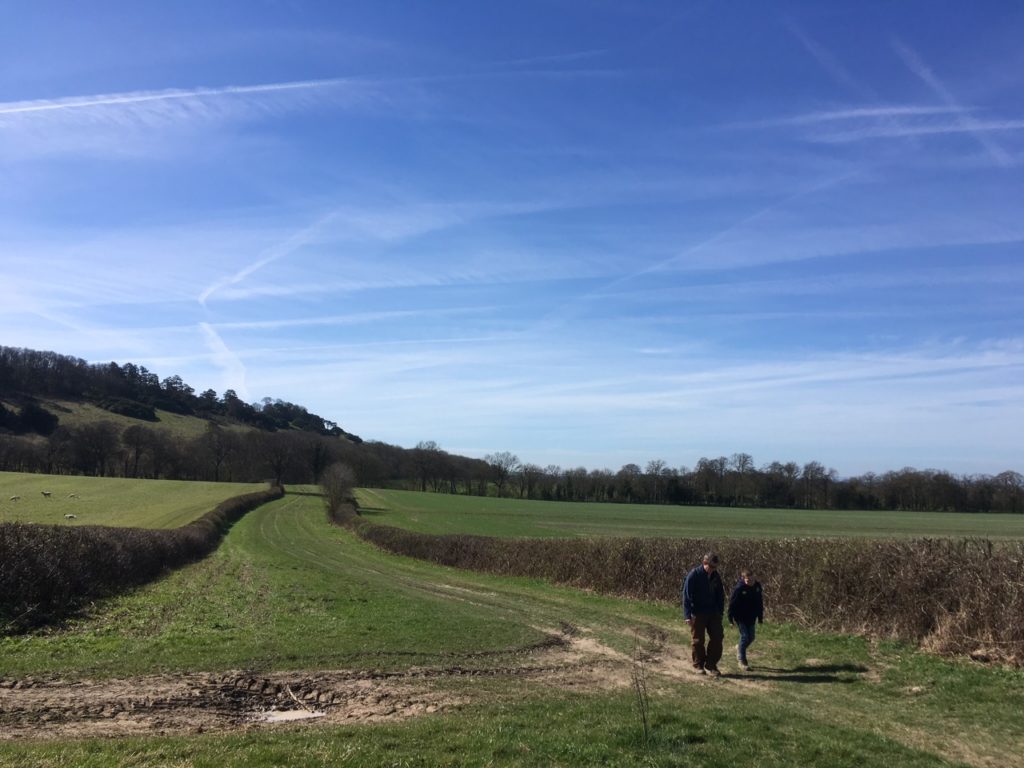 From Watlington we joined the Ridgeway National Trail, our local long distance path. We walked for a mile or so between fields and the edge of woodland, listening to skylarks and spotting the first butterflies of the year. A little further along we left the Ridgeway and walked through fields of lambs. Although inquisitive and playful they ran to their mums as soon as I attempted to photograph them.
Aston Rowant National Nature Reserve
I'd checked the map for possible picnic sites before leaving home. We were following a walking trail leaflet but I decided a diversion was needed for a good lunch stop. The viewpoint on top of Bald Hill, which forms part of Aston Rowant Nature Reserve, was slightly off route and, of course, uphill but proved the perfect location. Although my son wasn't enamoured with the climb and announced he'd eat at the bottom instead.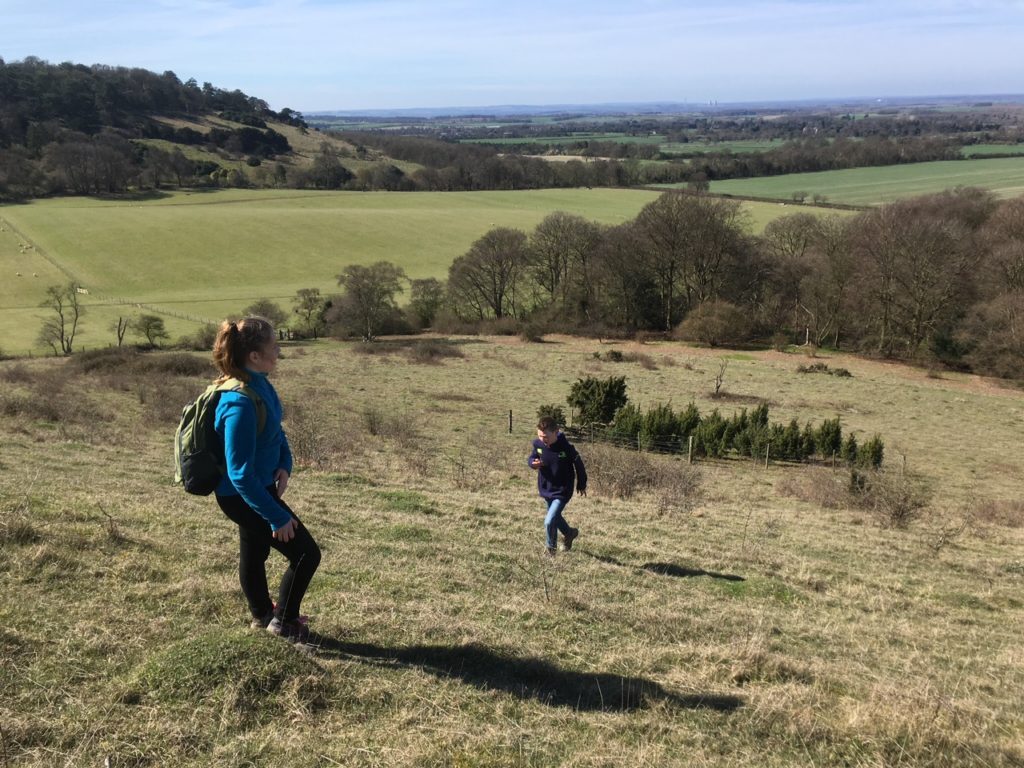 Despite my son's protestations we set out our picnic on the summit. Thanks to my daughter we enjoyed a special Mother's Day picnic that was a more elaborate affair than our usual sandwiches, with quiche, dips, homemade sweet potato crisps and fruit kebabs.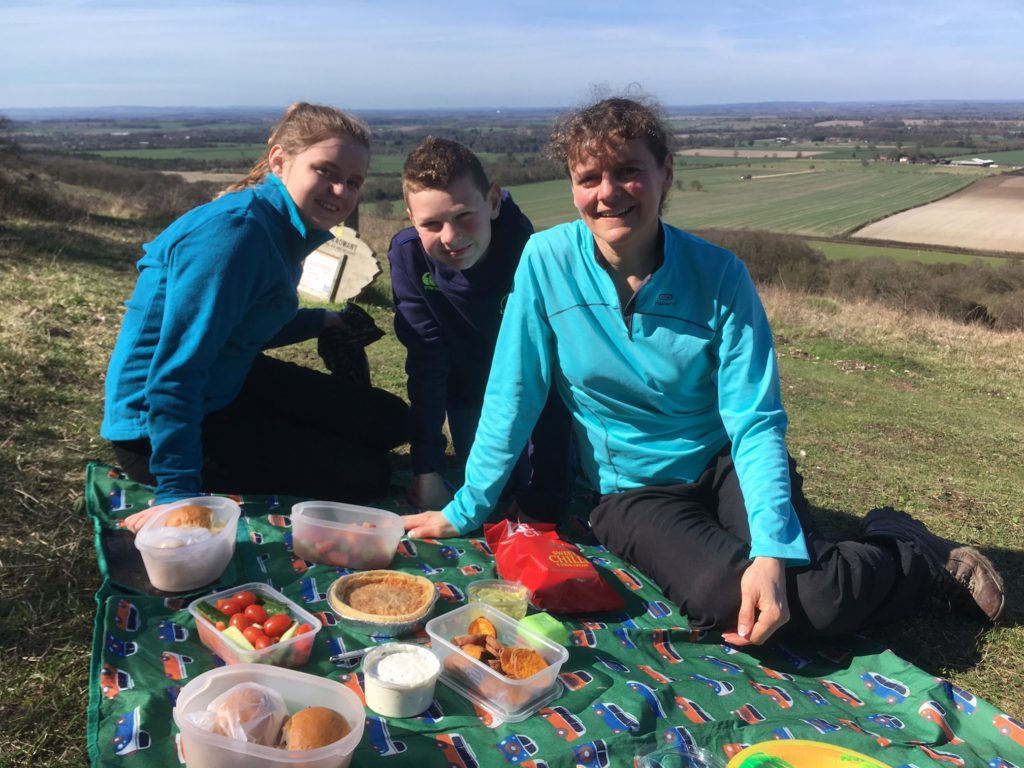 Rather incredibly, the M40 splits Aston Rowant Nature Reserve in half. If you've ever driven from Oxford to London along the motorway you'll have passed through it at Stokenchurch Gap, usually signalled by red kites flying high above the traffic.
Red kites were reintroduced here in 1989 and are a huge success story. They're now widespread across Oxfordshire and the surrounding counties with more than 1000 breeding pairs recorded. Ironically we didn't see a single kite as we ate our picnic.
Instead we sat on our peaceful hilltop and watched the mesmerising stream of motorway traffic, wondering where everyone was driving to. How happy we were not to be in a car!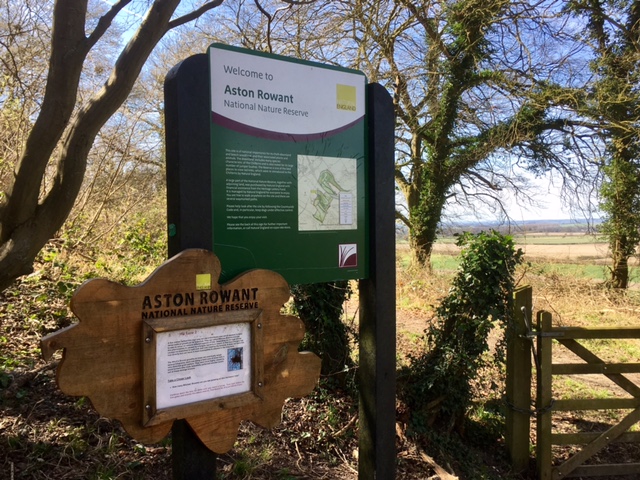 After lunch we walked downhill to rejoin the trail. I'm glad we visited the reserve; great views are an important part of any walk for me and Bald Hill was well worth the climb. Dare I say the walk would have been a tad boring without it?
Lewknor village
We crossed the road into Lewknor and walked through the village, resisting temptation to stop for a drink at the Leathern Bottle. Many of the houses in Lewknor and the small hamlet of neighbouring South Weston are constructed from brick and flint which is abundant in the Chiltern Hills. I love this style of building; a pity we live in a 1960s house.
Back on farm tracks we passed near to Model Farm. Its imposing chimney harks back to the days of steam power but the farm also has a more controversial recent history. In 1999 it was one of the UK trial sites for genetically modified crops. That's until protesters converged on the farm and destroyed the GM oilseed rape crop!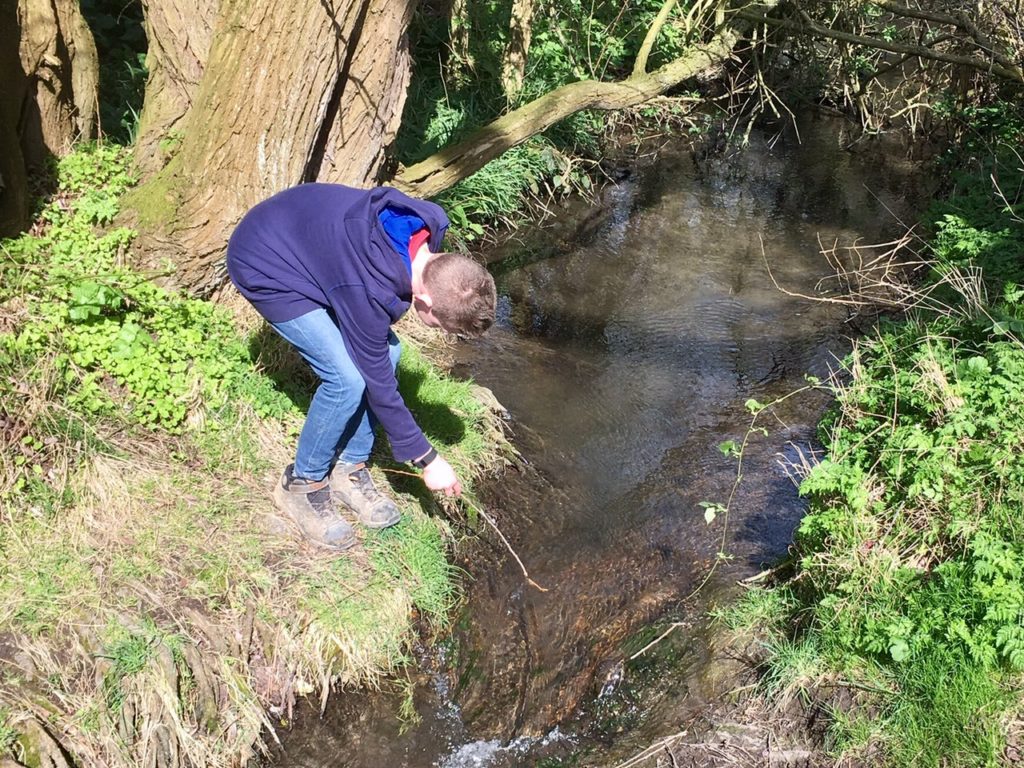 The fields around here were also used as the filming location for the 2014 war epic Fury, starring Brad Pitt. I wonder if he fought in the same area as the GM crop protesters?
St Mary's Church, Pyrton
There were more signs of spring in Pyrton where the churchyard is famous for its spring daffodil display.
The weekend before our visit was Daffodil Sunday when, in addition to visiting the daffodils, there's afternoon tea on offer in the village hall; something to remember for next year.
As we walked around the churchyard my son spotted a headstone for a young sailor lost in the 1914 sinking of HMS Aboukir. Just as sad was his brother's gravestone next to it; another casualty of World War I. A sobering reminder of the importance of European unity.
Back in Watlington we looked in vain for an open cafe. We were out of luck. Thankfully our drive home took us past a waterside cafe where we stopped for a break. Along, it seemed, with half the population of Oxfordshire!