One of my early summer treats is an evening walk to view the orchids at Hartslock Nature Reserve. Covering 11 acres the reserve is relatively small but a favourite of mine. Partly because it's one of the best picnic spots in Oxfordshire and partly because of the orchids which cloak its slopes.
I walked, with two friends, from Goring to Hartslock, along the Thames Path, surrounded by the bounty of late spring. Swallows diving for insects, fluffy goslings paddling along behind mum and knee-high nettles. We spied on the mansions on the opposite river bank, wondering who might live in them.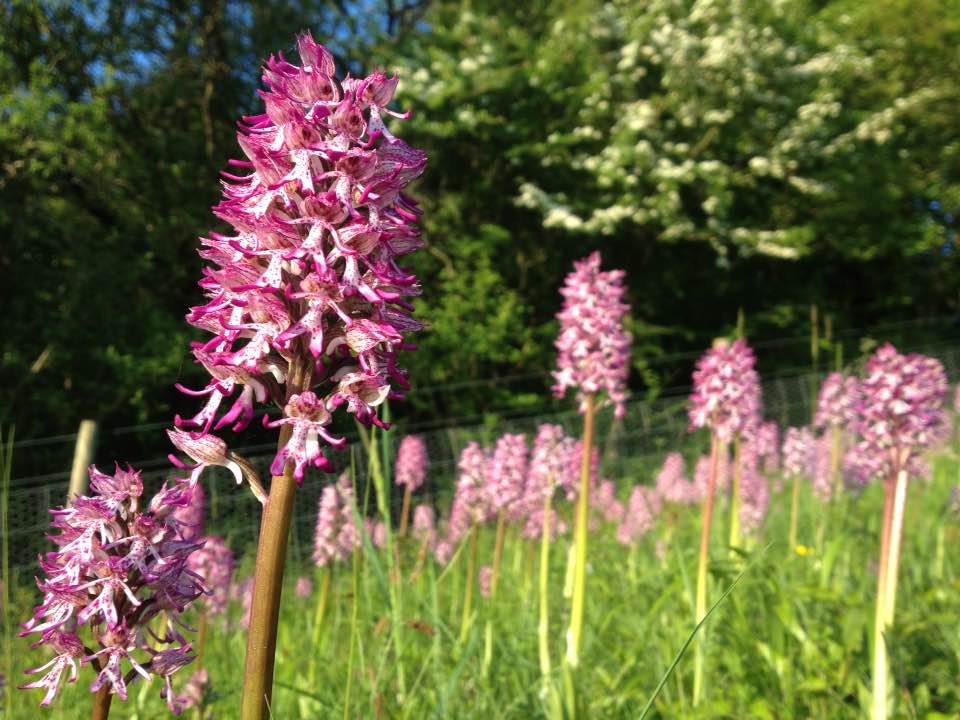 After a mile or so we turned away from the river for a short steep climb up the chalk slope to the reserve. At the top is a bench with fantastic views down to the River Thames. We stopped for a while to catch our breath and admire the Oxfordshire countryside before heading through the gate to the orchid slope.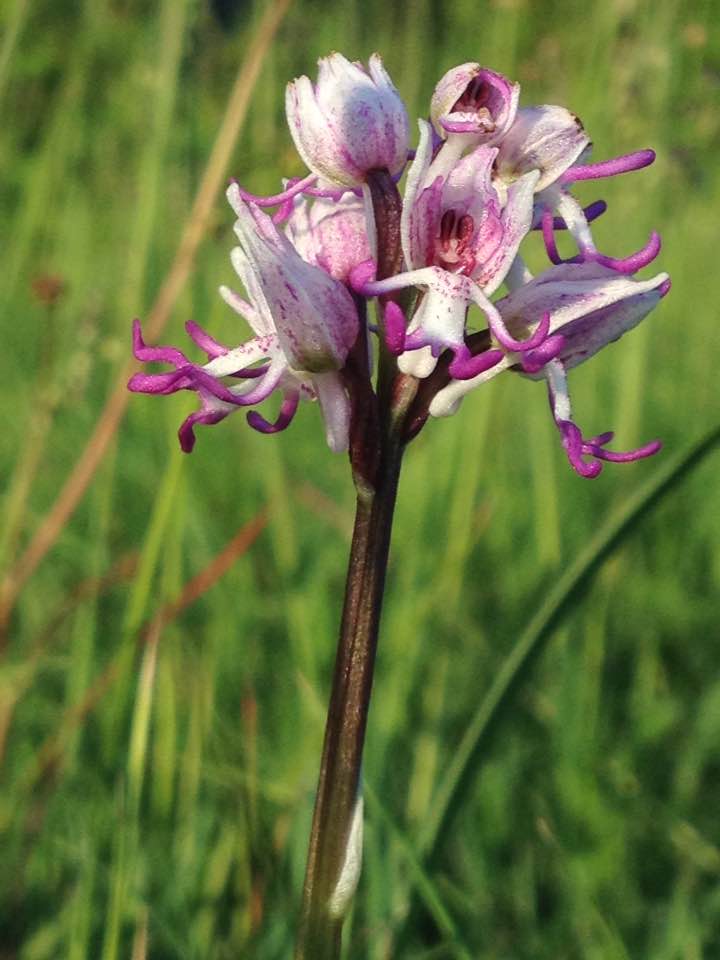 Hartslock Nature Reserve
The reserve is home to the rare monkey orchid which aside from Hartslock only grows in two other places in the UK. The orchids are taped off to stop visitors trampling on them but it was still easy to kneel and take photographs. Although the small prickly thistles hidden in the grass liked to remind you of their presence too!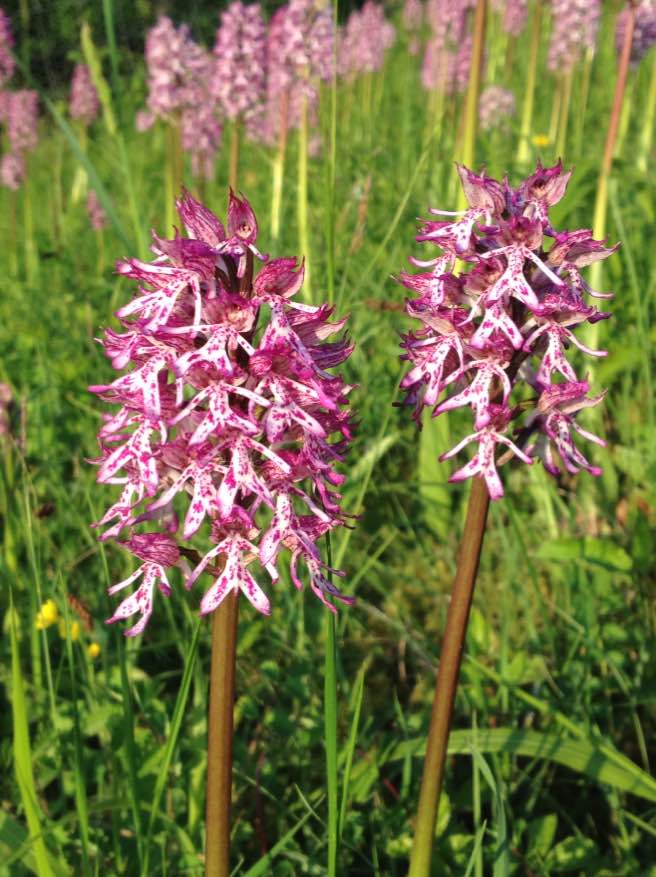 Even rarer than the monkey orchids are the hybrid lady x monkey orchids. This is the only place they grow in this country but there were so many you'd never realise they were rare. Sadly it has been a bad year for lady orchids and we didn't see any of these.
I could have spent hours exploring the orchid patch but the setting sun reminded us we still had another couple of miles to walk. It wasn't exactly a forced march home through the woods but we didn't hang around.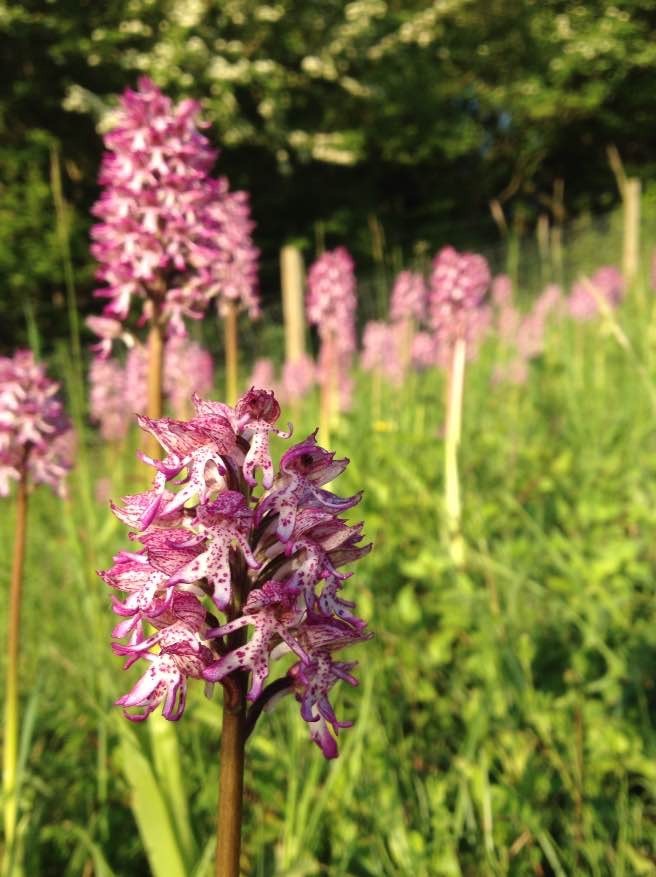 At various points I could see the bright orange glow from the disappearing sun peeking through the trees and I was hopeful of an amazing sunset. But we were too late. By the time we emerged the sun was tucked up in bed. Not that it mattered of course as the orchids were the true highlight of our walk.
If you're interested in orchids you might also enjoy my posts about them at Homefield Wood and Warburg Nature Reserves.
More info:
The monkey, lady and lady x monkey orchids are at their best during May although this is weather dependant. Different orchids and plenty of other chalk loving plants flower later in the summer.
For access details visit the Hartslock Nature Reserve page on the BBOWT website. This also includes a link to the walk route we followed above.