Looking for a flat family friendly cycle route in Berkshire? Then why not cycle from Newbury to Reading along the Kennet and Avon cycle route. This is part of Sustrans route 4, and for most of the way follows the canal towpath.  It's a 19 mile stretch but easily shortened if you prefer a shorter ride.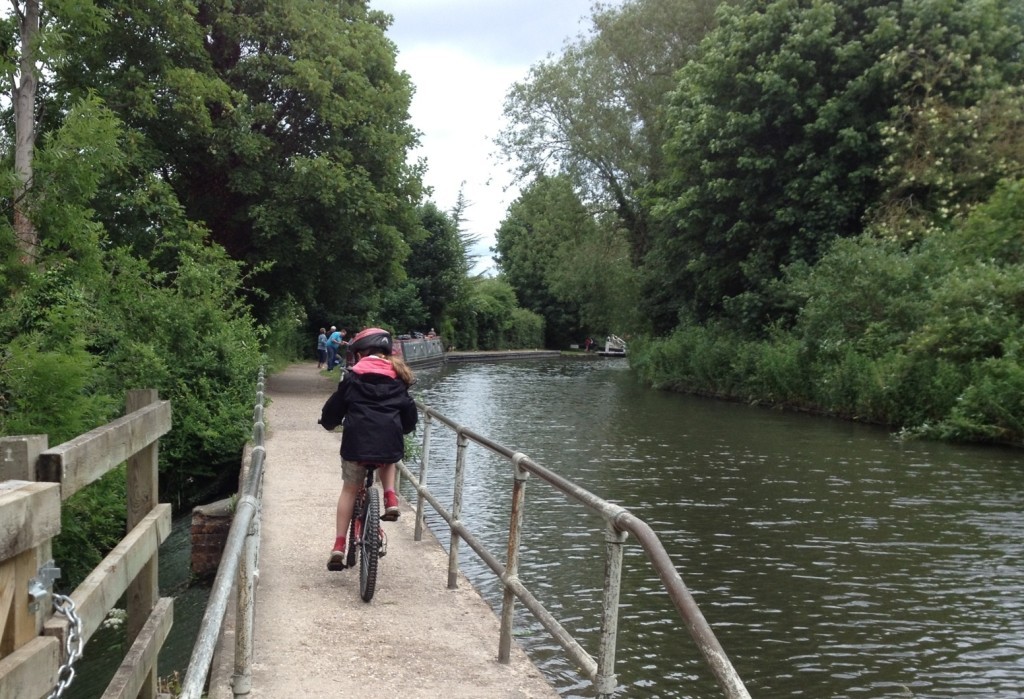 Our journey started with a couple of train rides to reach Newbury. It was a little stressful getting four bikes on the trains, as despite it being a Sunday, they were packed with shoppers and there was no dedicated bike storage.  On the second train we were blessed with a helpful conductor who helped us organise a place for our bikes and find seating.
Once in Newbury we followed the signs to the Wharf to pick up the cycle trail.  We'd managed to coincide our ride with a waterways festival, so the first mile out of Newbury had plenty of walkers and families out for the afternoon.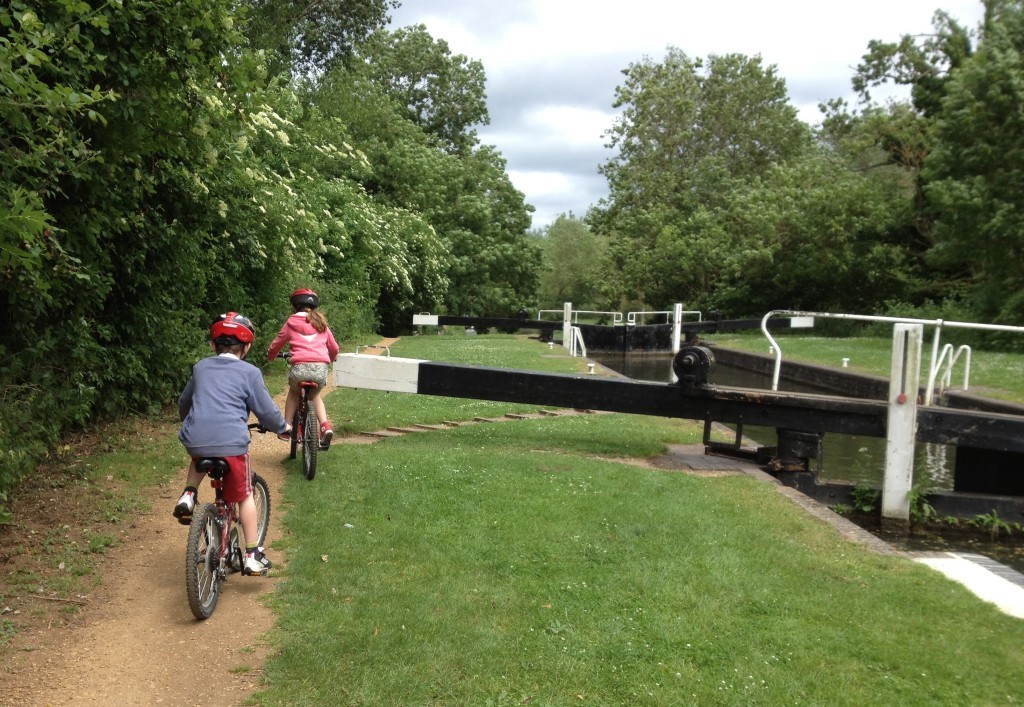 After a couple of miles the Sustrans route leaves the canal towpath and takes you through Thatcham. Whilst you are still on a dedicated cycle path it is initially next to a very busy road, past houses and industrial units. Not the scenic and relaxing ride that I had in mind! An alternative is to stay on the towpath and walk (as it turns into a footpath only), or perhaps start the route from Thatcham railway station where it picks up the canal path again.
After rejoining the towpath you once again feel like you're back in the countryside.  We stopped for a belated picnic, and hastily ate our sandwiches as it was already approaching mid-afternoon.
Back onto our bikes again, and a quiet stretch of the canal. It was a windy day so I was glad of the decision to ride west to east as it wouldn't have been much fun cycling into the wind.  We saw quite a few birds, including grebes, coots and Canada geese but I didn't spot the hoped for blue streak of a kingfisher at any point.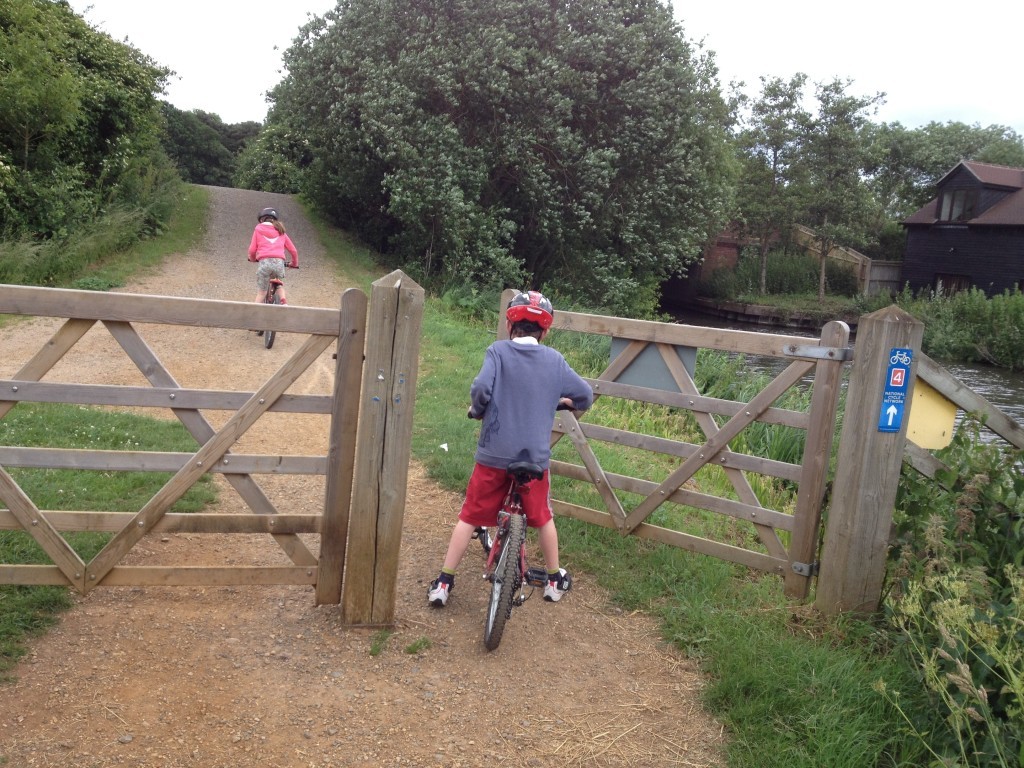 Some parts of the towpath lead directly onto roads, albeit quiet country ones.  It was easy to tell when road access was getting near as the number of people we'd see would increase.  A particularly busy spot was near a pub garden that backed onto the canal. I would have liked to stop there for  a refreshment break but we were already pushed for time so it was not to be. Fortunately we had our water bottles with us.
Near Reading the track temporarily diverts away from the canal, past some fishing lakes, and then alongside the M4. You return once again to the towpath, with plenty of permanently moored houseboats lining the canal.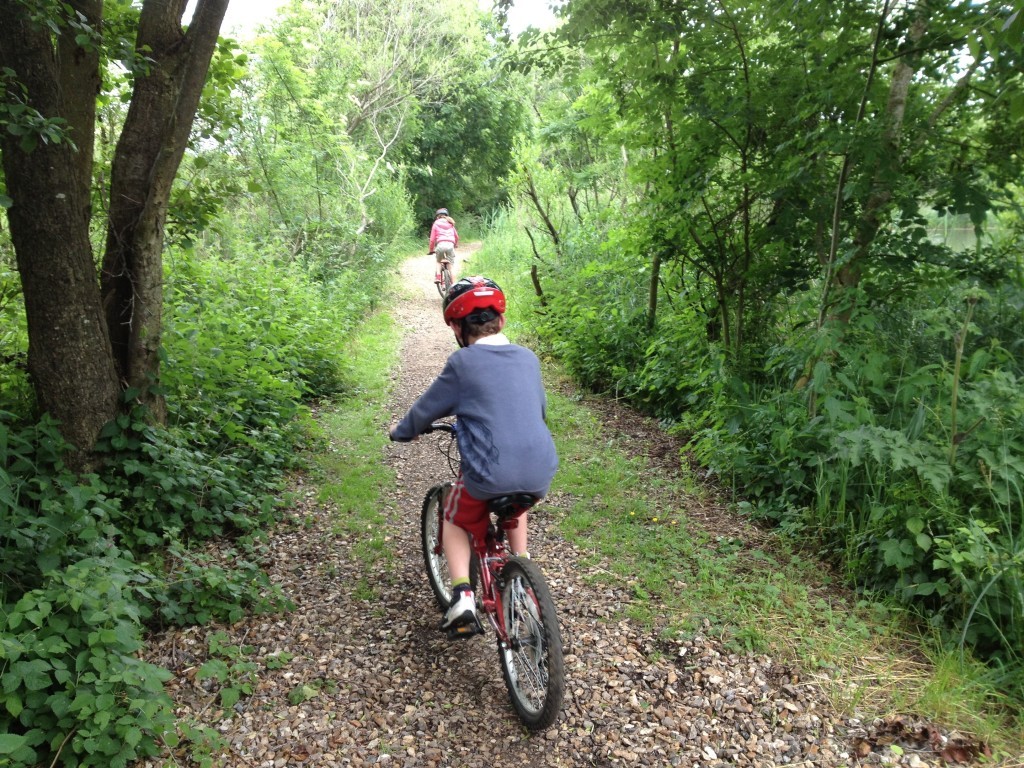 Arriving into the busy city of Reading is a shock, but the towpath held one last surprise.  Along the opposite side of the bank are houses with gardens leading directly onto the canal.  Every other house has a kayak or small boat ready for canal exploration.  It's great to think that a row of suburban houses has a secret canal hidden behind them.
We felt a little out of place walking back through Reading centre, amongst all of the weekend shoppers. Nethertheless I was happy to have spent my afternoon cycling rather than stuck in shops!
If you fancy a walk instead you might be interested in a Cold War Greenham Common walk, a windmill walk at Bedwyn or viewing the Caen Hill locks. All of them include various stretches of the Kennet and Avon canal.
More info:
Sustrans map of the route: http://www.sustrans.org.uk/ncn/map/route/kennet-and-avon-cycle-route
The route is flat so suitable for family cycling.   The obvious danger is the canal itself, as in places it would be very easy to cycle off the towpath and into the canal!
We cycle regularly so the route length wasn't an issue. If you're not used to cycling you could easily shorten the route by doing an out and back cycle ride.