After our last backpack along the Lambourn Valley Way I was keen to attempt another overnight trip with the family. This time I was under strict instructions to make the walk shorter. Fortunately I had such a trip up my sleeve. A walk from Oxford along the Thames Path to a small campsite near Eynsham, returning by a different route the next day; a total of around 10 miles.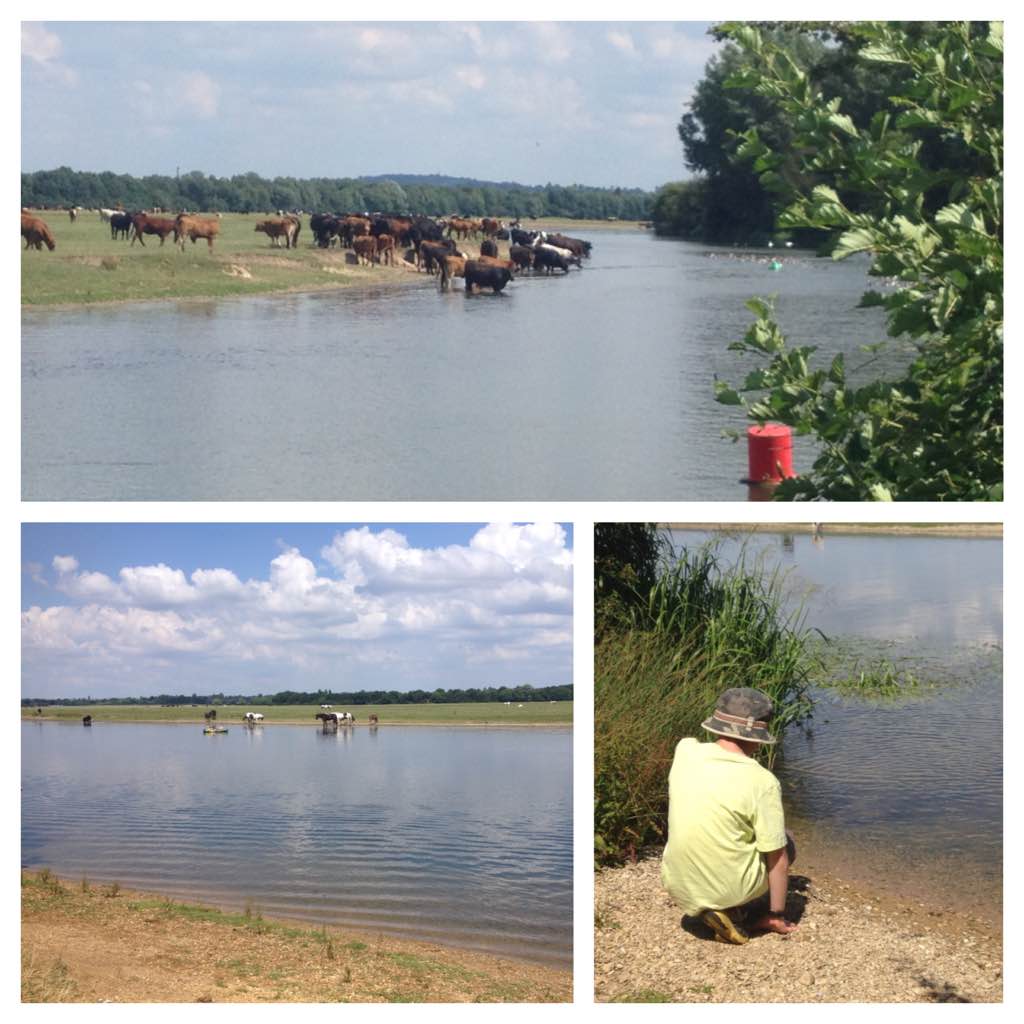 Day 1: Oxford to Eynsham along the Thames Path National Trail
The Thames Path National Trail runs for 184 miles from the Cotswolds until it meets the Thames Barrier in Greenwich. We joined it a few minutes walk from Oxford railway station; the traffic noise and fumes of Botley Road magically disappearing just a few feet along the path.
The first stretch from Oxford to Wolvercote was packed with families and groups enjoying the weather. Helped of course by two pubs conveniently located just off the trail. We watched as the cattle and ponies of Port Meadow paddled in the shallows, trying to escape the afternoon heat. If you're looking for a picnic spot this is a great location; it's one of my 15 best picnic sites in Oxfordshire.
Once past Wolvercote the path was much quieter with only the occasional walker or cyclist. The local wildlife appreciated the peace; a heron and little egret perched photogenically on a dead tree trunk. Although of course they flew off just as I attempted a photograph.
At one point we came across an elderly couple swimming au naturel in the river. We were walking beside a stretch of overgrown bank so I'm assuming they couldn't see us. Let's just say their shouted conversations to each other made us all smile!
Whilst the walk was much shorter than our last trip I couldn't do anything about the weather. Hot and sunny. Bliss. Unless you're walking with a backpack in which case it means sweaty backs and complaints from the kids about how warm it is.
Swinford Lock campsite, Eynsham
We reached Swinford Lock campsite late afternoon. The Environment Agency runs a number of basic campsites on lock islands along the Thames. A toilet, a water tap and a fire pit were the only facilities but for one night what else do you need?
After pitching the tent we walked into the nearby village of Eynsham. Despite living only a few miles away I'd never visited before. It's definitely the kind of place I can imagine living; a large thriving village with lots of community spirit and good transport links.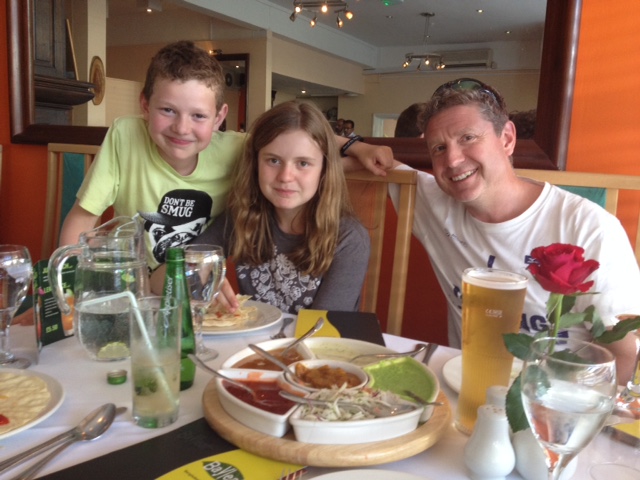 Eynsham is also home to several eateries and inns. We don't carry cooking equipment on our overnight backpacks as we like to treat ourselves and eat out. Hence we dined at The Bayleaf, a restaurant serving Bangladeshi and Indian food, before a slow walk back to our campsite collecting firewood on the way.
At the campsite we were still the only tent on the island. When I'd phoned earlier in the week the lock-keeper had advised there were seven others booked in. But nobody else arrived and we ended up with our own private camping island. How lucky we were!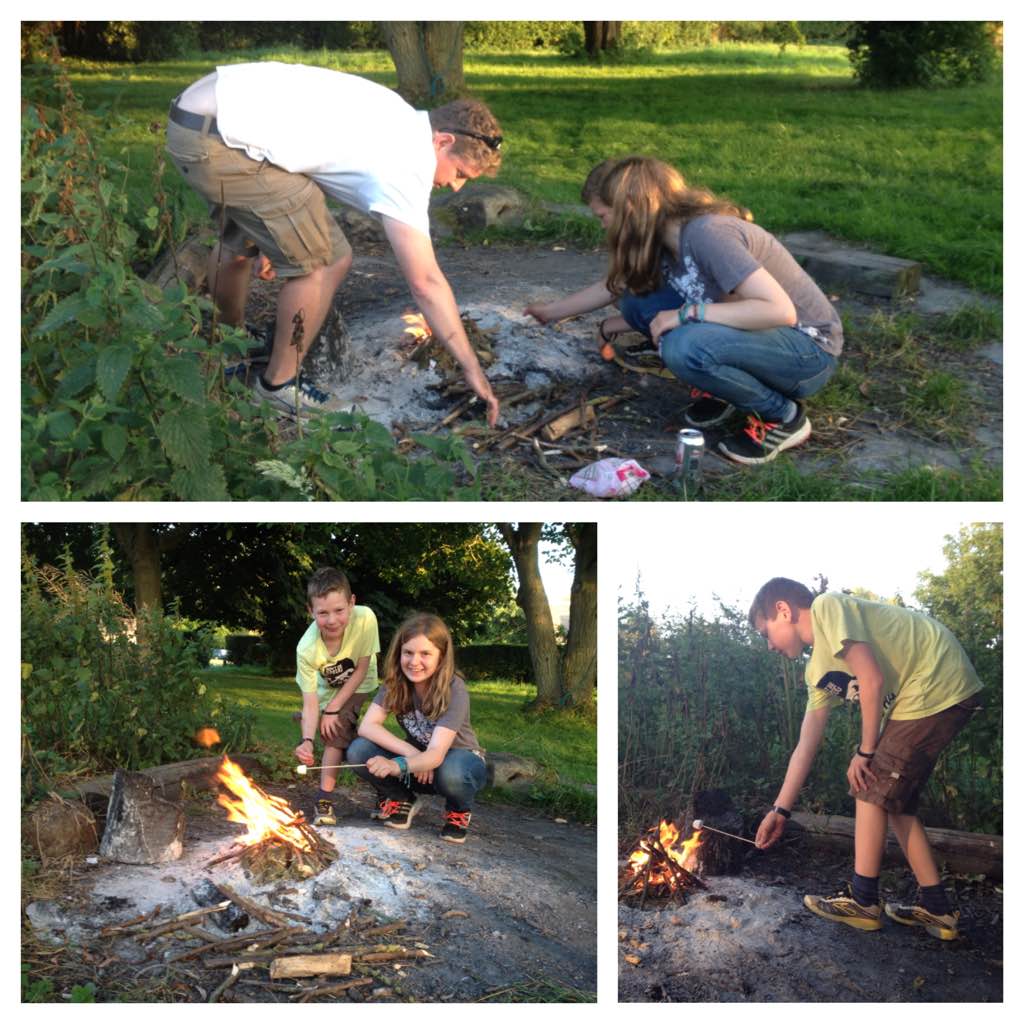 Every campsite needs a campfire so we set about building one. It took a while to light but eventually some toilet paper and old receipts did the trick. Fortunately I'd bought marshmallows in the local shop for the kids to toast; it's lovely there are some family traditions they haven't grown out of yet.
We went to bed shortly after sunset. Further along the riverside a wedding party was in full swing and we were woken by the music several times in the night.
Day 2: Eynsham to Oxford
The morning dawned cloudy, ideal weather for walking. After a trip into Eynsham for breakfast provisions (fresh pain-au-chocolat and croissants) we packed our tents and continued our walk along the Thames Path. We passed the remnants of the wedding party camp, I'd imagine there were quite a few sore heads that morning.
Just before the next lock we turned away from the river. I thought I'd planned a scenic walk around Farmoor Reservoir but the path I'd chosen took us outside the boundary instead. Next to the sewage works. Whoops.
We eventually reached the main entrance to the Reservoir and made our way through the car park. I was delighted to see people drinking coffee outside the sailing club. How I'd missed my morning cuppa! For the grand sum of £2.30 we spent the next half-hour drinking two mugs of coffee and two of hot chocolate whilst watching sailing races on the reservoir.
After leaving Farmoor the next couple of miles took us through crop fields. We thought we'd lost the footpath at one stage but discovered it hidden under an invasion of Japanese Knotweed. Incredible just how overgrown the path was!
The last mile was through the outskirts of Oxford. Some lovely houses to look at but not exactly backpacking territory. It was tempting to stop at one of the bus stops and cover the final mile on wheels. But we resisted, and I'm glad we did. It was good to complete the trip under our own steam.
So that's our second backpacking trip ticked off. I wonder if we'll be able to squeeze another one in before the end of summer? And if so, where will we go?
More info
A list of Environment Agency and other commercial campsites close to the River Thames can be found here. The Environment Agency campsites are open to walkers, cyclists and river users only; there are no parking facilities close by. Our pitch (2 backpacking tents, 2 adults and 2 children) cost £14 for the night.